We love Disney and infusing Disney looks into our style is an integral part of that. But, sometimes merch offerings can feel a little overt and a bit too in-your-face for us. Sure, sharing our love of Disney is great, but sometimes, we prefer to do it in a whisper, not a scream.
That's why Perfecting the Magic has created a shoppable guide to infusing a touch of Disney into your style. We've rounded up subtle Disney options that hit the right spot for anyone who loves Disney style that's a bit low-key!
Up Your Style Game with a Bag Charm
If you're looking to add a touch of Disney to your everyday life, we love the Mickey Mouse Disney Bag Charms from Bauble Bar! They're a quick way to bring Disney into your look and can be moved around between bags with ease. They're currently available in 12 colorways, and we're really digging the "Oilslick" and "Pearl" options!
Subtle Minnie Ears
Starting at the top, how could we not acknowledge Minnie ears? They're ubiquitous to Disney, and almost everyone loves them. But, what are you to do if you're not into ears? What do you choose if the popular sequin and sherpa options aren't your thing? Don't worry, we've got you!
If you like ears but want to make them fashion-forward, we highly recommend ears by Shop Violet Purple on Etsy. Everything they make is delicate and beautiful, and we're especially enamored by these strawberry ears that evoke Lirika Matoshi's famed strawberry dress! They're perfect for spring and summer days in Disney parks.
If you're not into ears, consider cute alternatives like these Mickey and Minnie shaped pom pom clips. They're available in tons of colors and would look amazing styled with space buns. We think they're the perfect choice for someone who doesn't like the feeling of a headband, but still wants to add Disney style to their look.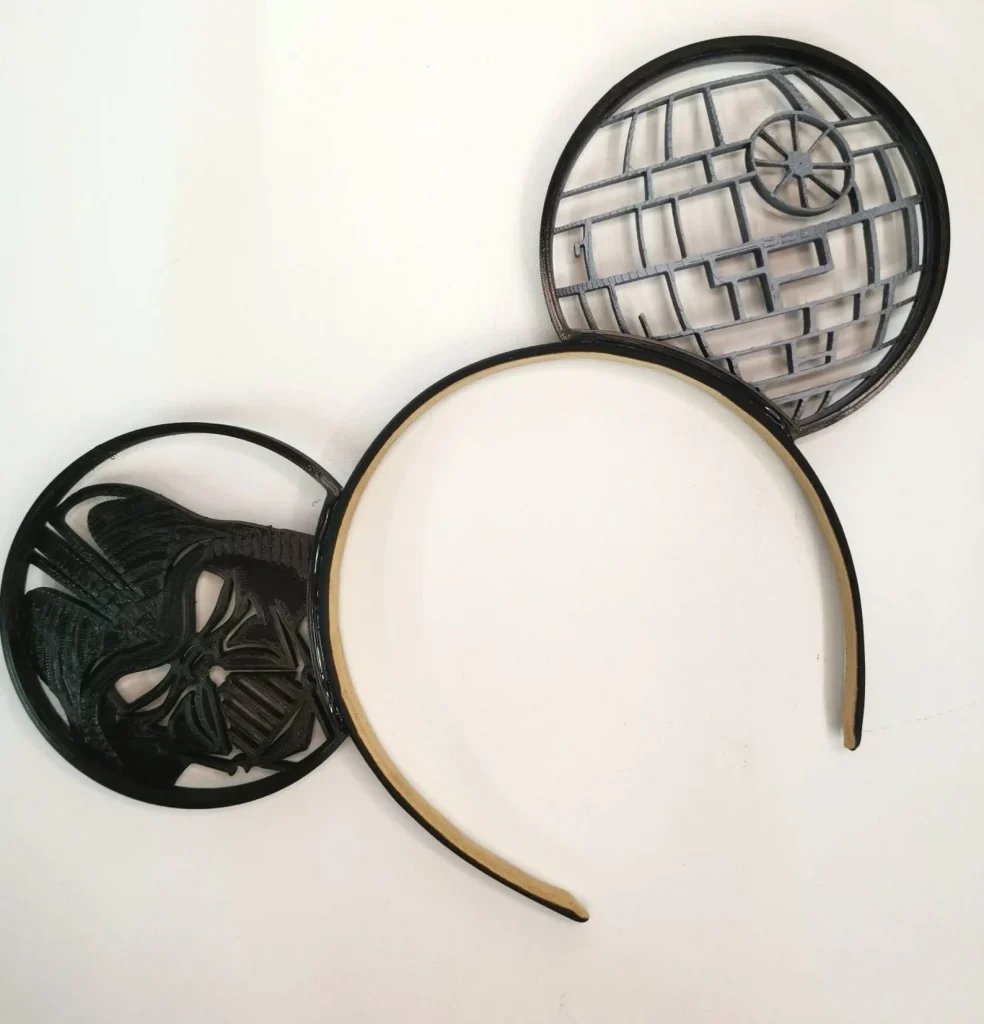 If you're a major Star Wars fan and bows and puffy ears just don't fit your vibe, we think you'll love these streamlined micro glitter Darth Vadar ears in black. They provide a pared down style that feels much more aligned with the franchise and are a perfect option for someone who wants to forgo frills.  
Delicate Disney Nail Art and Manicures
Who doesn't love intricate Disney nail art? We've all seen the mesmerizing styles on Instagram, and we think they're gorgeous. But, they can be impractical and expensive to maintain for everyday life. Enter subtle Disney nail art and manicures. We love that they're lower maintenance and fly under the radar for anyone who isn't in the know. Here's a few of our faves!
Consider taking this photo of Genie-inspired nails to your next manicure appointment. We love how dainty the design is and appreciate that most of the intricate work is at the base of the nail. Keeping the top of the nails a sheer glitter shade prevents the need for touchups and you could do a repair job with (relative) ease at home when you experience tip wear.
If you prefer to do your Disney-inspired manicures at home, we've found fantastic polishes and decals that take the guesswork out of creating adorable Disney nail art. These Mickey and Minnie rose gold nail polish strips provide a transparent overlay to your nails that's even simpler than traditional nail polish, making it ideal for those of us with minimal nail game.
If you're into nail polish options, we think this jelly polish inspired by Alice in Wonderland is super cute and would also work perfectly for anyone who loves Tomorrowland; the polish feels like it's comprised of equal parts dreamy and celestial and we're here for it.
If you're looking for a Disney nail polish that will be a workhorse in your collection, we can't get enough of the simplicity of this Fantasyland inspired option as well. The purple hues would work perfectly over most shades, and the glitter is fine enough that it doesn't scream Disney when you don't want it to.
Dainty Disney Jewelry
Dainty Disney jewelry is a wonderful way to infuse a touch of Disney style into your look without feeling like you're limited to wearing it in the parks. We love these delicate Mickey Mouse icon dangle hoop earrings from Shop Disney. The rose gold metal works with many skin tones, and the drop provides movement that helps them glimmer when the light hits them.
If you're into bracelets, we think this rainbow Mickey tennis bracelet from Bauble Bar is incredibly cute. The faux diamonds sparkle and the multicolored gemstones provide a bit of interest that makes it unique.
Have you ever considered a Disney-inspired engagement ring set? They're surprisingly understated, and we had to look twice to notice the ears! This set is charming and perfect for any romantic, featuring over two carats of cruelty-free synthetic diamonds and sterling silver. 
Disney Style Sweatshirts
At PTM, we live for layers. A sweatshirt is the perfect option for chilly nights in the parks and cozying up at home, but sometimes the designs can be a bit aggressive for us. However, we've found two cute options worth looking into, because we can't think of a more useful clothing item than a Disney-inspired crew that can fly under the radar when you'd like it to.
If you've always wanted to visit Batuu and would like a sweatshirt that looks more like it's come from a university than a remote terrestrial planet, we recommend this crew from Belle and Park. It launches just in time for May the 4th celebrations and is the perfect fit for an understated and subtle Disney look.
Do you enjoy sipping cocktails by Bay Lake? Check out this inconspicuous Bay Lake Rowing Club crew. It evokes vintage 90s country club vibes and would only grab the attention of fellow Walt Disney World fans. The sage green is gorgeous, and the subtle styling makes it a versatile piece.
What's Your Favorite Subtle Disney Style Piece?
Do you have a favorite subtle Disney style piece? We'd love you to share it with us on socials. We're serving looks all over TikTok and Instagram—from styling to sleeper picks, we got it all and hope we've inspired you to incorporate more Disney fashion into your everyday life!