At PTM, we love a shoppable guide. We're Disney fans first, and are always looking for new ways to infuse a touch of Disney magic into our homes. But, that doesn't mean finding the right pieces is easy. There's a lot to choose from and it can be difficult to find cute Disney merch if you don't know where to look. Enter Etsy.
While we have lots of indie shopping options these days, Etsy offers a consistent source of cute Disney merch, and it's an excellent resource for home finds.
In fact, we've gathered 24 home picks from small shops all over the platform to inspire you to do a little digital window shopping of your own.
Let's get into it!
Disney Tech Finds on Etsy
If you use Google Home or Nest Mini devices, you might want to consider jazzing it up with a Baymax stand! Reviews point to how easy it is to install and how much more they enjoy their devices with the addition of the Baymax display. If Baymax doesn't align with you, we have other options!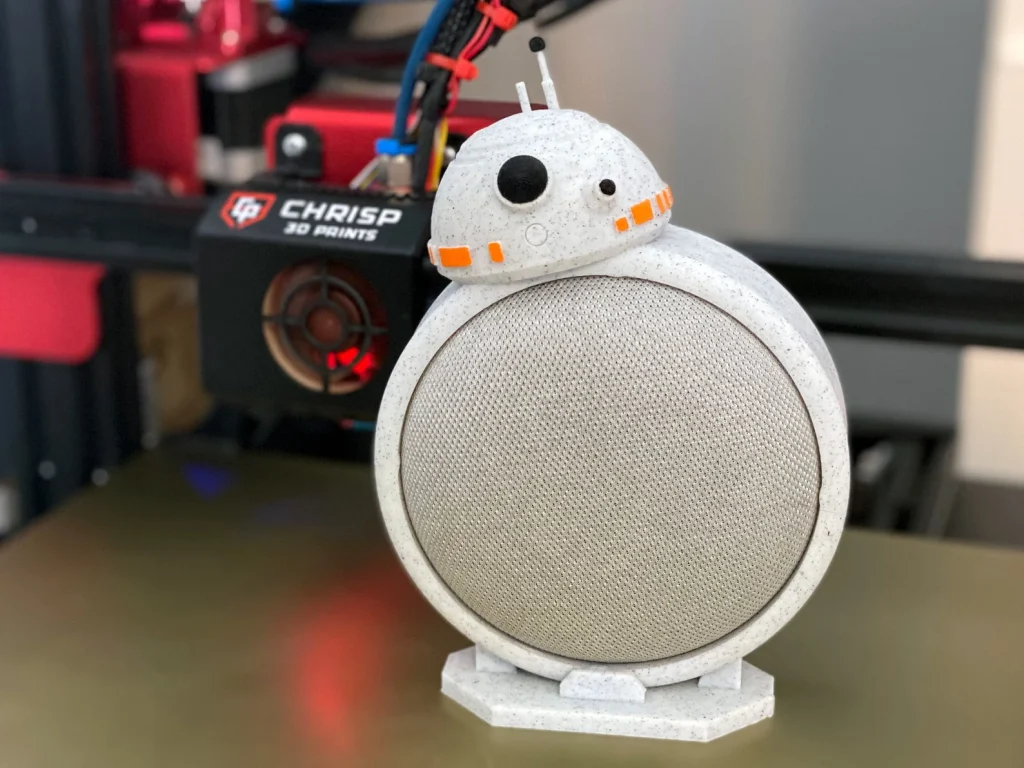 Love the idea of adding a smart stand to your Google Home or Nest Mini and looking to express your Star Wars fandom? How about this BB8 Droid stand? Reviewers say that it's excellent quality and adds something special to their Google device. Still not convinced?  
Maybe this R2D2 smart stand for your Google Home or Nest device is more your speed? We love how this style seamlessly incorporates the device, and purchasers note that it's a standout piece in their Star Wars collection. 
Disney Dining Finds on Etsy
This little Ratatouille-style chef's hat illuminates to reveal a tiny Remy within, which is perfectly executed, and battery operated. Several reviews suggest putting it near your spices, and we think it's a cute idea. It's the perfect touch of Disney for any chef in the making! 
With these Haunted Mansion cookie cutters, you'll be ready for anything, swinging wake or otherwise! While you can buy each of them individually, we like the set, which includes the Haunted Mansion sign, all three Hitchhiking Ghosts, and the Hatbox Ghost. A must-buy for Haunted Mansion fans with a sweet tooth. 
Rounding out our Disney Etsy finds for the kitchen is this stunning Stormtrooper bottle decanter and whiskey glass set. The double-wall style glass is beautiful, making it the perfect addition to a bar cart display.  
Setting the Vibe at Home
If you're a fan of romantic lighting, what could beat this battery-operated Tangled lantern that glows with warm-toned light? Buyers say this lantern lends a 'touch of magic' to their homes thanks to the quality of the lantern, which looks nice at all times of the day. A must for Tangled fans! 
This 3D-printed Cinderella castle nightlight is a showstopper! Available in multiple sizes, it can be used as everything from a nightlight to a cake topper, and some buyers have even added color-changing lights to kick it up a notch. Regardless of its use, it's sure to be a stunning addition to any home, and its versatility is a bonus. 
What sets the vibe more than scent? Nothing will make you feel like you've stepped into Disney more than scenting your home with your favorite hotel lobby scent, and thanks to these room sprays, you'll be able to choose as many as you like. These scents, from the Grand Floridian to Disney's Animal Kingdom Lodge, have major fans! Will you be one of them? 
Delicate Disney Décor on Etsy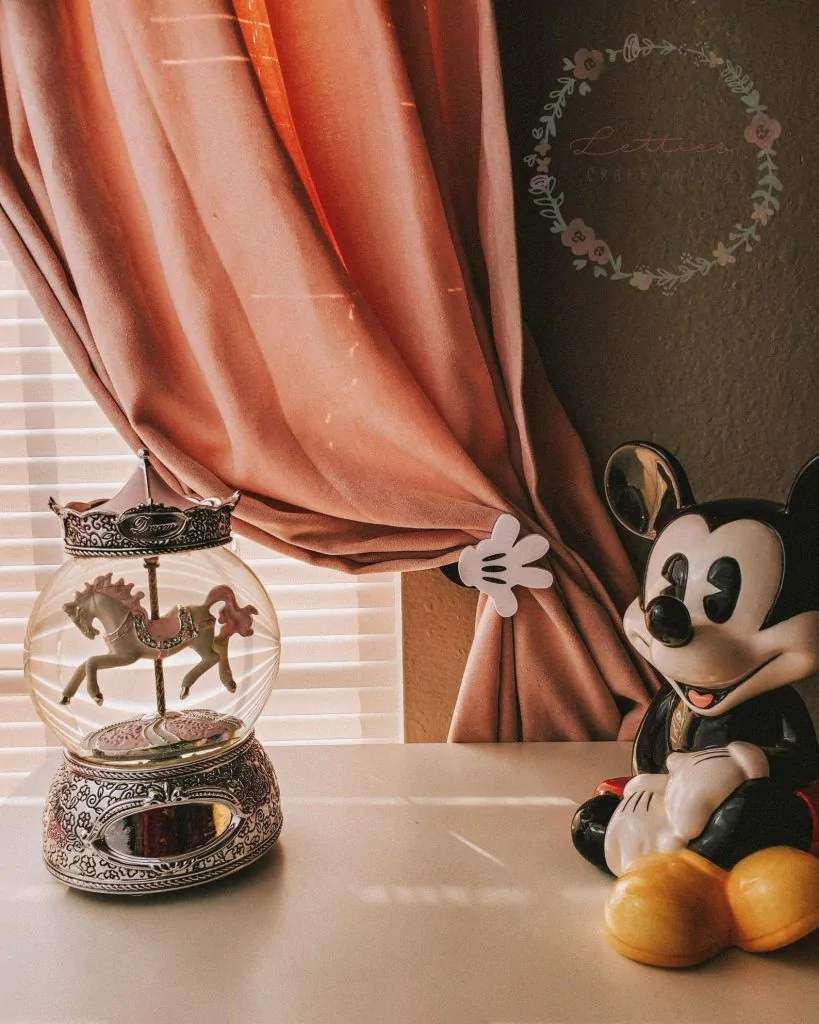 The grip subtle Disney touches have on us is real. Mickey glove curtain pullbacks are no exception. Even if we don't personally have many curtains going on at home, we appreciate that people do, and for those who do, how cute are these little gloves?  
If the Mickey gloves don't do it for you, perhaps these First Order or Rebel Alliance curtain pullbacks will? They have major fans in the shop reviews, with buyers calling them "incredible" and "perfect for any Star Wars room." We think they'll add the perfect touch to the right space. 
Moving on from the dark side to something light—check out this Disney-inspired castle suncatcher! This peel and stick sticker will fill your space with rainbows when it catches the light just right. The reviews for this product are outstanding, and we're shocked by the colors such a small item can produce. If you're a Fantasyland fan, this is for you! 
Cozy Disney Home Touches
Who doesn't like to get snuggly at home? What if we told you that you could wrap a vintage map of Magic Kingdom around yourself while you binge the Real Housewives of Wherever? You can! This fleecy blanket is classic Walt Disney World at its best, and the practical touch of it being a throw makes it even better. Buyers say it's one of their favorite Etsy buys yet! 
We're major Rolly Crump fans at PTM, and "it's a small world" is one of those Disney attractions you recognize the second you see it. This pastel bedspread is the perfect choice for anyone who loves classic Disney and wants nothing more for their love to be known. The colors are happy, the fabric is soft, and reviews cite its quality. It seems like an excellent choice for any 'small world' fan! 
Sometimes there's nothing 'homier' than a throw pillow, and these oversized Mickey-shaped chenille offerings could add a cute touch of Disney to any bed or lounge area in your home. With over fifteen colors to choose from, you're bound to find a color that matches your vibe. From Cinderella blue to classic black and white, there are a ton of options to mix and match. Bonus points? Buyers say they're super soft! 
Disney Desk and Vanity Accessories
Whether working from home, touching up your look, or both, nothing beats an organizing accessory, and this Beauty and the Beast-themed makeup organizer is no exception. Featuring two sizes, buyers can choose the perfect size for their collection, and we see this doubling up as a file holder, too, just in case you want to take it over to your desk. 
Speaking of desks—imagine the power yours will hold with this purple-toned Thanos pen holder! It is available in three lilac and indigo adjacent shades and doubles as a makeup brush holder. Perfect for Marvel fans who aren't afraid of embracing a Supervillain powers! 
Etsy buyers are obsessed with this Death Star Pen Holder! Available in black, white, and gray, purchasers say that it looks better in person and that photos do not do the details justice. This would work great on a desk or vanity like the other two options. We could even see it being useful in a bathroom to hold toothbrushes and toothpaste, too—consider it your ultimate weapon against tooth decay. 
To end this category on a softer note, how about this "it's a small world" trinket dish? Featuring rainbow pastels, a touch of glitter, and a familiar face, it's an ideal choice for storing tiny accessories that are easy to lose place of. The gold detail really helps the design pop, and the design doubles as a coaster, so it's perfect for the office, as well. 
Mickey Heads Everywhere
It's game night, and you're ready to throw down. You toss a couple of dice, and you've added a sneaky touch of Disney to the game. Suddenly, you're a hero, and no one cares that you're super competitive—okay, we may be projecting here, but the Mickey dice are cute! If dice make it into your game nights, consider this upgrade. We can't see you regretting it. 
If you're into rustic looks, you'll probably have difficulty skipping this Mickey rope tray. Just look at it. If it's your aesthetic, how could you not? It would be perfect for a bathroom, living room, bedroom, or even a kitchen. Use the ears to separate and organize, and you have a perfectly justified purchase on your hands. We could also see this being incredibly useful in a front entryway as a catchall. 
This little classic Mickey succulent planter is too cute for words. We love that it's customizable and that you can choose colors that suit your personal taste and style, whether classic, earthy, or pastel. The shop offers holiday versions too (hello, Candy Corn Mickey!), which we think people will love. Reviewers say it's well-made and arrived quickly, which we love to see. 
EPCOT Meets Etsy
Speaking of plants, this Spaceship Earth planter is something special. It offers an unexpected touch of Disney and we're happy to see EPCOT getting the love it deserves. Made of eco-friendly thermoplastic and featuring a metallic-like finish that evokes the future today, it's perfect for future-focused Disney fans and would look great in any room of the house.  
Our final Etsy pick is this Spaceship Earth coaster set! While it's available in both black and white colorways, we're partial to the black as we find the accents pop more, and the look is more dynamic overall. However, a mix of both would be fantastic, too! Buyers say they're beautifully made, and we love the thought of these gorgeous coasters helping Disney fans 'drink around the world' from the comfort of home. 
Keep Up with PTM for Everything Disney
Did you find anything you like? Let us know in the comments. At Perfecting the Magic, we live and breathe Disney. Be sure to follow us on TikTok and Instagram so you don't miss a moment of our content, and while you're here, sign up for our newsletter so we can stay in touch throughout the week!