Okay, hear us out, it's Nordstrom Anniversary Sale time, and the selection can be overwhelming. With the sale open to the public and going on through July 31st, time is of the essence. But, what should you pick up? As always, PTM has your back.
We've hand-selected pieces for the Disney fan, tailoring picks to each Walt Disney World park so you can feel inspired to fill up your closet with new staples. Whether you're planning to use your finds for park days, date nights, or even in a Disneybound, you'll find something you love.
Let's get started!
The Nordstrom Anniversary Sale Meets Magic Kingdom
When creating a shopping guide inspired by WDW, you have to start in the park that started it all. That's right, friends, we're talking Magic Kingdom!
While this guide is meant to inspire you to fill up your day-to-day wardrobe, we're starting our guide off strong with a dress you could easily wear during a full day in the parks! This exercise dress by Outdoor Voices features built-in shorts and comes in the cutest Tinker Bell green. Wear it everywhere, from coffee shop runs to the teacups, and look cute while you're doing it!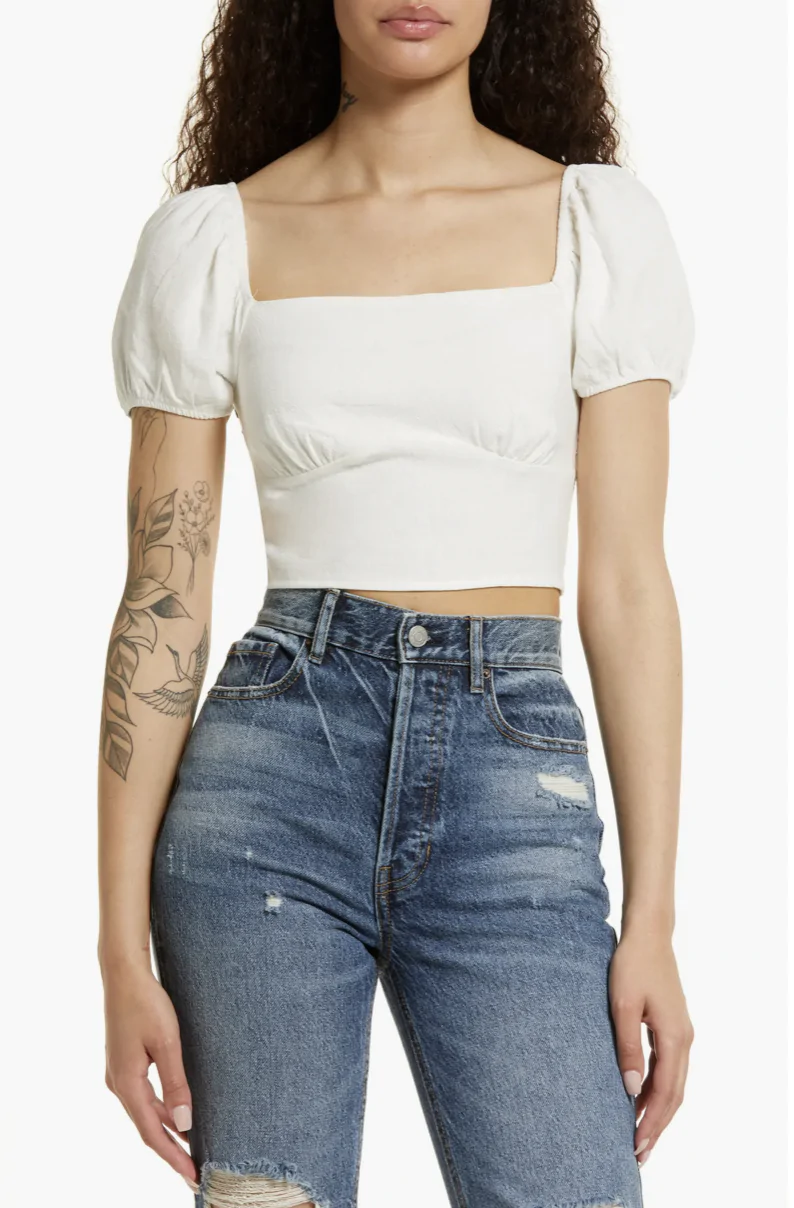 Talk about a staple piece! This puff sleeve crop top from PacSun features a romantic (read: princess-adjacent) neckline, smocked back, and linen blend that makes it as versatile as it is cute. Pair it with denim for a casual look, or dress it up with a skirt and live your soft-girl style dreams.  
Continuing with PacSun, we love this lilac cardigan. It's the perfect piece for transitional weather, and the soft color could bring out anyone's inner Ariel or Rapunzel. We love a set, so we think it pairs beautifully with our next pick!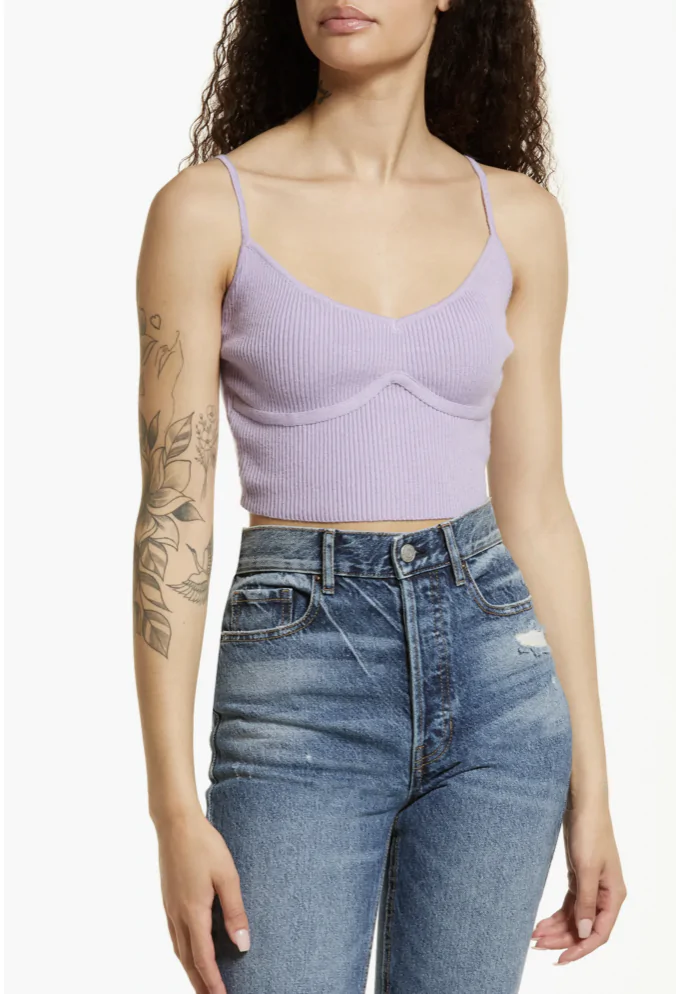 This matching ribbed cami features bustier-inspired boning that feels inherently 'princess-y' to us. Wear it on its own, or pair it with the matching cardigan for an updated twist on the classic twinset!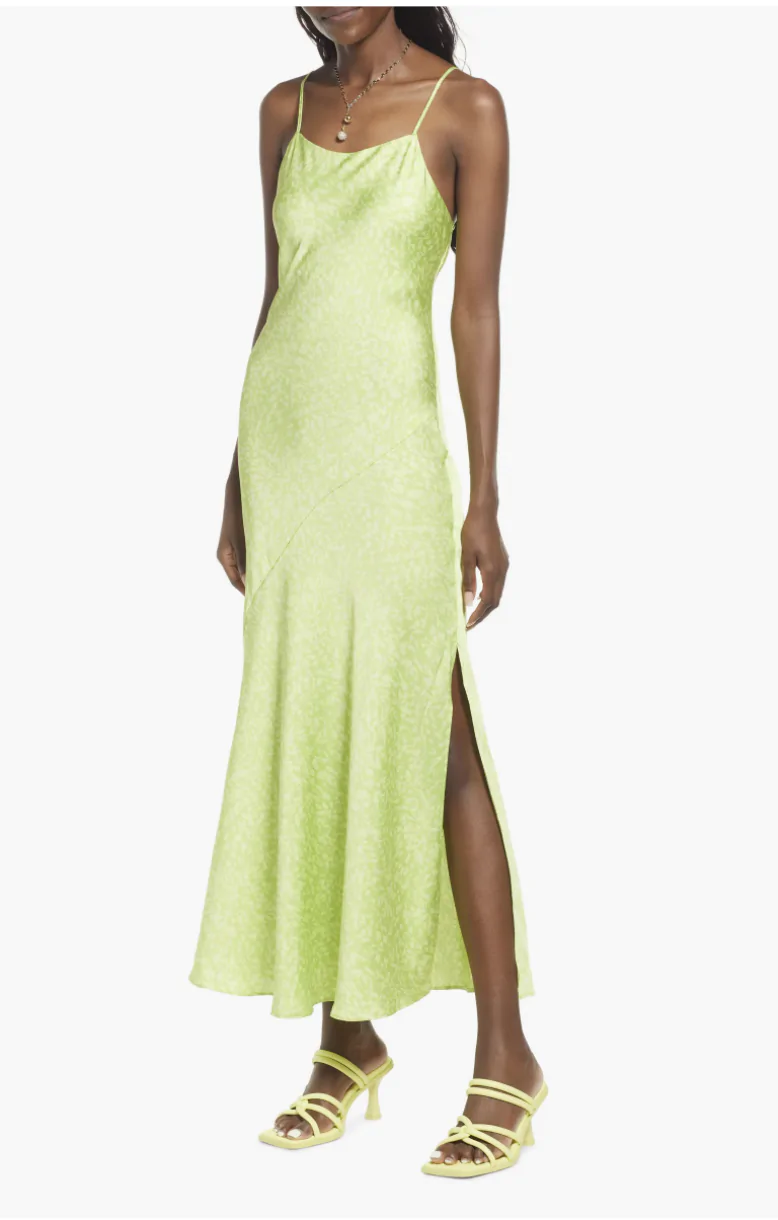 Speaking of princesses, doesn't this Open Edit dress feel like it was made for Tiana? With satin fabric and an Art Deco adjacent pattern, this dress is a must-buy, and since it comes in sizes ranging between XXS and XXL, it is a (relatively) inclusive find that we think would be perfect for date night!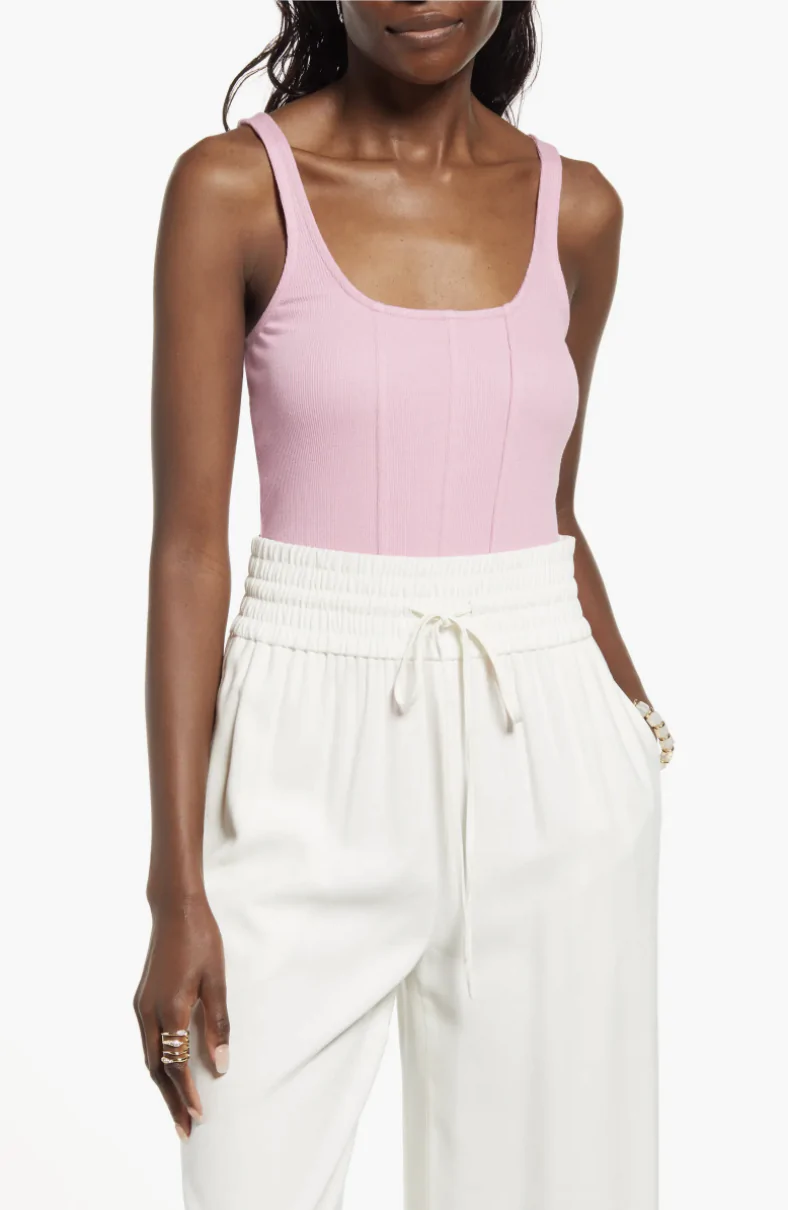 A bodysuit that can do both? We love this cotton bodysuit with corset detail because it reminds us of candy-colored sweets on Main Street and feels like something Princess Aurora would wear on a day when she felt like pink was better than blue. We love the versatility of this item and think it's the ideal staple piece for any wardrobe.  
Whether signing contracts with a Sea Witch or running over to your Pilates class, this ocean-colored long sleeve crop from Free People will prepare you for whatever your day entails. Featuring 100% cotton fabrication and a comfy long-sleeved oversized shape, it's a reliable casual piece that you'll turn to again and again. 
Everyone needs a little black dress in their closet, and this slinky black number with rose print is an excellent update to the classic. Of course, it doesn't hurt that it reminds us of Beauty and the Beast, either. Style it by toughening it up with boots, or keep it super girly with a cropped cardigan for dinner with friends!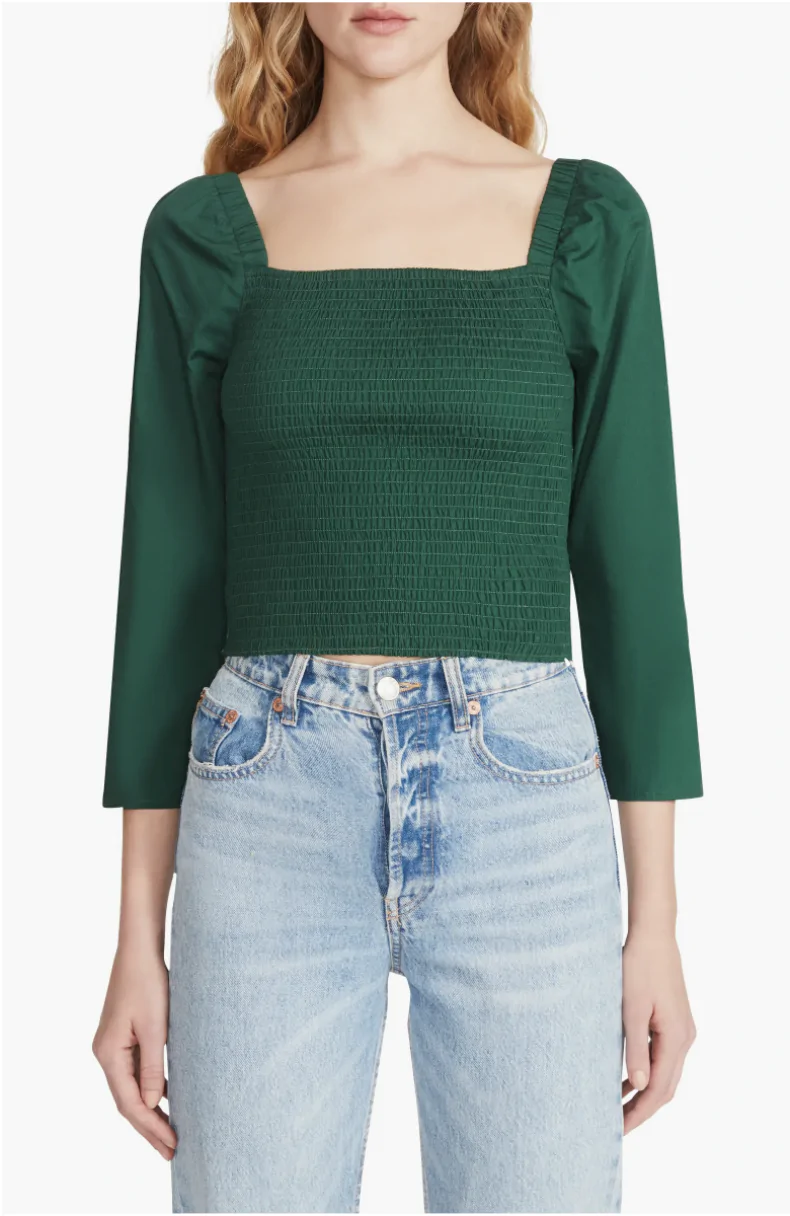 Reveal your inner Merida with this emerald green smocked bodice puff sleeve top in cotton. Pair this BB Dakoda shirt with jeans or a skirt and change its look entirely while you enjoy the romantic feel of the square neckline and bracelet-length sleeves! 
We're closing out our Magic Kingdom-inspired Nordstrom sale picks with this adorable off-shoulder faux-tie front dress that feels like it could step right out of any classic Disney princess film. This dress strikes the perfect balance between classic and trend, and is perfect for picnics, making it a worthwhile closet staple that you'll reach for often. 
The Nordstrom Anniversary Sale, but make it EPCOT
Ah, Walt Disney's vision for the perfect community—EPCOT, equal parts space, education, countries, and topiaries? The versatility of it all. From festivals to the future, your freshest closet mainstays await!
This baby blue bodysuit screams space girl to us. High praise we know. But, we love a piece that works in a ton of ways. Pair this with a white A-line mini skirt for an OG EPCOT feel or go casual with denim.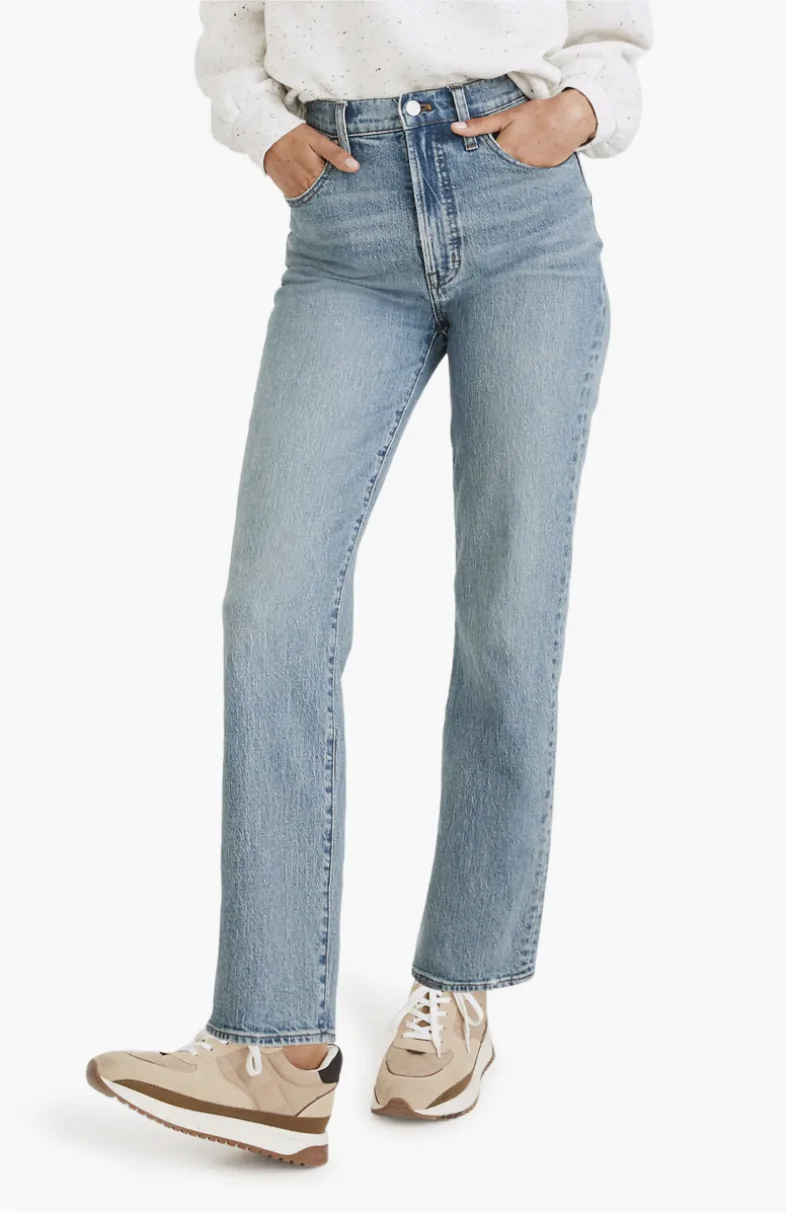 Speaking of denim, what's a Nordstrom Sale without a good pair of jeans? We love this pair by Madewell for their modern yet retro vibes. Pair them with your favorite vintage Disney crew for a fun casual look that pays homage to the WDW of yesterday.  
EPCOT's Flower and Garden Festival is arguably its best of the year, and is undoubtedly its most beautiful. Represent the lush gardens and topiaries in this cute green ruched body-con dress with delicate floral details. Perfect for any sunny afternoon in (and out) of the parks! 
Share your love of flowers in this agave colored floral dress by Billabong. Its airy shape and sleeves make it perfect for days spent drinking around the world or eating brunch at a neighborhood café. 
If florals aren't your thing, maybe you'd prefer to look like you stepped out of Guardians of the Galaxy in this faux-leather moto jacket by Free People? We get it! This classic staple is ready to rock any timeline, and is a worthy addition to your wardrobe.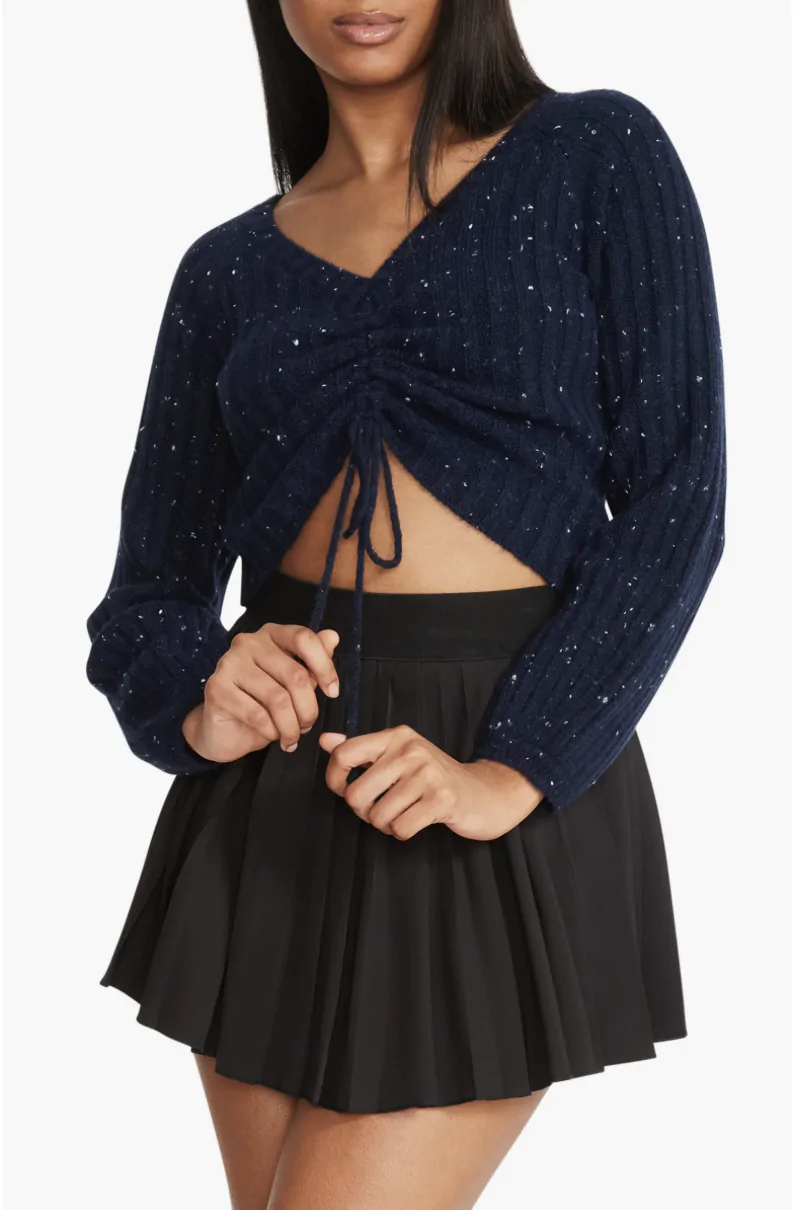 Evoke the feeling of standing under Spaceship Earth in this ribbed crop top in speckled navy. The knit makes it a perfect piece to transition into fall and the ruched center keep it fun and airy on those still-balmy nights.  
Embrace your inner Gran Fiesta Tour vibes with these platform sandals by Born. Featuring a padded cork foot bed, you'll be able to walk for miles, whether it's stopping at booths throughout EPCOT or on a Saturday afternoon at the farmer's market at home. 
Add a pop of color to your look with this transparent pink bag by Kurt Geiger. There's something about translucent PVC that just makes us feel like we're living in the future, and we're totally here for it. Bonus points for being crossbody, too!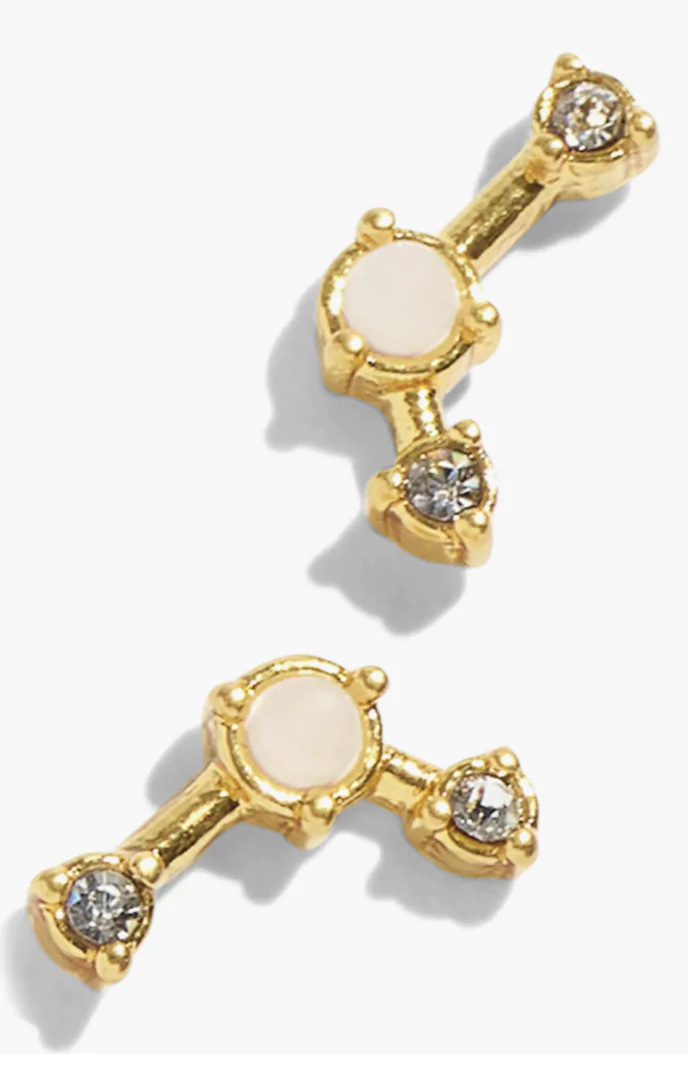 These earrings remind of us celestial constellations. If you can't book that Space 220 reservation, fear not, you'll have a touch of space with you everywhere you go with these earrings by Madewell.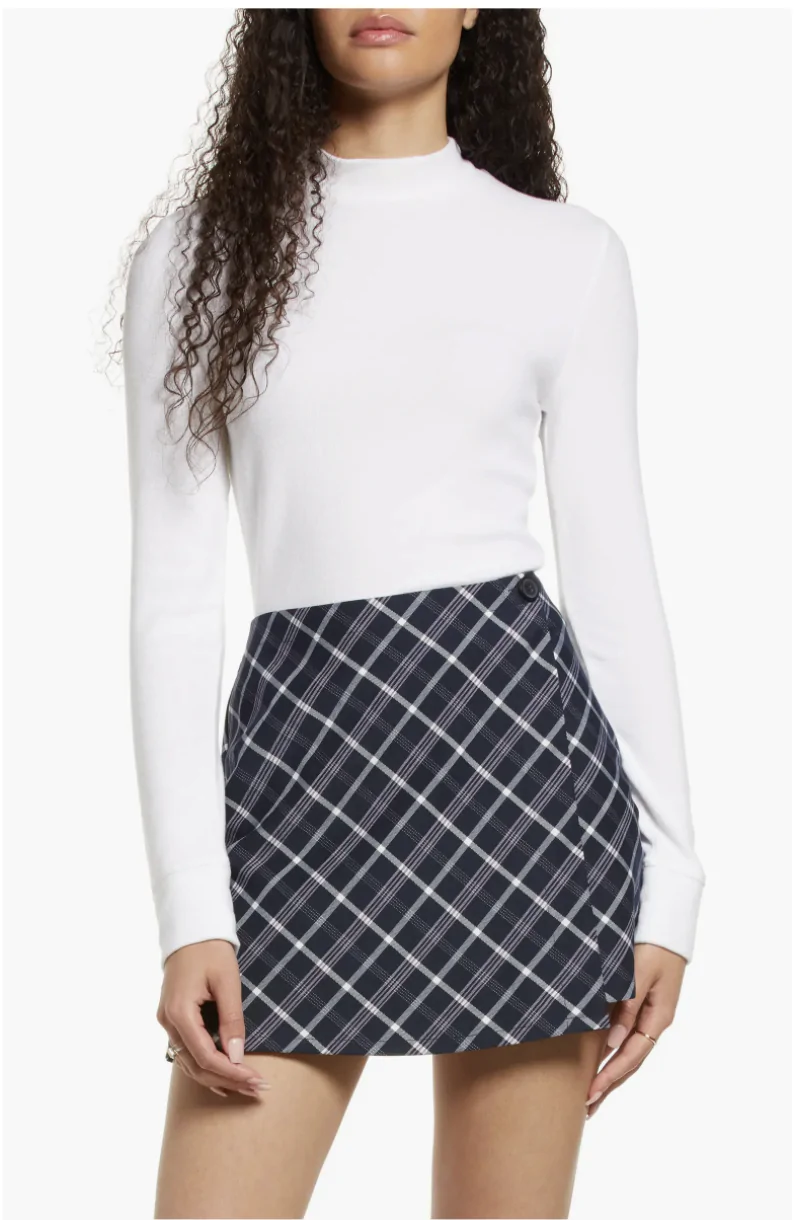 We're ending EPCOT inspired picks with this classic mock neck knit in white. We love the futuristic feel of a mock neck, and will forever associate it with EPCOT. While they might seem less flashy and obvious than other choices, staples pieces like this round out a wardrobe and can create endless outfits, which is why we'll always recommend them.   
Nordstrom Anniversary Sale Finds for Hollywood Studios
Full disclosure, while Disney's Hollywood Studios is more than Star Wars, we found so many amazing Nordstrom Anniversary sale picks in its color palate that we're going with it. Sure, you might feel like a glamourous Stormtrooper or worry we've forgotten color exists, but we think once you check out our finds, you'll agree that we chose the best of the bunch! 
Channel your inner Rey with this surplice sleeveless top in ultra-white. Pair with matching white pants and a belt for a full-on bound, or couple with a pair of jeans and delicate gold jewelry for a pulled-together day look. 
Stormtrooper meets Kim Kardashian are words we never thought we'd write, but here we are. This Naked Wardrobe dress is as undeniably 'Stormtrooper' as it is chic, and we believe it will have broad appeal. It's also available in a sleeveless and long version, so you have options! 
Imagine the Jedi Order wore cute dresses in 2022? That's the vibe we're pulling from this BB Dakota by Steve Madden minidress in oatmeal. A stretch, sure. But, with the right accessories, the vibe can be (subtly) felt. Plus, it's cute! 
Sure, Darth Vader has a cape and doesn't wear a midi skirt, but these small details can be overlooked when fashion is at play. This Open Edit black skirt is a closet staple that can be used in numerous ways, regardless of connection to the dark side.  
Speaking of the dark side, check out this Sith-ready mock neck ribbed cutout top from BP. Pair it with a black skirt or pants for a super slinky look, or wear it as it's modeled (with denim!) for balance. The unusual cutout placement is unexpected and entirely wearable.  
What Star Wars fan doesn't like an accessory? Imagine rolling up to Oga's with this cute crossbody bag from Kurt Geiger and ordering a Bloody Rancor? You'd have one of the cutest bags in the galaxy, that's for sure.  
Remember that leather dress Padmé wore? We're paying respect and providing a more wearable and animal-friendly option with this faux leather dress with ruched sides. At just over $50, it's a steal and the perfect way to end our list of Star Wars inspired Anniversary Sale picks! 
The Nordstrom Anniversary Sale at Animal Kingdom
Park looks for Disney's Animal Kingdom are often requested. Knowing what to wear to feel cute in the heat can be challenging. But, what if you're not looking for park fits, and instead you're looking to pack your closet with pieces that remind of you of AK, or you'd like a cute dress for dinner at Walt Disney World after a day in Animal Kingdom?
We've got you. We think our finds are some of the best choices from the Nordstrom Anniversary sale, making them a perfect end to our guide!
We're starting our Animal Kingdom inspired finds with this green corduroy dress from O'Neill. Its classic shape and subtle slit-leg detail evoke lush savannahs and tree tops. Pair it with your favorite white sneakers to complete the look. 
Sometimes the perfect skirt comes in animal print—this is one of those occasions. This offering comes from Rails and features a scattered animal print that's dainty enough for every day if you're worried about it being too much but just enough to add a pop of detail to your outfit. This is a piece that we could see working perfectly in Animal Kingdom, too! 
If we ever get engaged at Animal Kingdom, we want to be wearing this sunset-colored asymmetrical dress! Picture it—reservations at Tiffins, the sun is setting, drinks are flowing, and we're wearing this dress! It's too good. Perfect for date nights or anytime you want to feel gorgeous, this pick is for anyone looking to feel their best and make special memories.  
When the temperatures heat up, we start daydreaming about fall, and we can't imagine we're alone in this. Enter the perfect suede skirt from Blank NYC. We love that this piece can transition from cooler summer nights to the depths of fall just by adding tights, and we think it's a wardrobe must for fall 2022.  
We're ending our Animal Kingdom picks with a dress that's a bit on the nose; Top to bottom animal print. While it might seem like a lot to some, the classic shape is serving vintage Dolce and Gabbana vibes, and Good American is a brand we support, thanks to their commitment to size inclusion. It's a solid choice to add to your closet if you're an animal-print fan.  
No matter your choice, you're bound to find something you love in the sale this year. We can't wait to see what you choose.
What Will You Pick Up?
We want to hear from you! What are you picking up during this Nordstrom Anniversary Sale? Did you find anything from our list that you'll add to your wardrobe this year? Let us know on socials! We love connecting with you on Instagram and TikTok!