People get tattoos for many reasons. From loving the design to honoring a special memory, it's clear that getting inked can stem from a place of profound significance. To learn more about the meaning behind Disney tattoos, Perfecting the Magic connected with three exceptional artists who express their love of Disney through their craft. Join PTM as we learn more about the inspiration that fuels them and their clients.  
The Artists 
We reached out to Chelsey Wagner Hamilton, David Sedano, and Shannon Taber to get the inside scoop on the artistry behind creating Disney tattoos. They have a combined 30+ years of tattooing experience between them and are wildly talented. The Disney tattoo requests they receive range from classics like Mickey and Tinkerbell to more specialized pieces that allow their creativity to flow.
Let's jump into their Q&A!
How Did You Get into Doing Disney Tattoos? 
Chelsey: [When I started doing Disney tattoos] I needed to heal my inner child. I started frequenting Disneyland, became a passholder, and began doing flash sheets of design ideas I got from walking around the park.
David: As a fan of Disney myself, I [was drawn to] the nostalgia factor. My appreciation for Disney-style animation has [continued to] inspire me over the years, too.
Shannon: [Disney tattoos] make me happy. How could you not be excited to be doing a [iconic] tattoo? I love the people tattooing has brought into my life—it's so great to spend hours with [those] who get me.
Do You Have Any Disney Inspired Tattoos?  
Chelsey: I do! [I have] three Disney tattoos. I have a stylized Cruella Deville by Thea Warden, a classic Snow White on my knuckle, and Captain Hook's hook, which I did myself after getting bored one day!
David: I only have one Disney-related tattoo—a Stormtrooper helmet from Star Wars wearing a pair of Mickey ears. It represents [my love for] them both.
Shannon: I do! I have several. I have a portrait of Uncle Walt with Steamboat Willie that I just had freshened up by my bud Jeff Scott, Mickey as a devil by my friend Steve Rieck, a tattoo of Figment, a [hybrid of] Joy and Sadness (from Inside Out) by Erin Odea. Oh, and Huey, Dewey, and Louie from Skylar. Jeff Scott also did a tattoo of a kewpie doll wearing Mickey ears for me, and my wife and I have matching Mickey and Minnie heads from Paulo-Cesar.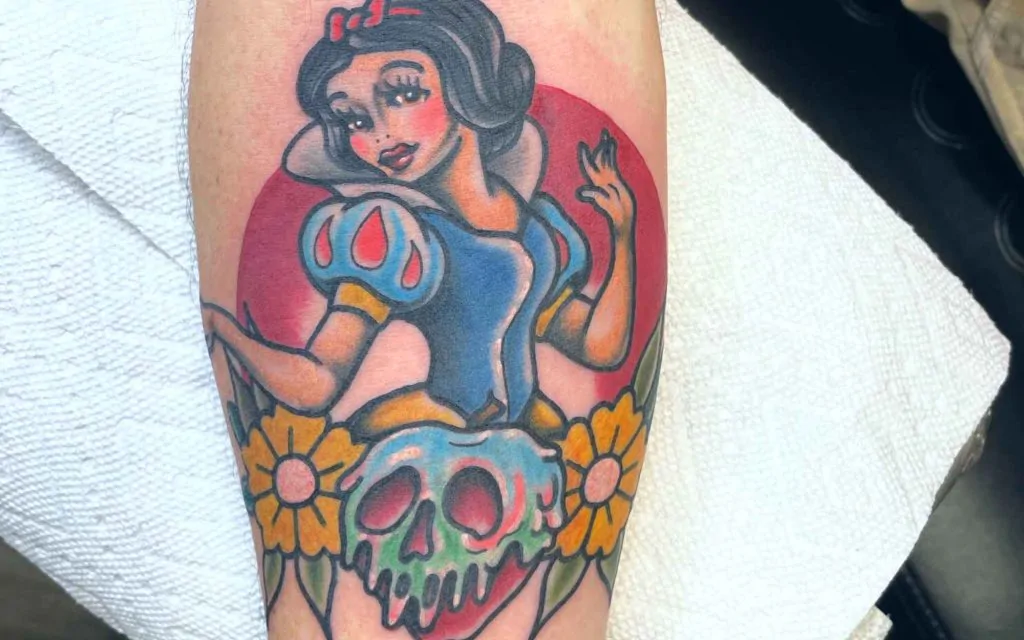 Why Do You Think People Want Disney Tattoos? 
Chelsey: I had a client come to me for matching tattoos. It was for her and her father. They each got a different design from "A Goofy Movie." Her dad got Goofy fishing, and she got "Hi Dad Soup." It was the one movie they watched together when she [was growing] up. It was so sweet. These interactions (and the memories attached to them) are so meaningful to me.
David: People get tattoos for different reasons. It's been my experience that these reasons can range from really deep and personal to just getting them for the love or appreciation of the subject matter. Disney tattoos usually connect to the person's childhood or represent loved ones.
Shannon: I recently did a tattoo on my dad of Dewey Duck–I used to carry a Dewey stuffed animal with me everywhere when I was younger. But, they are all unique. I am honored that people come to me and trust me with Disney tattoos tied to a particular memory in their lives.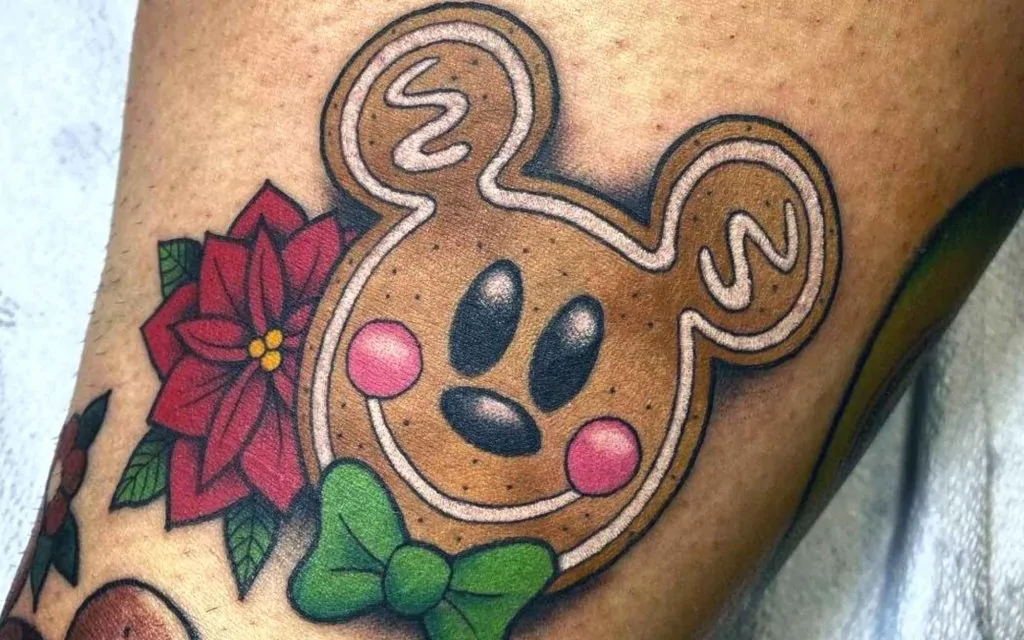 Do You Have Any Advice for Someone Considering a Disney Tattoo?  
Chelsey: Not to sound cliché, but you only live once. Be silly, have fun, make memories. Get the tattoo! And if you regret it, you can get cover-ups and laser tattoo removal.
David: My advice is to not worry about it being 'too silly' or anything like that. However, if you are in doubt, I would suggest asking your tattoo artist for their professional opinion. They can help guide you in the right direction to convey your ideas better. I would strongly advise that you do your research when looking for a tattoo artist. Read reviews, look through their body of work, visit different shops, and find the right fit for your tattoo.
Shannon: Do what makes you happy! Life is too short to worry about what others think. If a Mickey or Minnie tattoo will make you smile when you look down at it, what more reason do you need?!
Do What Inspires You 
Life is short. If you're interested in getting a Disney tattoo for any reason, you should consider meeting with an artist you trust to discuss it further. At Perfecting the Magic, we believe that inspiration is everywhere—you need to look for it. So, keep your eyes open for the people with Disney tattoos that walk past you—we bet they have quite a story to share!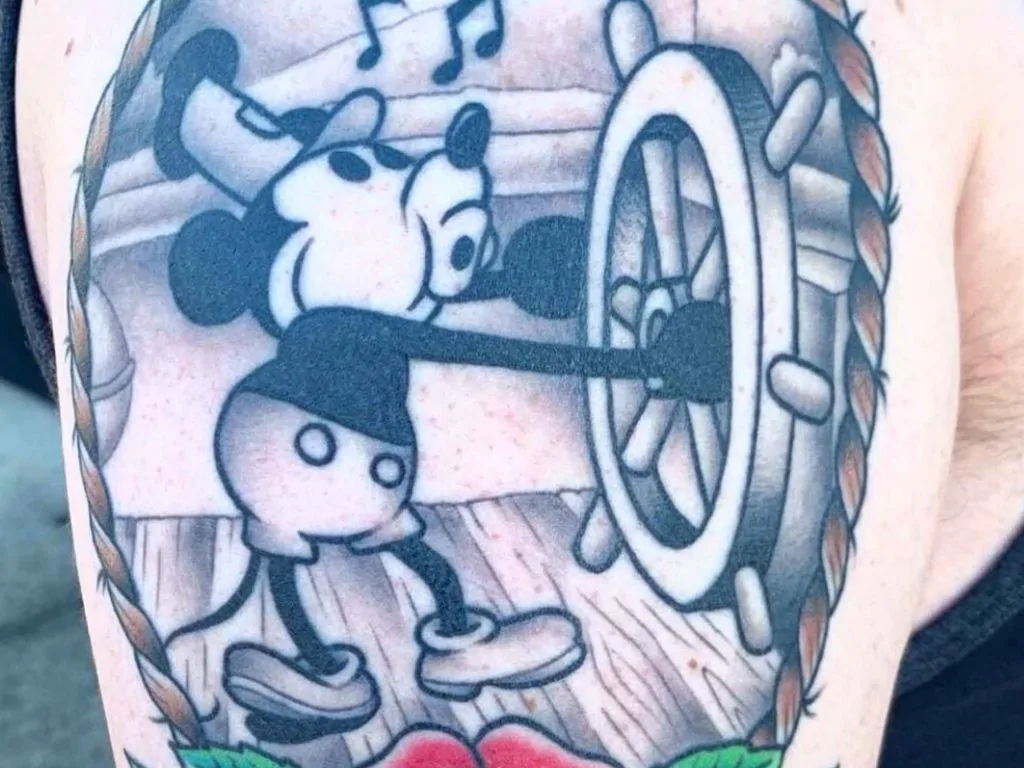 Would You Get a Disney Tattoo?  
Do you have an interest in getting a Disney tattoo yourself? Do you have one already? Connect with PTM on Instagram by tagging us in your tattoo photos. We can't wait to see the fantastic and meaningful designs you've chosen!