A dream is a wish your heart makes, and we're dreaming of Disney's Fairy Tale Weddings & Honeymoons here at Perfecting the Magic. 
Can you blame us? There's nothing more magical than a Disney wedding — and we're not just talking about weddings on Disney property. Many engaged couples planning their best day ever are looking for magical, Disney-themed wedding ideas to incorporate some of their favorite fairy tale themes into their special events. Whether you're walking down the aisle soon or your future wedding is still once upon a dream, we're sharing pixie-dusted inspiration for wedding invitations, wedding cakes, centerpieces, and magical aesthetics for your Disney-themed wedding. 
Disney Wedding Invitations
At last we see the light, and it's like the fog has lifted — because these fairy tale-inspired wedding invitations are the perfect touch of Disney magic! Whether your entire wedding is Disney-themed or you want to add some magical touches to your special day, your wedding invitations are a great way to incorporate some pixie dust into your wedding. 
Take a look at some Disney wedding invitation inspo below!
Sleeping Beauty Castle at Disneyland Paris
Sleeping Beauty Castle is by far the prettiest, most aesthetically fairy tale Disney theme park castle of all. So, it's only fitting to use the Disneyland Paris castle motif on your magical wedding invitations. 
Once Upon a Time
Every "happily ever after" starts with "once upon a time." Honor your own love story through your invitations.
"Beauty and the Beast" Inspiration
Surely as the sun rising in the east, your love is a tale as old as time. Even if your wedding isn't entirely "Beauty and the Beast"-themed, this iconic story is as romantic as it gets. 
Magical Centerpieces
Okay, let's talk centerpieces. DIY Disney-inspired centerpieces can truly elevate your fairy tale wedding and weave more magic into your event. We've seen some amazing tablescapes at Disney-themed events, but these are on another level. Centerpieces and florals this gorgeous will have you humming "Can You Feel the Love Tonight" the moment you see them at your wedding reception.
Disney Icons in Golden Hues
Incorporate some golden Disney icons on the centerpiece of each table to add classic fairy tale flair to your wedding reception.
Rapunzel-Inspired Décor
The colors and themes from the lantern scene in "Tangled" are so incredible and evoke such romance — and honestly, the instrumental version of "At Last I See the Light" is the perfect walk-down-the-aisle song.
Storybook Wedding Aesthetic
This storybook wedding aesthetic incorporates your favorite Disney stories into your special day.
Subtle Cinderella Theming
Cinderella is by far one of the most classic and beloved Disney stories, and the beautiful blue and silver color palette is dreamy and romantic.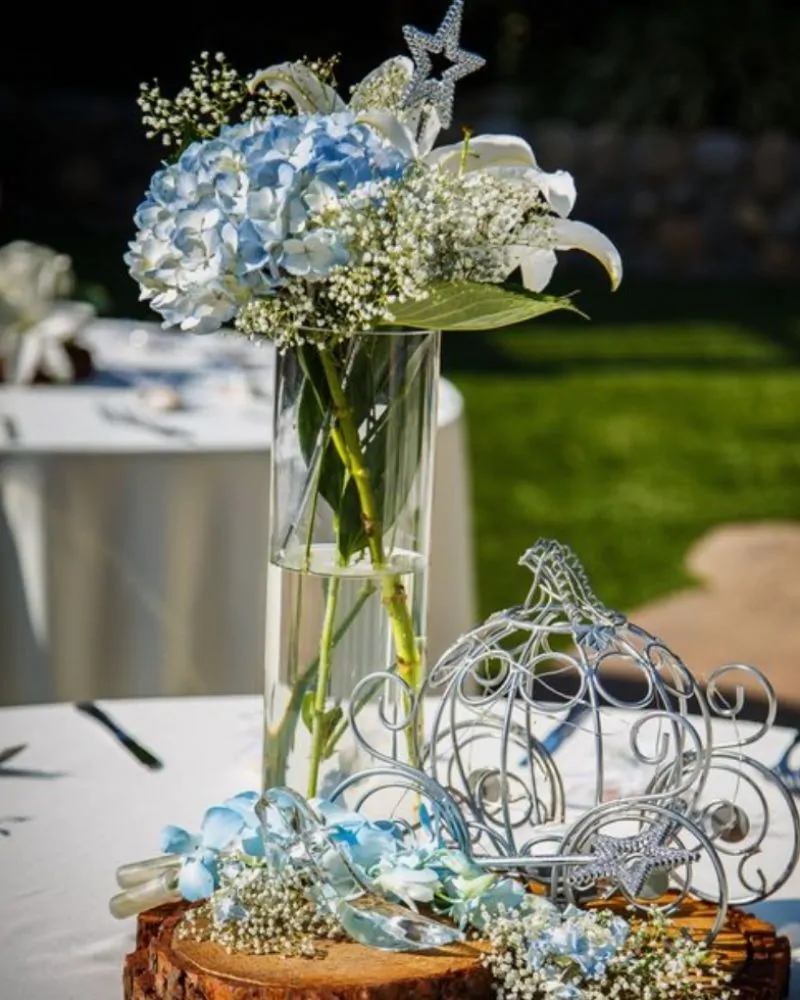 Disney-Inspired Wedding Cakes
When it comes to your Disney wedding cake, the possibilities are endless! If your entire wedding is Disney-inspired, then your wedding cake can magically reflect the theme. A cake can also be a great way to add fairy tale vibes to your event without a completely Disney-themed wedding.
No matter what you're going for, here are some of our personal favorite Disney wedding cakes. (Bonus points if they're chocolate-filled. It wouldn't be a fairy tale wedding if you couldn't stuff some chocolate in your face, à la Anna from "Frozen.")
Looking for an easy way to add some Disney to your wedding? Request some simple hidden Mickeys to be added to your wedding cake.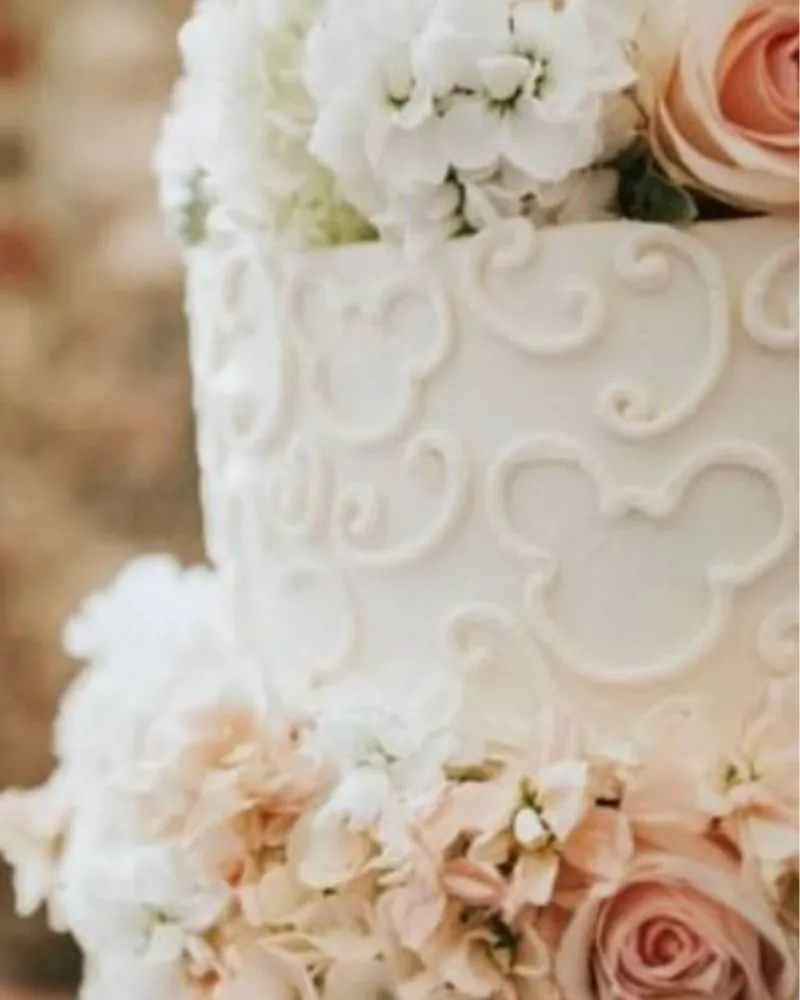 A Complete Fairy Tale
These wedding cakes are absolute works of art. If you're going for a more classic castle theme or want your cake to be a focal point of your event, these are the perfect inspiration.
"It's a small world" Wedding Cake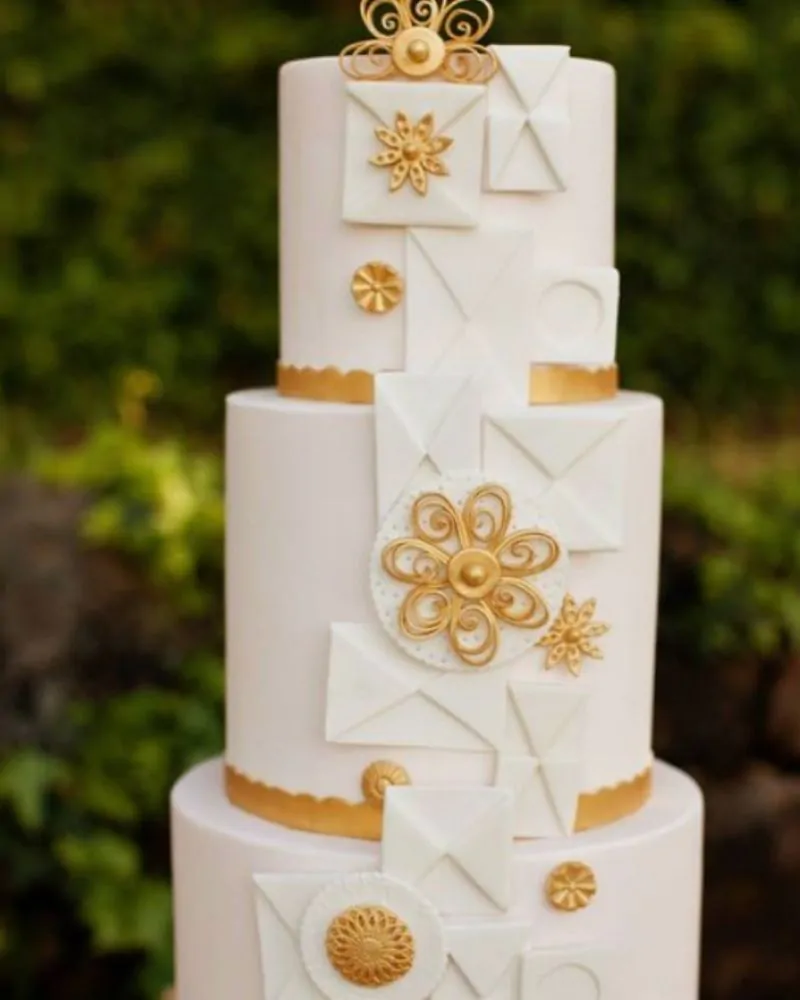 The timeless Mary Blair motifs of "it's a small world" are recognizable to Disney superfans but just subtle enough, making this cake design perfect for any couple wanting just a touch of Disney.
Add to your Disney Wedding Aesthetic
Finally, we're sharing some of our favorite Disney fairy tale wedding aesthetics that have taken over our Pinterest board. From gowns to aisles to stunning photoshoot locations, take a look at this swoon-worthy Disney-themed wedding inspiration below.
An Enchanting Estate in California 
Hauntingly Ever After
Dreaming at Disney's Animal Kingdom
Disney's BoardWalk
The Iconic Cinderella Carriage
A Unique Spin on a Princess Look
If the Crown Fits 
A Hairstyle Rapunzel Would Envy
We Can Be Your "I Do" Discrew
Like many Disney fans (and Disney couples, we see you!), we love. So if you're planning your best day ever or daydreaming about the day you can walk down the aisle with your prince or princess, we'll be cheering you on the whole way. Follow us on TikTok for more Disney fun, and subscribe to the Perfecting the Magic newsletter for more Disney wedding and honeymoon content.