Gone are the days of free Walt Disney World transportation to and from the airport. And let's face it, that's pretty disappointing! But even though Disney's Magical Express is no longer in service, there are still a variety of other transportation options available for Disney World guests — including Mears Connect. 
Here's everything you need to know about the Mears transportation at Disney World. 
What was Disney's Magical Express?
Disney's Magical Express was the complimentary transportation service that brought guests to and from their Disney hotel and Orlando International Airport. Anyone staying on Disney property could sign up for Disney's Magical Express before their trip and then take a free shuttle from MCO straight to their hotel. This was an incredible perk for staying at a Disney resort, and guests were pretty upset when Disney announced that it was going away.
Disney's Magical Express officially stopped taking guests to and from MCO at the end of 2021, leaving guests with a new option that is no longer free.
Mears, the New Disney World Airport Transportation Service
Enter Mears Connect, the new transportation service for guests staying at Walt Disney World. 
Well, "new" isn't exactly true. Mears is the company that ran Disney's Magical Express in partnership with Disney. Although Disney's Magical Express is no longer an option, Mears is. Guests can still take a shared shuttle from Orlando International Airport to their Disney resort and back again for an added fee.
The bus won't have a Mickey Mouse decal on its side, but Mears transportation still is a convenient, nearly identical transportation service for Disney World guests.
How Much Does Mears Cost?
Now that the airport shuttle to and from Walt Disney World is no longer free, how much does it cost? 
There are now two options for the Mears shuttle, Standard and Express. The Standard service is most similar to Disney's Magical Express: it's a shared shuttle that will typically make stops to drop off guests at a few Disney different resorts each trip. This costs $16 per adult and $13.50 per child for a one-way trip, and $32 per adult and $27 per child for round-trip service. 
The second service that the Mears shuttle provides is Express. Though it is not a private shuttle, Express service through Mears offers guests direct service to their resort. This means that if you purchase Mears Express, your Disney hotel is guaranteed to be the first stop the shuttle makes after picking up guests from Orlando International Airport. This is only offered for round-trip rides and costs $250 for up to four passengers and $55 for each additional guest.
Is Mears Worth It?
Compared to the complimentary Disney's Magical Express, Mears can feel like a pretty steep upcharge for a shuttle to and from your Disney World hotel. So, is Mears transportation to Disney World worth the price?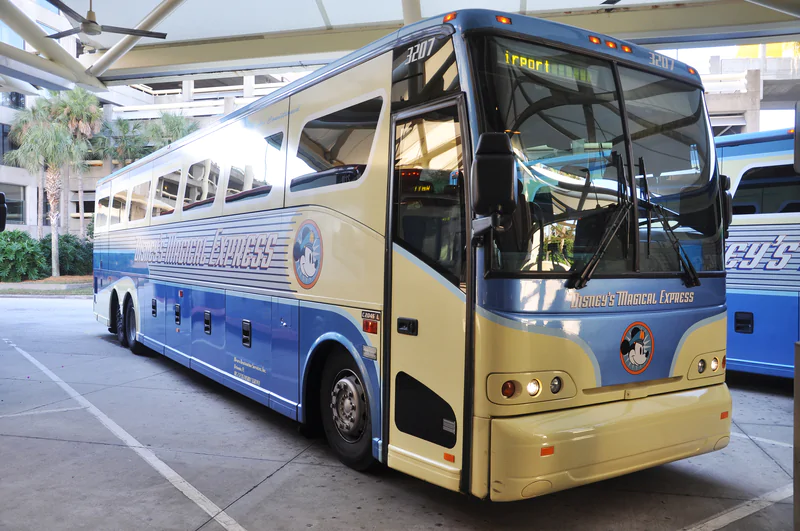 It depends on how many people are in your party. If you're traveling solo or with just one other person, then the Mears round-trip shuttle service will cost way less than taking an Uber or Lyft to and from the airport. Plus, if you are traveling with small children, you will need a car seat or booster seat to use a ride share service, which is not required when taking a Mears shuttle. 
Keep in mind that if you're flying into MCO for your Walt Disney World vacation, there are a few transportation options to choose from in addition to Mears Connect. You can take an Uber or Lyft for around $30-40, the new Sunshine Flyer shuttle service for around the same price as Mears Connect, a taxi, or private car service. You could also rent a car, but then you'll have to take into account the added cost of parking each day at Disney. 
Unless you know someone who can pick you up from the airport upon your arrival to Orlando, you're going to be paying for transportation to Disney World. So, if you were a fan of Disney's Magical Express when it was free, Mears transportation is probably worth a try at least once.
Get Theme Park Updates Daily
Here's the deal — things at the theme parks keep changing, and it's hard to keep up! Stay in the know and follow us on TikTok for daily updates on Walt Disney World and more.