Disney's Topolino's Terrace is one of the hottest dining reservations in Walt Disney World. Featuring what is (arguably) the most in-demand character breakfast on WDW property and one of the finest fine dining experiences in Florida, Topolino's Terrace is a dream dining destination for many Disney fans. But, which reservation should you choose? We're reviewing both meals to help you decide! 
How to Get a Reservation at Disney's Topolino's Terrace 
Since Topolino's Terrace opened in late 2019, it has been wildly popular, and for good reason! Inspired by the French and Italian Riviera, the restaurant is located atop Disney's Rivera Resort. Topolino's provides exquisite rooftop views, exceptional service, and refined European flavors that bring something entirely new to Walt Disney World. The space itself is luxe, warm, inviting, and elevated—it's easy to see why reservations are so coveted!
Booking a character breakfast at Topolino's Terrace can be incredibly challenging. We highly recommend that you book as soon as your resort reservation window opens, or you'll probably miss out. If you're staying offsite, or late booking your dining, you'll likely need to use an alert service like Mouse Dining, as reservations go very quickly! If you go this route, you'll need to be willing to accept last-minute reservations, as we found that's when slots tend to open up. Once you receive a notification, it's essential to act quickly because they'll be gone in seconds!
Dinner reservations at Topolino's Terrace are easier to come by. However, you will still need to plan ahead to book a reservation. We recommend booking as soon as your availability opens and using services like Mouse Dining if you've missed your booking window. While we found that dinner reservations opened more frequently, dinner at Topolino's Terrace is becoming increasingly popular due to its breathtaking views of Epcot's Harmonious, vibey romantic terrace and scrumptious menu of house-made and imported delights!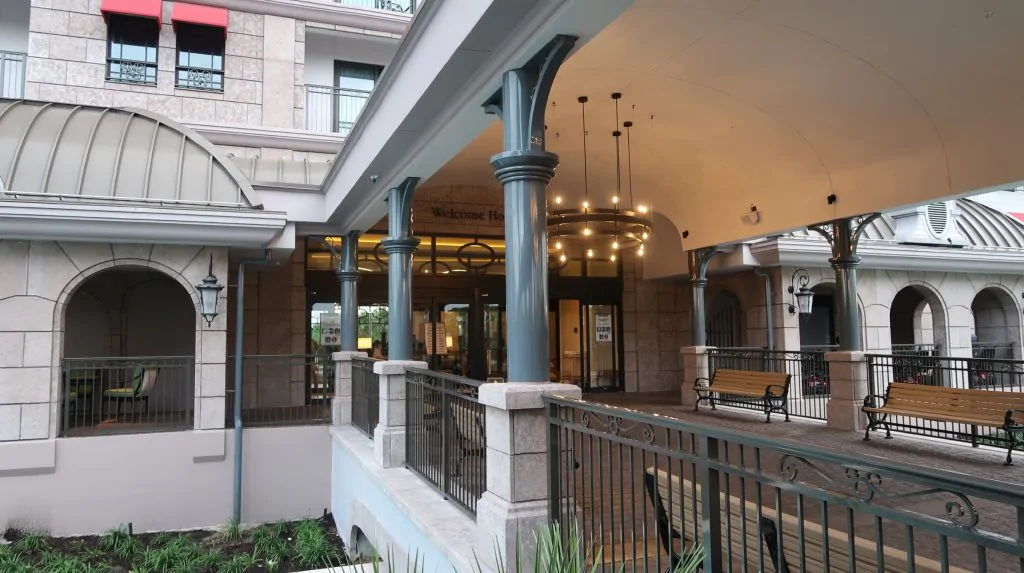 Bottom line? You can't go wrong with either dining experience. None-the-less, with our readers' varied tastes in mind, we're breaking down each meal to help you make an informed choice.
Onto the reviews!
Disney's Topolino's Terrace Character Breakfast 
Arriving at a breakfast reservation at Topolino's Terrace doesn't feel like entering a character dining experience at Disney; it feels like a high-end restaurant. After checking in, you'll likely be asked to wait in the Topolino's lobby while they prepare your table. The wait is short, and the area is comfortable. When your table is ready, you enter the restaurant, which is remarkably light and airy, due to its vast wall-to-wall windows. While we admit that a window view would be stunning, we were happy with our half-booth, as it provided some privacy while dining.
Most tables looked to be thoughtfully placed, with the expectation of the tables near the kitchen, which would likely be a miss—unless you love watching (and hearing) the action! The breakfast menu is impressive, and allows you to customize your meals (and try multiple options). Tea, coffee, water, and juices are complimentary, including off-menu POG juice, a passion fruit, orange, and guava juice that is wildly popular with Disney fans.
We were happy to learn we could order it, and happier still to learn that we could not only order a main dish, but choose 'sides' of other dishes to try as well. The side portions were smaller, which we appreciated, as we support limiting food waste. However, they will bring more if you fall in love with a particular side dish. This helped remove our fears of missing out on something we might love.
We ordered the wood-fired butcher's steak for our entrees and substituted scrambled eggs with gruyere for the polenta. For our side, we ordered the sour cream waffles, which came with side of bacon. On the recommendation of our server, we ordered the pancetta-laced quiche as (another!) side to try.
Once our orders were in, we were quickly brought our juices and a painter's bucket of pastries, which included Nutella spread, croissants, muffins, and Danishes. The paint bucket was adorable, and the little knife spreader looked like it belonged on a painter's palette, which was a nice touch, as Disney refers to Topolino's as being "breakfast à la Art with Mickey and friends,".
The pastries were excellent. However, we didn't order any additional pastries, even though they were offered, as we knew our breakfast would be coming very soon!
While we nibbled on pastries, Mickey, Minnie, Daisy, and Donald Duck began walking around Topolino's Terrace. They came out with their music and introductions, posed, and made a circle around the restaurant to show off their outfits before stopping at each table individually for a personal meet and greet! Their outfits were incredible, with each showcasing their artistic gift. Minnie was dressed like a poet, Mickey a painter, Donald a sculptor, and Daisy a dancer! Their outfits were thoughtfully designed with tiny details to help connect you with their story.
We were grateful that character meetings were back at Disney (after the COVID-necessitated hiatus) when we went to Topolino's Terrace! We took photos together, hugged, and had little 'conversations'. Our interactions never felt rushed, and we loved seeing how happy people (of all ages) were to meet them!
We thoroughly enjoyed our breakfasts, with some standouts being particularly delicious! The sour cream waffle with Chantilly cream and maple syrup infused with orange was perfection, and the accompanying bacon we ordered was perfectly crisp! The butcher's steak was surprisingly tender, albeit a bit more food than we could handle while busy meeting characters. We were grateful that we were allowed to take it home. The scrambled eggs were perfect, and we'd re-order them again and again. The waffles were our favorite, but everything we ordered was delicious. The quiche was a rare miss, but that speaks more to our disinterest in quiche in general than anything else. The reviews on the quiche have been glowing, and if you're a quiche fan, you should give it a try!
Altogether, breakfast at Topolino's Terrace was delightful and it offered a related character dining experience that we hadn't experienced before at Disney. We appreciated the upscale touches, and while many people love a buffet, having your dishes brought to you is nice! The menu is thoughtful, with plant-based options, and the character interactions felt sweet and never forced. The additional story element of Mickey, Minnie, Donald, and Daisy having artistic endeavors in the Rivera helped create an immersive atmosphere that we would return to bask in again and again. If you have any hesitations, put them aside and try a character breakfast at Topolino's Terrace. We think you'll love it!
We enjoyed our experience so much that we returned for dinner the same week!
Disney's Topolino's Terrace Dinner with Fireworks Views 
Dinner at Disney's Topolino's Terrace was decidedly different than breakfast. The space felt different, too, being transformed into a romantic setting with just lighting alone. It felt warm and intimate, and the glowing golden chandelier evoked an image of fresh pasta drying on a rack. Trust us, it's beautiful!
Our service was impeccable. We felt like we connected with our server Christopher the second we sat down, and it felt like dining with a friend who somehow had an intense depth of knowledge of the menu.
The cocktails were perfect, as were the mocktails—We requested a Shirley Temple and would do it again. The bread service, which consisted of crusty baguettes, was also lovely. Be sure to try the olive oil with blueberry notes. It's distinctive! Sea salt flaked butter was brought upon request, and we appreciated the extra options.
We ordered the Rigatoni with braised chicken sugo, wild mushrooms, and Italian cheeses, and the wood-fire filet mignon with potato puree. Once our orders were in, we enjoyed the semi-private views of Epcot's Harmonious from the terrace. Though we could have enjoyed them through the windows, it was nice to have the music piped into the balcony to enjoy Harmonious this way.
We enjoyed the fireworks before coming back inside to enjoy our perfect dinners! The pasta, made in-house, melts in your mouth, as does the filet, which was the best we've had on Disney property to date!
The meal was superb, and our only regret was not leaving room for dessert.
We look forward to visiting Topolino's Terrace for years to come!
What's Your Topolino's Terrace Pick? 
Have you dined at Topolino's Terrace? Are you team breakfast or team dinner? Share what you like to order in the comments! If you haven't visited yet, let us know if you plan to!
While you're here, connect with PTM on TikTok and Instagram to stay up-to-date on everything Disney!