Are you celebrating your birthday at Walt Disney World soon? We're here to help. Walt Disney World is enchanting even when it isn't your birthday, but a birthday vacation at the Disney parks? Now that's a great way to celebrate! There are unlimited ways to experience birthday magic at the most magical place on Earth, whether you want to splurge on your special day or keep the spending to a minimum. So, if you're a Disney fan on a budget or want to live it up, this is the Disney World birthday guide for you.  
Let's dive into Perfecting the Magic's best tips for how to make birthdays at Walt Disney World extra special. 
Birthday at Walt Disney World Freebies 
This wouldn't be a Disney World birthday guide if we didn't mention the free stuff. Yes, Walt Disney World is often dubbed "the most expensive place on Earth," but free experiences exist. A celebration button is the first freebie available for all Walt Disney World guests. For years, Disney has offered these for various occasions, but they are especially popular for birthdays. Head to City Hall at Magic Kingdom, any Guest Relations location at any of the theme parks, or, if you're staying on property, the front desk of your Disney Resort to grab a "Happy Birthday!" button. Disney also offers "I'm Celebrating!" buttons for the other members of your party so they can join in the fun! 
Birthday buttons are great, but be warned — you will definitely have complete strangers wishing you a happy birthday! If you love the extra attention from Disney Cast Members and passers-by, wear your button proudly. But, if that's not your thing, then perhaps pick up the button as a free souvenir and put it away when you're feeling shy.
No matter what, you can give your birthday button extra flair and customization by heading to Ye Olde Christmas Shoppe in Liberty Square in Magic Kingdom. We love doing this when we know we'll be keeping our personalized birthday buttons as souvenirs long after the trip is over!
Free Birthday Goodies from Disney Springs 
Want to experience birthday fun outside the parks? We've got you, with some free ways to celebrate your special day at Disney Springs. Several locations at Disney World's shopping and dining district offer free birthday snacks. Just keep in mind that you will probably have to download an app or join a rewards program (or both!) to take advantage of them. 
We love Earl of Sandwich. Who doesn't, right? So, we recommend joining the restaurant's eClub so you can take advantage of the free birthday gift. That way, you have an excuse to grab the Holiday Turkey sandwich (as if you needed a reason — it's your vacation, after all!). 
Sprinkles also offers birthday rewards, but with a twist. If you join the Sprinkles Perks loyalty program, your birthday freebies increase the more points you earn. The most basic tier (for 1-7 Sprinkles visits) earns you a free cupcake on your birthday, while the highest tier 40+ visits) earns you 13 free cupcakes on your birthday. So, whether you live near a Sprinkles and can start racking up those points early, or you'll be visiting for the first time on vacation at Disney, be sure to join the perks program ASAP!
Sure, Wetzels is your basic soft pretzel chain you can find in almost every mall, but we'll be the first to admit that a freshly baked pretzel with a side of cheese slaps. And what's better than a soft pretzel? A free soft pretzel! Download the Wetzels app and earn not only a free item when you download, but also a free pretzel on your birthday. 
It may be a no-brainer, but there's always Starbucks! Starbucks Rewards members can get a free drink on their birthday if they sign up for the program at least one week beforehand. Plus, you can mobile order your drink at Disney Springs, giving you more time to shop at World of Disney. We love to see it!
Treat Yourself to a Birthday Sweet at Amorette's 
We love checking out Amorette's Patisserie at Disney Springs, and if you'll be celebrating your birthday at Walt Disney World, we think this is the best place to do it. Many desserts served here won't break the bank, making this recommendation budget-friendly. The pastries at Amorette's are artfully created and are just as photo-worthy as they are delicious. If you're already in the area scoring your birthday freebies, stop by Amorette's Patisserie and order a crème brûlée or éclair. We promise you'll love it! If you're over 21 and have some extra cash to spare, consider a glass of champagne or sparkling wine. These are topped with an adorable Mickey hat, making them perfect for your Disney birthday celebration!
For more recommendations like this, check out our Disney Springs guide here. 
Splurge on your Birthday at Walt Disney World 
If you're willing to splurge a little (or a lot!) on your birthday at Walt Disney World, here are some of our suggestions! 
There's nothing like seeing the fireworks on your birthday. It can feel as though Disney World is celebrating you — you are the magic, as they say! Consider booking a fireworks dessert party at Magic Kingdom to feast on all-you-care-to-enjoy sweets and beverages and get a reserved viewing spot for the fireworks. Dessert parties are extra special if they're booked during an after-hours event, like Mickey's Not-So-Scary Halloween Party! If you want a more private fireworks viewing experience, book a fireworks cruise on Seven Seas Lagoon. This is truly a Disney treat; if you can swing it, it's worth the splurge! 
If you plan to be in the parks a ton or you want to surprise someone in your group with a birthday treat, it could be a great idea to order a special delivery directly to your Disney hotel room. Disney World's Floral and Gifts department offers themed celebratory baskets, floral arrangements, and balloon bouquets that you can order for your room in advance. So, if you want to plan a special surprise for a loved one, you could schedule the delivery for when you'll be in the parks. Then, a gift will be waiting for you when you return to your room! 
By far, one of our favorite ways to celebrate a birthday at Disney World is by ordering a specialty cake. For $39, you can preorder a Mickey Mouse Celebration Cake, and Disney will deliver it to a table-service restaurant on property. There are a variety of cake options — and there's a long list of participating restaurants — so check online for more information. You can easily place a specialty cake order whenever you book a table-service dining reservation through the Walt Disney World website or the My Disney Experience app. 
If you're planning to go big on your next Disney trip, check out our luxury guide to Walt Disney World here. 
Tell Disney It's Your Birthday 
Did you know you can reference any celebration when booking your Walt Disney World reservations? When booking your trip and reserving your table-service dining, you can make a note on your reservations that says you're celebrating. When you're being seated at any Disney restaurant, it's also likely that your host or hostess will ask if you're celebrating something special on your trip. Be sure to let them know that it's your birthday! Walt Disney World is truly the ultimate place to celebrate any occasion — it's the most magical place on Earth. So, don't be shy if you're truly doing it big or just want to make your birthday known! It's not guaranteed that you will get any extra pixie dust, but at the very least, getting a few extra birthday wishes from the Disney Cast Members around you is a wonderful feeling. 
Follow for More Disney Tips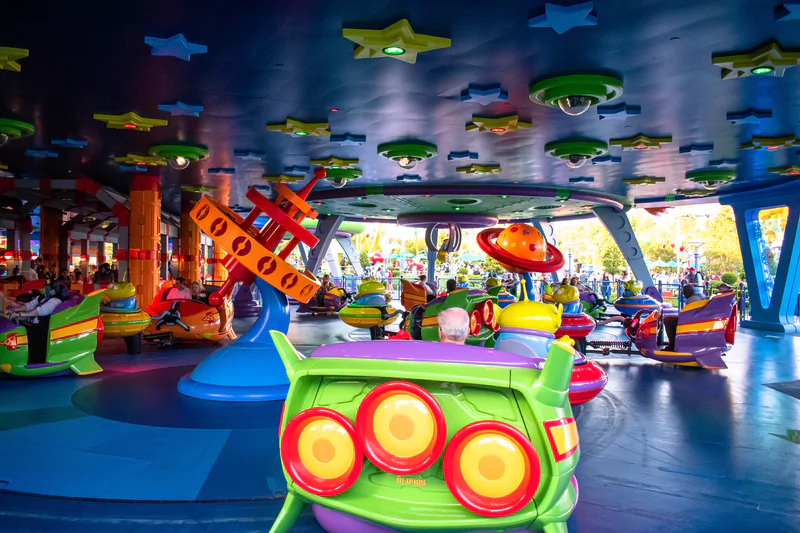 Here at Perfecting the Magic, we know that Disney is what you make it, and there is truly a Disney vacation for everyone, no matter your budget or interests. If you want more Disney tips, then be sure to stick around. We love sharing specialized recs tailored to every type of Disney fan, whether you're rope dropping ('til you drop) or like to take it easy at the parks and experience the magic at your own pace. Follow along on TikTok and Instagram for more tips to make your next vacation extra special.