It's officially November, and you know what that means — it's beginning to look a lot like Christmas! We know, we know — it was just barely spooky season, and now we're already moved on. But hey, if Disney says its time to start walking in a winter wonderland, we're going for it. Put on Mariah Carey's most iconic bop, brew some hot cocoa, make a delicious Disney-inspired dessert, and get ready to deck the halls. Today, we're breaking down the best Disney Christmas movies on Disney+! 
Disney Christmas Movie Watch List 
Our list of the best Disney Christmas movies is based on the most incredible holiday gift Disney could have given us three years back: Disney+. When the House of Mouse launched its official streaming service in November 2019, we knew it would change everything. Since then, Disney+ has continued to add new titles, from modern films to favorite classics, allowing us to live out our nostalgic dreams year-round with watch parties of Disney Channel Original Movies from our childhood, new original films and series, and so much more. Believe us when we say we're total Disney+ fangirls over here at Perfecting the Magic.
We broke down our watch list into several categories so that you can find the perfect film based on your mood. So, grab a peppermint mocha and a gingerbread cookie, and let it snow, we've got movies to watch!
Disney Christmas Classics 
First, let's talk about our favorite Disney cartoons and live-action films. There are so many Disney Christmas classics we love, but when it comes to the holidays, these are the movies we always go back to year after year.
"Home Alone"  
"When Kevin McCallister is left behind while his family dashes off on a Christmas trip, he is left to defend his family's home from two bumbling burglars until the relatives return." 
Can we even make a Christmas movie watch list without "Home Alone"? Impossible. 
Honorable mention goes to "Home Alone 2: Lost in New York" — some fans even prefer this sequel to the first!
"Mickey's Once Upon a Christmas" and "Mickey's Twice Upon a Christmas" 
"Join Mickey, Minnie, and their friends for hilarious and heartwarming stories of their most memorable Christmases together."
Is there anything better than the Fab 5 at Christmastime? We don't think so. Whether or not you watched these movies during your childhood, "Mickey's Once Upon a Christmas" and "Mickey's Twice Upon a Christmas" feel nostalgic and warm. These two films feature Mickey Mouse, Minnie Mouse, Donald Duck, Daisy Duck, Goofy, Max, Pluto, and more, and the stories are sweet, adorable, and, in some ways, relatable. Pick up (or make!) some Mickey-shaped gingerbread cookies and have yourself a double feature. 
"The Nightmare Before Christmas" 
"Bored with the same-old scare-and-scream routine, Pumpkin King Jack Skellington longs to spread the joy of Christmas."
Is it a Halloween movie? Is it a Christmas movie? It seems like everyone has a different take, but if you ask us, we'll say this is a year-round movie. Songs like "What's This?" have been stuck in our heads since we first saw the film. There's nothing like a Tim Burton movie to get you in the holiday spirit, even if it's a bit spooky. 
"Prep & Landing"  
"An elf from a high-tech team, tasked with preparing homes around the world for Santa's visit, is upset when he is passed over for a promotion and partnered with an idealistic rookie."
These are newer films, but they quickly became holiday classics. We love this grumpy-and-sunshine pair of elves who make this story so unique and special. It's a movie like no other, and we adore that it's on Disney+, so we can watch it annually! If you can't get enough of this rambunctious elf duo, there are two more "Prep & Landing" movies to add to your Disney+ watch list: "Prep & Landing Naughty and Nice" and "Prep & Landing Operation: Secret Santa." You'll thank us later!
"Beauty and the Beast: The Enchanted Christmas"  
"Mrs. Potts recounts another 'tale as old as time' about a Christmas that almost wasn't, thanks to scheming composer Forte, who is determined to keep Belle and Beast apart forever."
While the story is enchanting, let's be honest, we watch this movie for its aesthetic. Belle is a fashion icon in this film, Beast's castle is a snow-covered wonderland, and the overall winter vibes are everything we could dream of. 
The "Santa Clause" Franchise  
Would there be a Disney Christmas movie list without Tim Allen? He's Santa, after all. You can enjoy the entire "Santa Clause" franchise on Disney+ — there's so much to watch, you could make a whole day of it. 
"The Santa Clause"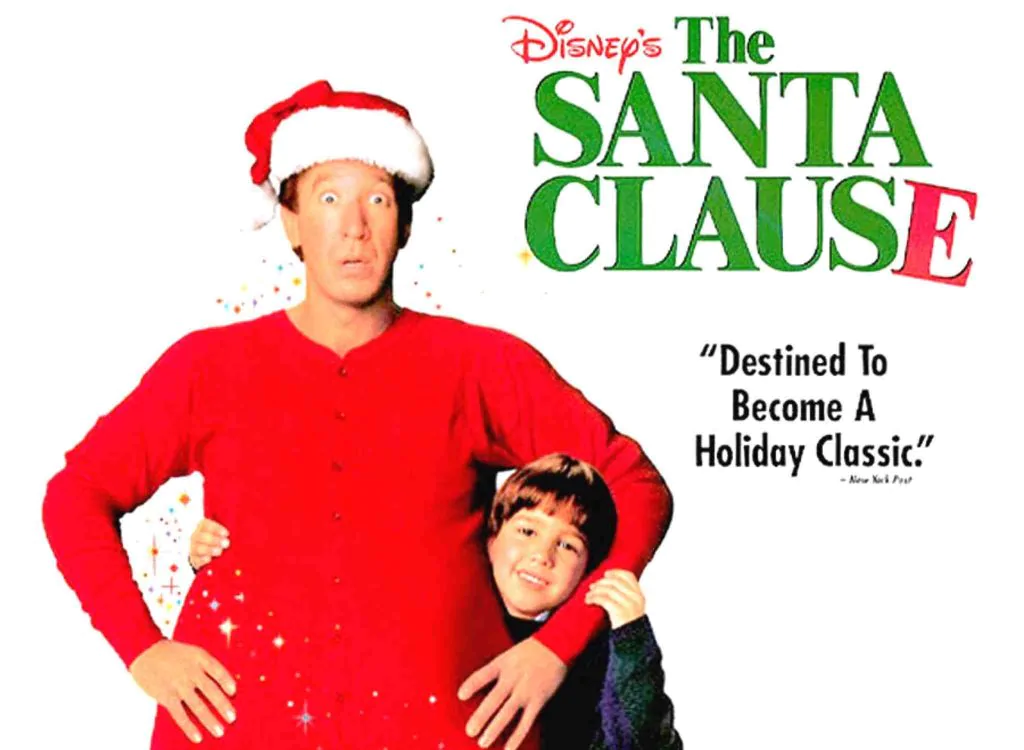 "On Christmas Eve, divorced dad Scott Calvin and his son discover Santa Claus has fallen off their roof. When Scott takes the reins of the magical sleigh, he finds he is the new Santa and must convince a world of disbelievers, including himself."
This 1994 holiday favorite gives us all the feels. We remember the first time we traveled to the North Pole, met Bernard the elf, and realized that if we just believed hard enough, magical things could happen in the most unexpected ways. It's perfectly cheesy, and we love it. 
There are several sequels to "The Santa Clause" that you can enjoy on Disney+, including "The Santa Clause 2" and "The Santa Clause 3: The Escape Clause." And this year, Disney will release a new series — "The Santa Clauses" — in which Allen reprises his original role of Scott Calvin. It'll be a sleigh full of fun. 
Every Version of A Christmas Carol  
There are several versions of the classic Charles Dickens story that you can enjoy on Disney+. They are all magical in their own way, and whether you have a "Christmas Carol" movie marathon or watch them sporadically throughout the season, 
"Mickey's Christmas Carol"  
"An all-time Christmas classic gets a fun Disney twist as greedy Scrooge learns to embrace the spirit of the season." 
In this charming retelling of the timeless story, Scrooge McDuck will melt your heart. He may not be your favorite duck in the beginning, but by the end, you'll love him. 
"The Muppet Christmas Carol" 
"The Muppets' rendition of Charles Dickens's classic tale puts a unique twist on that fateful Christmas Eve when Scrooge is visited by the Ghosts of Christmas Past, Present, and Future." 
This is a favorite Christmas film for longtime Muppet fans and Christmas revelers alike. It's cute, fun, and a great watch regardless of your age (or level of Muppets expertise). Who doesn't love a Christmas movie featuring Kermit the Frog? 
"A Christmas Carol"  
"Ebenezer Scrooge begins the Christmas holiday with his usual miserly contempt, but when three ghosts take him on a journey revealing long-buried truths, he must open his heart to undo years of ill will before it's too late." 
This 2009 film starring Jim Carrey is as close to Dickens's original story as reading the book. You'll laugh, cry, and smile all the way through this delightful movie.  
Disney Channel Original Movies and Special Episodes 
If you were (or still are!) a Disney Channel kid, then we've got the best Christmas present for you. You can stream all of your favorite Disney Channel Original Movies (aka DCOMs), and special holiday-themed episodes of Disney Channel shows from the 2000s all in one place.
There are so many DCOMs and Disney Channel episodes we love watching during this time of year, from "The Ultimate Christmas Present" to pretty much every holiday special —"The Suite Life of Zack and Cody" and "That's So Raven" are two of our favorites! Thankfully, Disney+ already has a whole playlist of these goodies, so you can access them here. 
New Holiday Favorites 
We have some recently released films that have quickly become our favorites, and we'd be remiss if we didn't share them with you! 
"Decorating Disney: Holiday Magic" 
"Disney Parks become the Merriest Places on Earth."
This is the next best thing if you can't make it to the parks for the holiday season. We love seeing all of the extra pixie dust that goes into transforming Disneyland and Walt Disney World for the holiday season. 
"Noelle" 
"Kris Kringle's daughter is full of Christmas spirit but wishes she could do something important like her brother Nick, who will take over for their father this Christmas."
Starring Anna Kendrick, this movie is almost like "Elf" meets "The Santa Clause." It's cute, witty, and enjoyable for the whole family, so we recommend it if you'd like a more modern, fresh story that still feels warm and fuzzy.
"Olaf's Frozen Adventure" 
"Olaf and Sven team up for a merry mission to bring home the kingdom's holiday traditions and save Christmas for Anna and Elsa."
This short film has one of our favorite Disney songs ever: "When We're Together." It's sweet and heartwarming, and if you're in need of one of Olaf's warm hugs, this will do the trick.
"The Guardians of the Galaxy Holiday Special" 
"On a mission to make Christmas unforgettable for Quill, the Guardians head to Earth in search of the perfect present."
While some may have visions of sugarplums dancing in their heads, we have visions of dancing Baby Groot. Anyone else? The newest addition to our Christmas movie watch list hits Disney+ on November 25, 2022. 
With that, we round out our recommendations of the best Disney Christmas movies on Disney+, we can't wait to hear about your favorites!
More Magic is Coming 
The holiday season is upon us! With Walt Disney World, Disneyland, and the Universal theme parks decking the halls, we're working to bring you more holiday magic that you can enjoy from anywhere. Follow Perfecting the Magic on TikTok and Instagram to stay up-to-date on all the Christmas fun.