By now, we're sure you've heard about our favorite fashionista, Minnie Mouse, and her new Stella McCartney makeover. It sure got Disney fans talking! Some see Minnie Mouse's new pantsuit as a sign of female empowerment. On the other hand, some fans believe that it might be too bold a change from Minnie's traditional polka dot dress. 
No matter where you fall in the Minnie Mouse outfit debate, there is no denying that Minnie is an icon. To celebrate Minnie's fashion, PTM is looking back on Minnie Mouse and her iconic style history through the decades.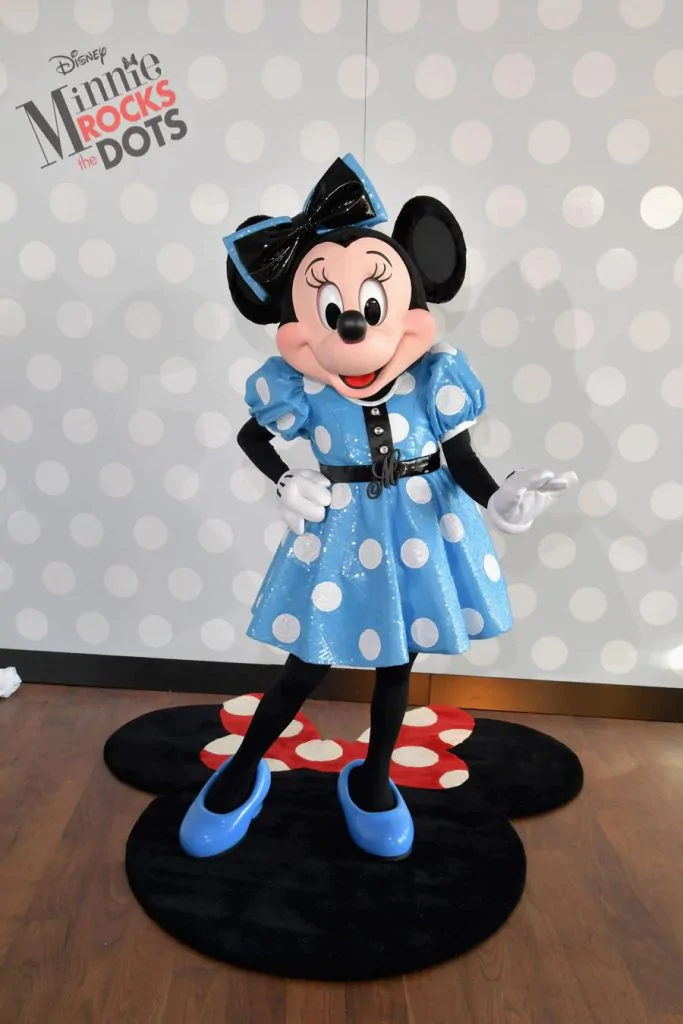 Starting with the Ears
When you think of Minnie Mouse, it's hard not to think of her quintessential polka dots, yellow heels, and bow. In fact, her bow inspired the Minnie ear headbands that are so popular with fans around the world.
However, did you know that there was a bowler hat before the bow? Back in the 1920s, when Walt Disney first introduced Minnie Mouse, he modeled Minnie Mouse's outfits after the flappers. Even in black and white, she lit up the screen. Eventually the bow won out, and her signature headwear was complete.
Minnie Mouse and Her Outfits Through the Decades
Since Steamboat Willie, Minnie Mouse has served looks! We're going decade by decade to unpack her very best!
In the early 1920s and 1930s, Minnie's look remained true to the comics. Her signature polka dots were inconsistent during this time, but you could always count on her to be in some form of a dress.
During the 1940s, Minnie had two significant makeovers. During this decade, her polka dot skirt became more permanent, and color blocking was introduced in her design. Many Disney fans refer to this look as vintage or 'retro Minnie'. You can often still find her donning this style on merchandise, like this tee. 
Although Minnie's look didn't drastically change a lot in the 1950s, her style did help influence one of the biggest television programs at the time, "The Mickey Mouse Club". While the cast members of the show all wore ears, women and girls of the club wore a bow on their ear hats and skirts similar to that of Minnie's. 
At the Disneyland and Walt Disney World Parks, Minnie Mouse's staple dress took a break from the dots and was yellow with red accents throughout the 1960s and well into the 1970s. We love this color blocking on Minnie. 
In the 1980s, Minnie got her first television special, "Totally Minnie". This would lead to a parade to celebrate the special in which Minnie rocked an outfit that Madonna would have been jealous of! She reprised this look for an '80s after-hours park event, and we live for it!
By the 1990s and early 2000s, Minnie was seen sporting a pink dress with polka dots and her signature bow. You can find this look in Disney Junior merchandise. This was the Minnie we grew up with, and we have a soft spot for this styling.
Minnie Mouse's Style Takes Off
Minnie Mouse and her fashion has reached icon status, and Disney agrees. Every January 22nd, Disney fans now celebrate National Polka Dot Day with their favorite stylish mouse, and Disney Parks worldwide celebrate 'Rock the Dots' with special merchandise, experiences, and meet and greets with Minnie herself.
One of our favorite looks to come out of this campaign was when the queen of the wrap dress, Diane von Furstenberg, designed one for Minnie. Utilizing different patterns of polka dots and textures, the designer created a one-of-a-kind look for Minnie Mouse's 90th birthday television special. This particular polka dot dress was sewn by hand and took almost 40 hours to complete!
Even though Mickey Mouse was the first animated character to receive a star on the Hollywood Walk of Fame, his better half would receive hers as well. Minnie Mouse finally got her star on January 22nd, 2018, wearing a glitzy, sparkly version of her dress. She showed up in style, of course!
Minnie Mouse has worn many iterations of her classic look through the decades. While the pantsuit may be new, we think it's a fresh take on an iconic look and we're happy to see it.
Share Your Thoughts
Do you have a favorite Minnie Mouse look from over the years? Let us know about it in the comments, and check out some more Disney fashion tips on TikTok!