Batuu babes, galactic guys, and rebels across space — this one's for you. We love fashion here at Perfecting the Magic, and we're happy to be your hype squad who will always tell you to wear the outfit, plan the DisneyBound, and embrace your personal style. Ever since we returned from our interplanetary voyage on the Star Wars: Galactic Starcruiser, we haven't stopped thinking about it. So, what better way to feel transported to a galaxy far, far away than to share some outfit inspiration?
These Star Wars-inspired Disneybounds and accessories are perfect for a trip aboard the Halcyon. But even if you aren't shelling out six grand for the Starcruiser experience, you can make Galaxy's Edge your runway and wear any of these looks on a visit to Batuu.  
Guide to Star Wars Disneybounding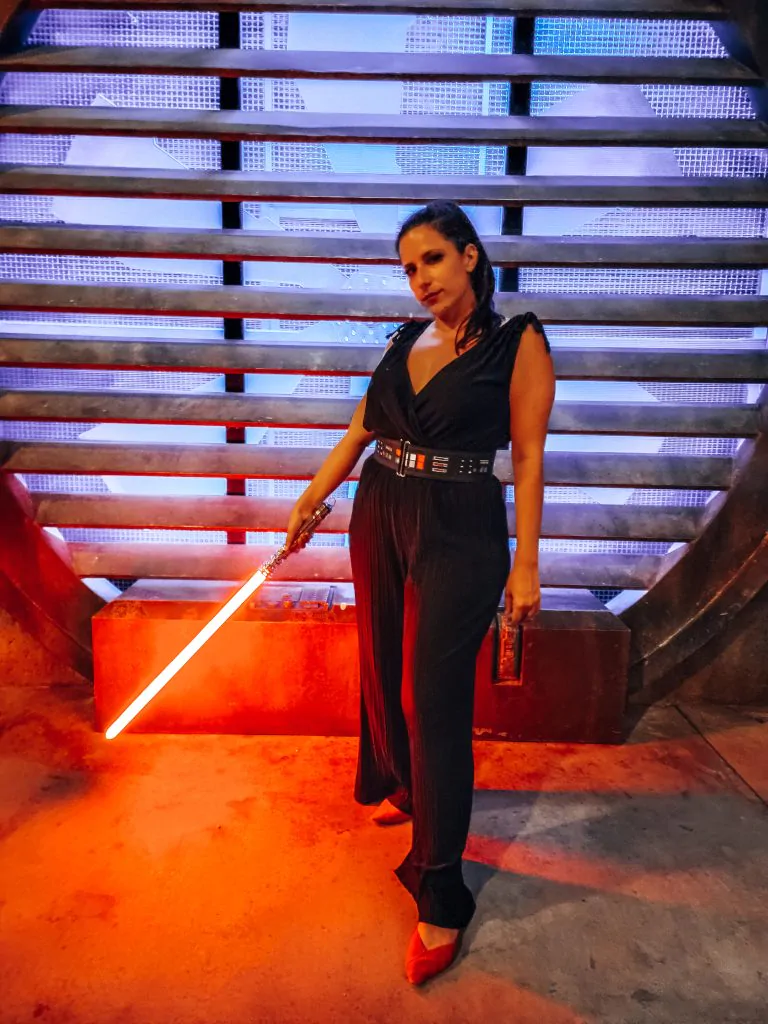 DisneyBounding is a creative way to showcase your love for a specific fandom by dressing in the colors, textures, and overall aesthetics that you feel emulate a character or franchise. There are so many ways to go about DisneyBounding — especially Star Wars bounding. If you're just getting started with DisneyBounding, check out our tips for first-timers and our interview with Leslie Kay, the DisneyBound originator. 
Our biggest piece of advice is this: you do not need to go out and buy a completely new wardrobe to DisneyBound. DisneyBounding is fun, it's creative, and it can elevate your experience on vacation. But clothes and accessories can get expensive, and purchasing an entirely new wardrobe every time you book a Disney trip is unrealistic. So, as you come up with outfit ideas or read through this guide, we encourage you to take inspiration from the outfits we share and think of how you can pull pieces from your closet to create looks that are entirely your own. 
When planning a Star Wars look, there are two universal rules to follow (if you can): 
1. Avoid visible buttons, zippers, and shoe laces. You can break this rule, but you'll get closer to Star Wars canon if you follow it. 
2. Have fun with the color palette and choose colors that fit the aesthetic, vibe, or character you want to emulate, and we know your look will be stunning!
Now, let's talk aesthetics!
Jedi Aesthetic Disneybound
Let's start with the Jedi aesthetic. You can DisneyBound as a specific Jedi in the Star Wars universe, but for now, we'll show you the basics and how to DIY your look. 
In the past, I thought Jedi looks were a bit dull and uninspiring, but once I started playing around with the signature dark blue Jedi looks featured on the Galactic Starcruiser, I had a lot more fun with this aesthetic. I recommend making a belt the focal point of your look — you can start with a wide belt or even layer multiple belts. Wrap tops and skirts are great additions to a Jedi look, as seen in my outfit here. 
For my take on a Jedi look, I repurposed a shirt, vest, and scarf from a Doctor Strange costume I already had in my closet (I love versatility!). I added a Light Side belt from shopDisney and a hairpiece, and I kept the rest of the outfit simple with a neutral bodycon skirt.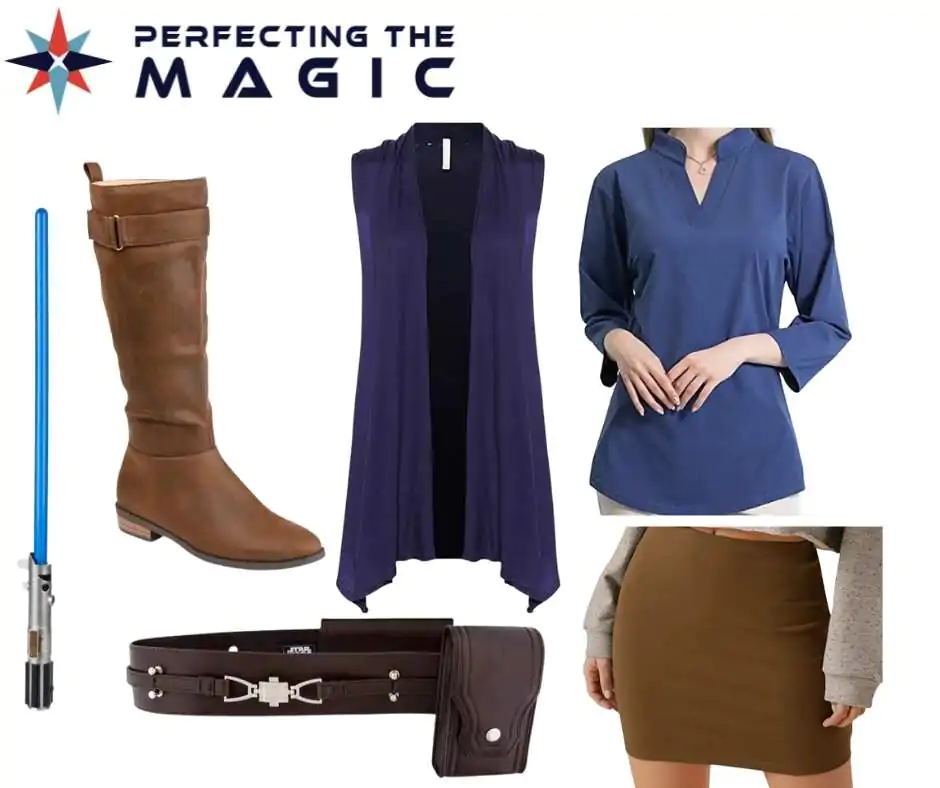 To build your look, try going monochromatic. This outfit incorporates a flowy blue vest and a blue shirt (find a women's version here and a men's here). Add some boots and a belt or two from your closet, and you're ready to take on the galaxy. Alternatively, a belted tunic will give the outfit some flair, and a breathable dress can be great for summer weather. 
If neutrals are more your style, go with an all-brown look. Start with airy pants — we recommend these palazzo pants and these smocked-waist trousers from Forever21, both of which are available in extended sizing. If a skirt is more your style, this one totally looks like it'd be worn on Jakku. Add a wrap top; we love this one from Revolve, but this style from Nordstrom won't break the bank.
Layering is critical for a Jedi look, so to elevate your outfit and emulate the feel of a Jedi's robe, try incorporating a sleeveless cardigan like this one or this one before adding a belt over the top. If it's a warmer day in the parks, consider keeping it simple and wearing a neutral-colored tank under your sleeveless cardigan instead of the wrap top to keep the outfit as light and airy as possible. Add some sandals, and your look is complete. We'll catch you at the next Tatooine sunset!
Smuggler Aesthetic Disneybound
The smuggler aesthetic is my fav! I love rocking this look in the parks and on the Starcruiser. I channeled my inner space pirate when I boarded the Halcyon earlier this year and had a total blast.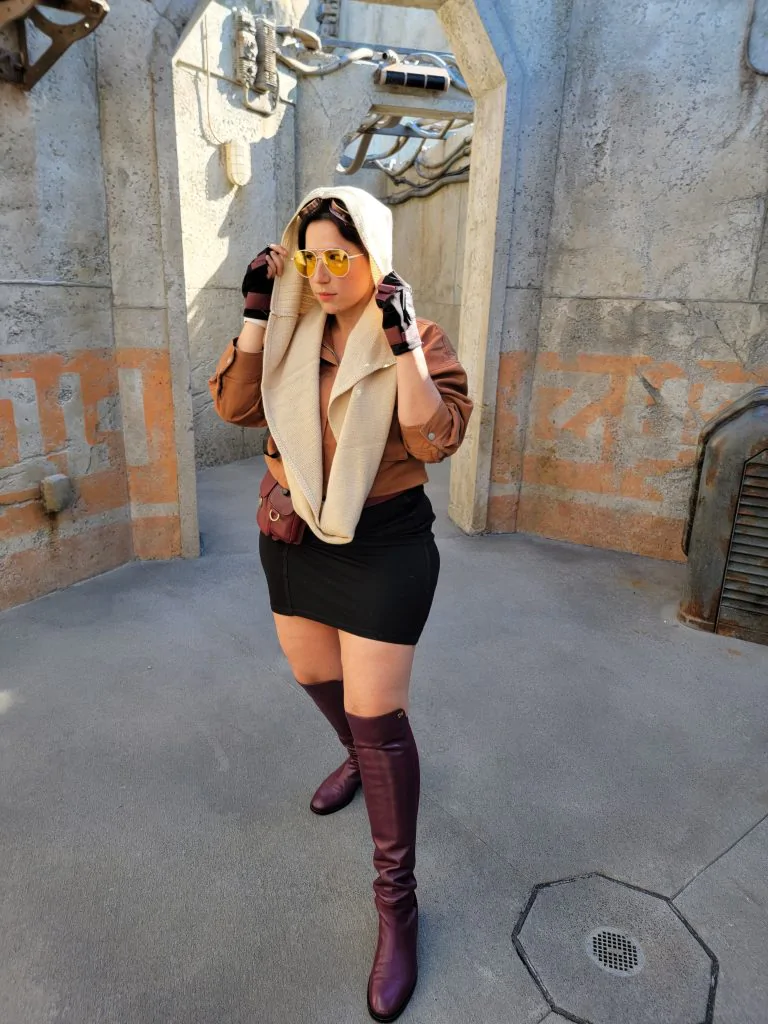 Start with a jacket like this one, a simple bodycon skirt, and boots (similar option here). To give an outfit an unmistakable smuggler vibe, two of my favorite pieces to incorporate are an infinity scarf and fingerless gloves. I added sunglasses — because, let's be honest, they're needed at the parks — and a belt bag to keep all my essentials at the ready.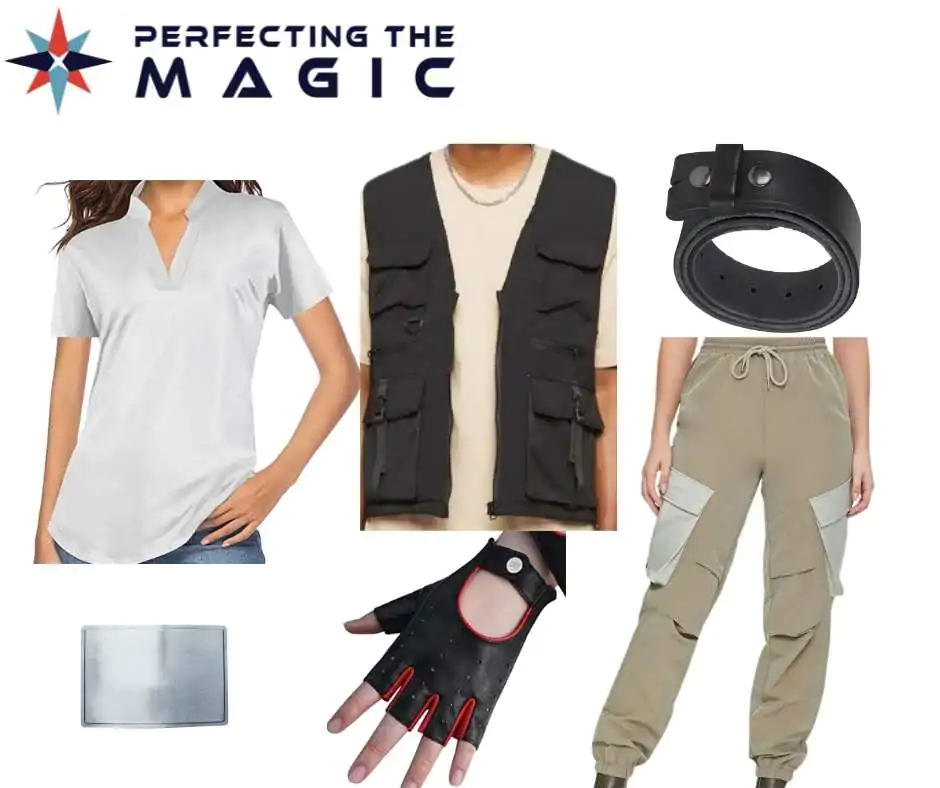 Ready to pilot the Millennium Falcon with Chewbacca? For a DIY smuggler outfit, draw inspiration from Han Solo. You can start with a simple shirt as your base and elevate the look by adding a vest, belt with buckle, and gloves. If weather permits, try incorporating some cargo pants, a jacket, and a scarf. And if you're a smuggler, you'll need a place to stash your finds, so this bag is perfect. There are many ways to achieve this look, so have fun with it and get ready to blast off to hyperspace. 
Dark Side Aesthetic Disneybound
Joining the dark side? Then it's time to serve a look that could kill. For this look, it's all about the colors (or, really, the lack of color). Wear an all-black fit with pops of red and you'll look like you belong on the Death Star. 
Even though Star Wars looks often involve a lot of layering, be sure to adjust your outfit for the weather. We love a good photo op, but if we're melting and uncomfortable in the Florida heat just to get the perfect shot, it's not worth it. I put this look together on a hot summer day when long sleeves just wouldn't cut it. With a simple pencil skirt, halter top, vest, and Kyber crystal-inspired necklace, I could still achieve that dark side vibe. I even added some red sunnies for a pop of color. Remember to make your outfit work for you, not the other way around! 
You can likely achieve a dark side aesthetic using many pieces in your wardrobe, but if you need a few items to make the look pop, we've got you covered. This blouse from Boohoo (available in both standard and plus sizing) and this top from Forever 21 pair great with either a faux leather skirt or black pants. Add a belt or even a harness to give the outfit an edge. The intimidation, though? That comes naturally. Channel your favorite Sith Lord and strut the Starcruiser in your dark side style.
Princess Leia and Padmé Amidala Disneybounds
We've got you covered if you're a fan of the classics. I love channeling Princess Leia at the parks. Her outfits are unmatched, her vibe is everything, and she completely embodies the space princess aesthetic — because she's the OG. 
During a night on the Star Wars: Galactic Starcruiser, I put together this breezy look by pairing a white halter gown from Rent the Runway (highly recommend if you only plan to wear a piece once or twice!) with a wide belt. I added two silver headbands across my forehead to give the look a space-queen twist.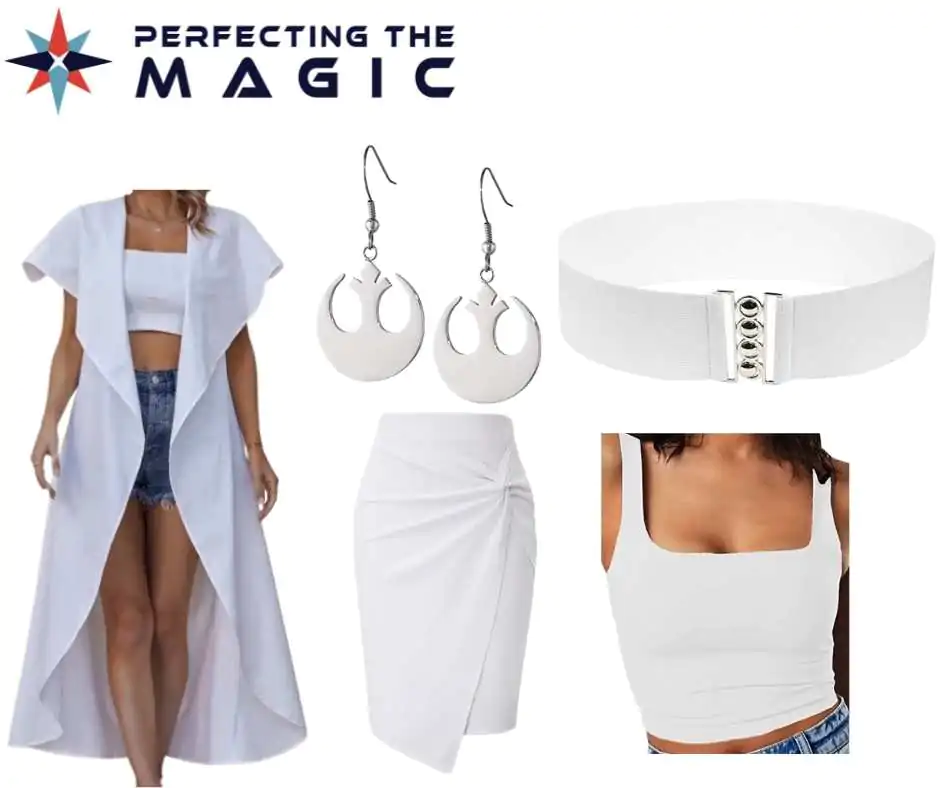 Is Padmé Amidala your ultimate Star Wars icon? If so, these pieces will also be a great way to channel her look! Both Leia and Padmé incorporate a lot of white into their looks, so you can build your own outfit and channel either (or both!) of their aesthetics. 
You can look ethereal while also giving off a space baddie look, and we love that for you. 
I recommend starting with whatever white clothing you already have in your closet, be it a dress, top, pants, tailored shorts, or skirt, you name it! Then, accessorize. As you can tell, I love a good vest (this one and this one are affordable and fantastic for a DIY look). Add some Rebel Alliance earrings and a belt for extra flair, plus a bun like Leia's, and you're ready to rule.
Travel the Galaxy in Style
Whether you've booked a Starcruiser vacation, are heading to Batuu, or planning a Star Wars outfit for the D23 Expo, we hope this intergalactic style guide has inspired you. In the mood to keep shopping? Check out our curated Walt Disney World-inspired guide to the Nordstrom Anniversary Sale.