So this is love…
February marks the return of Disneyland After Dark: Sweethearts Nite, a Valentine's Day-themed event featuring fan-favorite Disney couples and romance all throughout the park. Whether you're attending the event with your one true love or your BFF, here are the top things to know about Disneyland After Dark: Sweethearts Nite.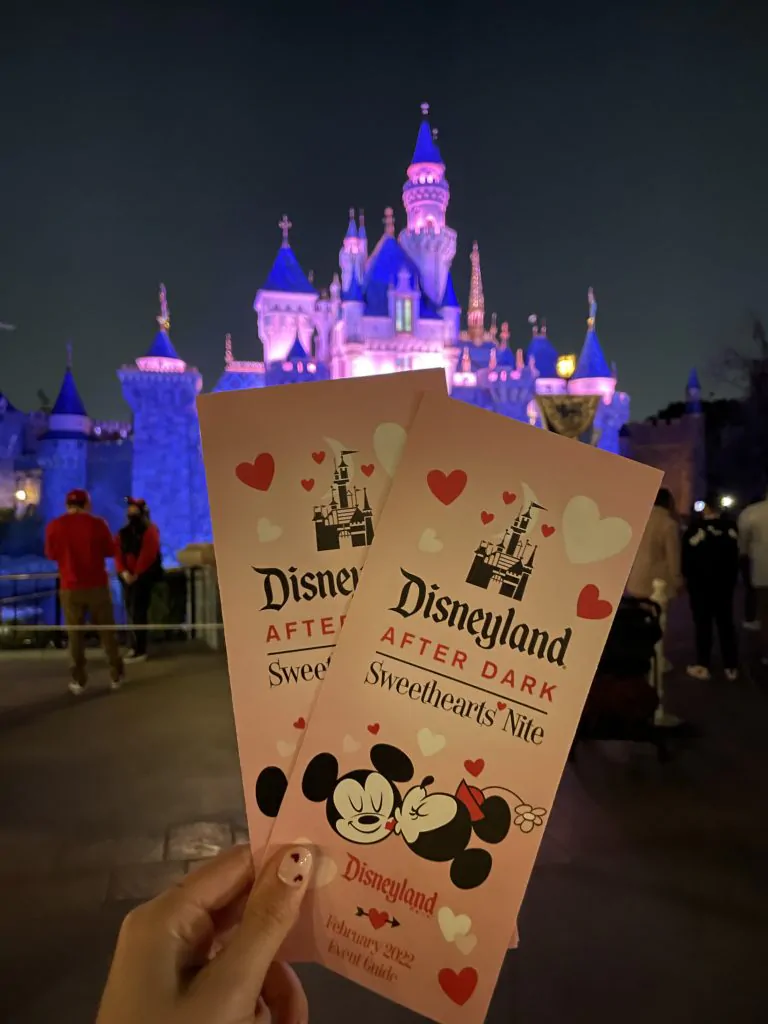 Disneyland's Premier Valentine's Event
Sweethearts Nite is one of the most popular Disneyland After Dark events for a reason — it's a Valentine's Day event all about love, with a romantic atmosphere that has everyone swooning. When else can you dance to love songs like "Once Upon a Dream" from Sleeping Beauty and "What I've Been Looking For" from High School Musical on a late night in Disneyland? You can't beat the romantic vibes.
We loved so much about this event, but for us, the best thing about Sweethearts Nite was the characters!
During Sweethearts Nite, you can see rare characters like Milo and Kida from Atlantis, Bernard and Miss Bianca from The Rescuers, and so many other famous Disney couples throughout the park.
What makes Sweethearts Nite unique is the Royal Ball held near "it's a small world". Throughout the night, the retro group Phat Cat Swinger (known as the Aristocats during the event!) plays some swinging tunes while theme park guests and three royal Disney couples dance the night away. The Royal Ball in 2022 isn't quite the same experience as it was in the past, but we promise it's just as magical.
Beyond the fun character encounters, we also absolutely loved the "Step into the Magic" Disney PhotoPass experiences! The lines for these can get rather long, so keep that in mind, but even if you get one photo with your princess or prince charming, it's worth it (the Tangled photo op is amazing!). Remember that free PhotoPass downloads are included with your Sweethearts Nite admission, too!
Food at Disneyland Sweethearts Nite
We had high hopes, but we have to admit that the biggest disappointment of the event was the food.
Listen, we're huge foodies, and we believe that Disneyland Resort has some of the best eats around, but the few event-exclusive foods we tried were pretty underwhelming. Our Strawberry Churro from New Orleans Square was cold, our Ham & Straw-Brie Sandwich was stale, and our Shrimp Scampi was underwhelming. This could have been some first-night hiccups since this was the first event night of the season, but from our experience, we recommend skipping these items.
We couldn't try everything, though, and there were some items we wish we had the chance to try! For reviews of the other food items from this event, watch the video below from Magic Journeys:
What to Keep in Mind for This Disneyland Event
We shared this tip in our coverage of Disney Merriest Nites, but as with all Disneyland After Dark events, your admission to Disneyland After Dark: Sweethearts Nite will get you into the event three hours before the event officially starts. We recommend being at the gates at around 4:30-4:45 p.m. to begin lining up to get into the park right at 5 p.m. so you can get the most value out of your ticket.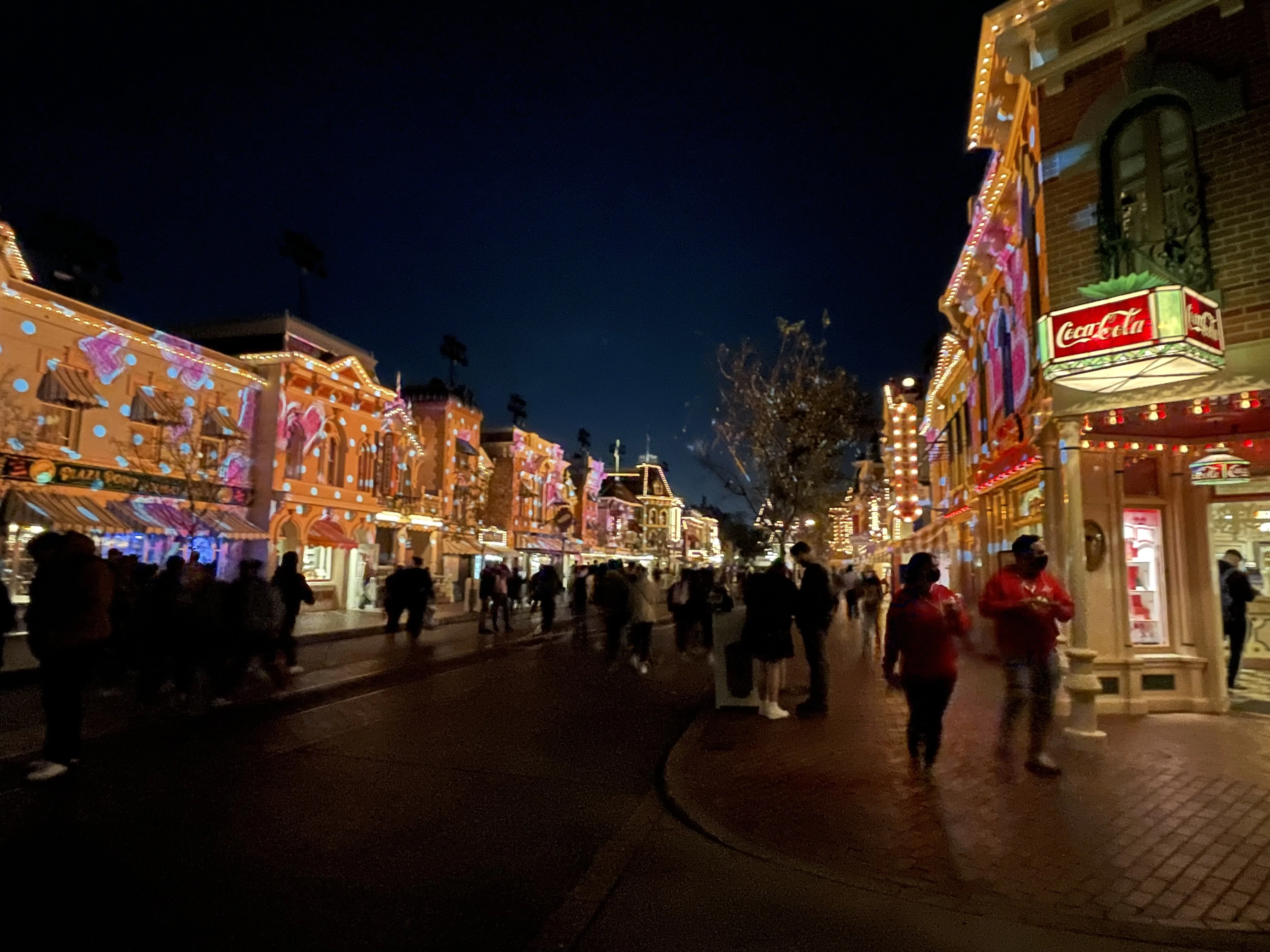 Our next takeaway is all about watching the event-exclusive fireworks, a must-do for Sweethearts Nite. We often recommend watching the Disneyland fireworks in front of "it's a small world" to bypass crowds, but for this particular show, you see far more fireworks plus some projections if you watch it in front of the castle. The special Sweethearts Nite fireworks start at 9:30, and with the park's limited capacity, it won't be hard to find a good spot less than 20 minutes before.
Finally, know your priorities for the evening. Do you want to meet the characters? Get photos at all of the "Step into the Magic" PhotoPass stops? Maybe you want to take advantage of the short wait times for attractions or take in the park's romantic atmosphere? Whatever magic you're after, you can find it at Sweethearts Nite, but the event only runs from 8 p.m.-midnight, and you can't do absolutely everything. So, be sure to prioritize and plan out your must-dos ahead of time. We promise it'll be worth it "on this lovely bella notte"!
Follow for More Disney Event Fun
We're attending Disney After Dark events throughout this year, including Villains Nite and Star Wars Nite! Follow us on TikTok for updates on special events at Disneyland and Walt Disney World, and subscribe to our newsletter for more magic each week.
Check out our video recap of Sweethearts Nite below!