During Walt Disney World's 50th Anniversary Celebration, one of our favorite treats can be found at Disney's Animal Kingdom! We can't get enough of the 50th Celebration Ice Cream Sandwich sold at Dino-Bite Snacks. The treat will be available throughout the 50th, but we're doing one better and teaching you how to make the double chocolate ice cream sandwich at home!  
Perfecting the Magic's copycat recipe for Animal Kingdom's 50th Celebration Ice Cream Sandwich is incredibly simple to make, and the result is so close to the original that you'll swear you're at Walt Disney World every time you make it!
Let's get into the recipe!
Animal Kingdom's 50th Celebration Ice Cream Sandwich 
Sometimes simple is best, and the 50th Celebration Ice Cream Sandwich at Dino-Bite Snacks in Disney's Animal Kingdom just hits different. Walt Disney World describes the treat as "vanilla ice cream sandwiched between two house-made double chocolate chip cookies with celebration sprinkles."
Everything about the dessert is in perfect balance, from the double chocolate cookies to the rich vanilla ice cream, to the EARidescent sprinkles; it's an ideal snack for a day in the parks (or at home)!
50th Celebration Ice Cream Sandwich Recipe Notes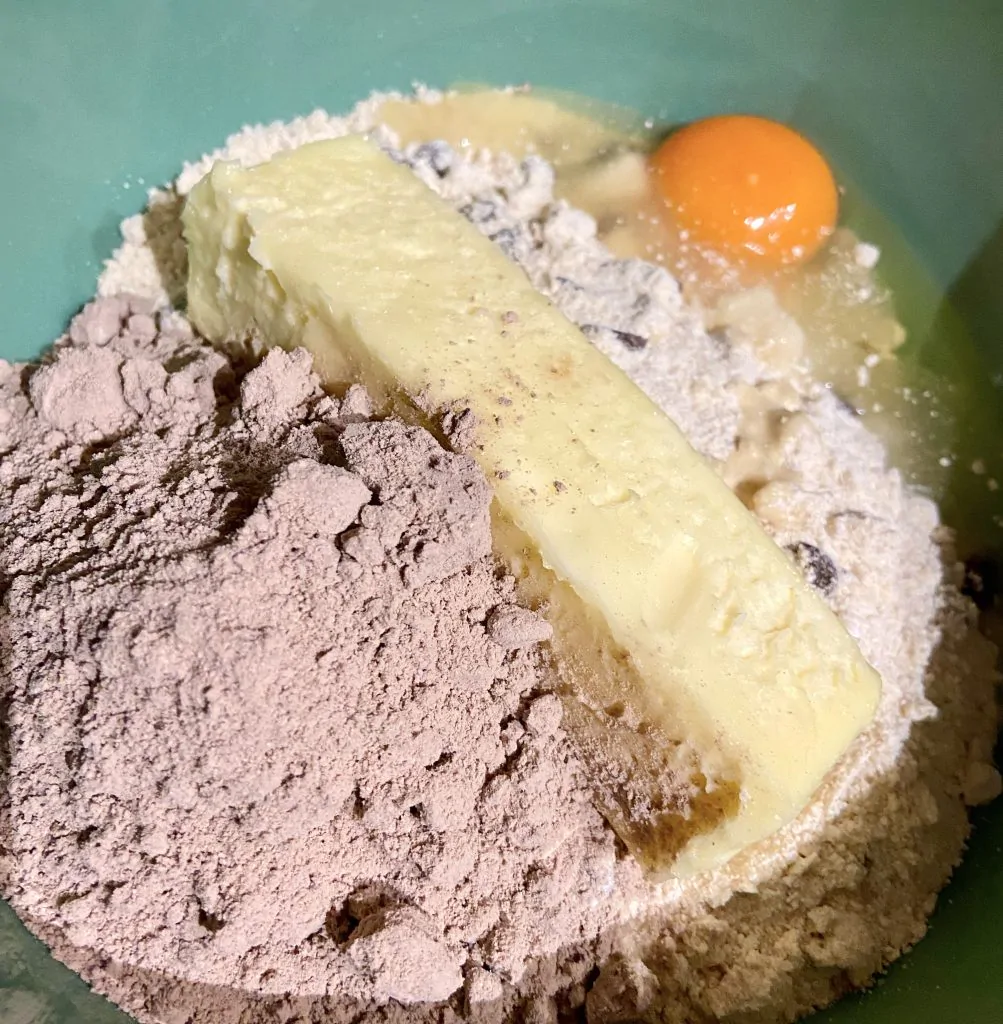 When PTM sets out to create a copycat recipe, we make sure that the ingredients are accessible, delicious, affordable, and customizable for different dietary needs. We went with a chocolate chip cookie mix as our base and added in a fudge brownie mix and rich cocoa powder to replicate the deep double chocolate flavor of the 50th Celebration Ice Cream Sandwich. The best part? You can put all of the cookie ingredients in one bowl and mix! For the ice cream, we went premium and chose a vanilla bean to ramp up the flavor.
However, you could easily swap out the ice cream for a frozen alternative if you're dairy-free. If you're not a fan of vanilla, you can choose any flavor you like, too.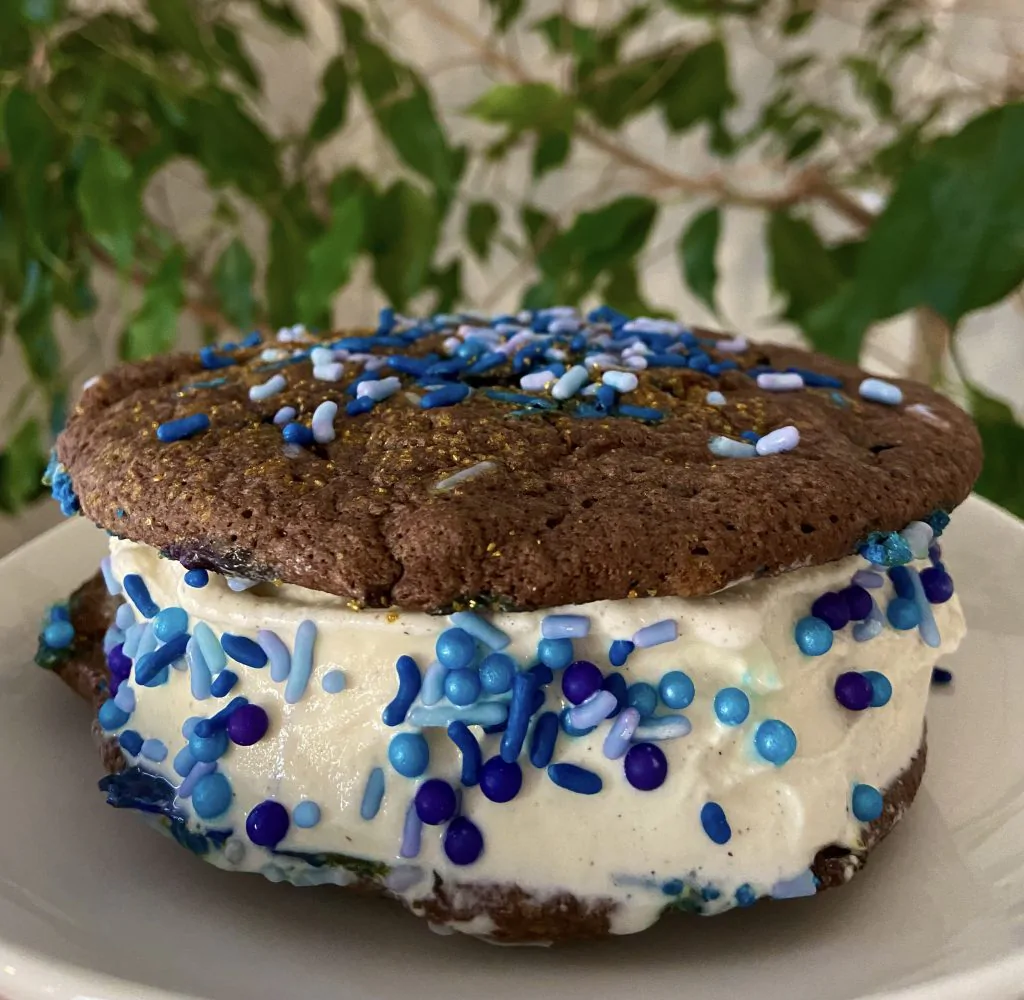 Thanks to the internet, we had a ton of sprinkle options at our disposal. We found a shimmering blue and purple that felt close to the original, and we went with it. Sprinkles don't change the taste of this dessert, so you can use whatever kind you like best! Feel free to experiment!
We recommend putting your sprinkles on halfway through the cooking process. We attempted several batches, and putting the sprinkles on at the end resulted in them rolling off the warm cookies, and putting them on at the start led to them baking in and losing their beauty. You'll get the best results by adding sprinkles to the cookies during the cooking process.
Ingredients 
Tools
Baking sheet
Mixing Bowl
Mixing spoon
Measuring Cup
Tablespoon
Parchment paper
Double Chocolate Cookies
1 Package of Betty Crocker Chocolate Chip Cookie Mix
½ Box Betty Crocker Fudge Brownie Mix
1 Stick Softened Salted Butter
1 Tablespoon Vanilla
¼ Cup Cocoa Powder
Water (as needed for texture)
Sprinkles
Ice Cream
1 Pint Vanilla Bean Ice Cream, Slightly Softened
Directions  
Step One
Mix package of chocolate chip cookie mix with a stick of butter, vanilla, cocoa powder, and ½ a package of brownie mix. Add water as needed. You want it to remain thick but moveable.
Step Two
Spoon cookies in desirable size (we went HUGE) on parchment paper-lined cookie sheet. Be sure to leave enough room between cookies and make them equal sizes, as they need to come together in a sandwich. Cookie yield will be determined by the size of your cookies.
Bake in a preheated 350-degree oven for 5 minutes before adding sprinkles to cookies.
Finish baking another 5-7 minutes until cooked through.
Step Three
Allow cookies to cool completely.
Spoon softened ice cream between cooled cookies.
Use sprinkles to coat the sides of ice cream.
Animal Kingdom's 50th Celebration Ice Cream Sandwich Recipe Card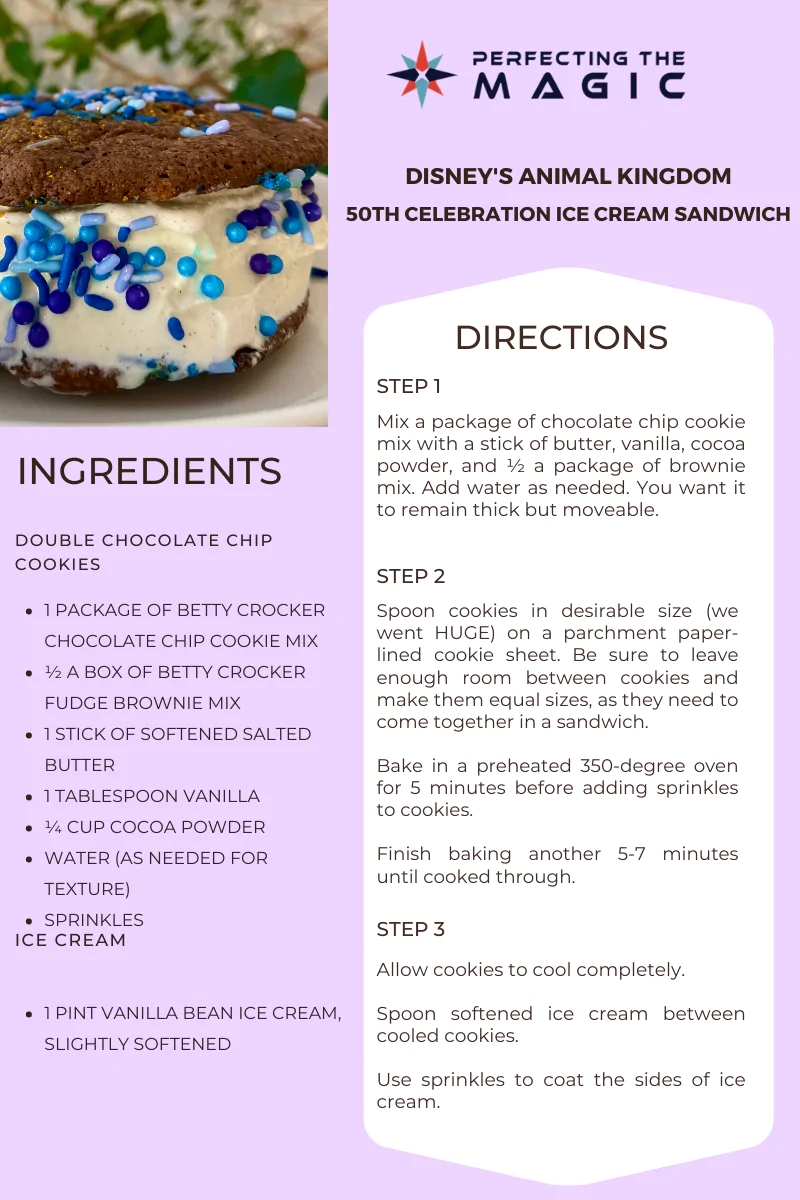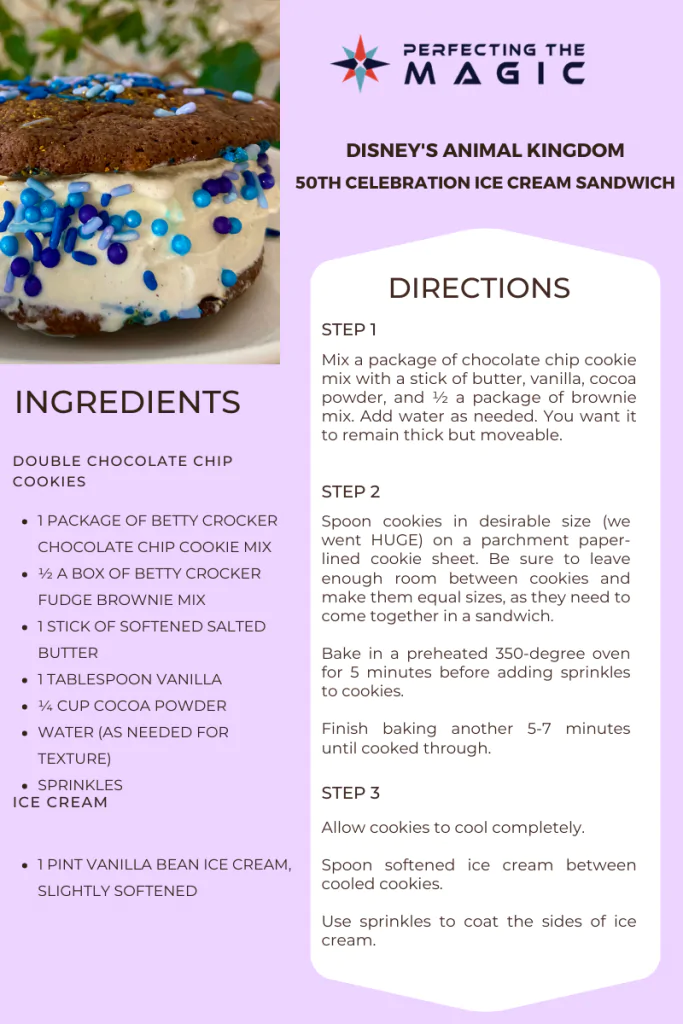 PTM Wants to Hear from You 
Follow Perfecting the Magic on socials to stay up-to-date on everything Disney! From TikTok to Instagram, we have you covered. If you try making this recipe, please tag us. We'd love to see it! If you enjoy our content consider subscribing to our free weekly newsletter. It just might be the best email you receive all week!