When I'm in Disney California Adventure, there are few places I like to kick back at as much as Lamplight Lounge. Whether it's for brunch, lunch, or dinner, I know I'm in for a good time, and it's my go-to spot when visiting the park with friends.
While the Brunch Burger is killer, and you'll catch me digging into seasonal donuts when the mood strikes, there's nothing quite like a cocktail to get the party started, especially when it's from the Lamplight Lounge secret drink menu. The menu, which features fan-favorites previously found at its predecessor, Cove Bar, is intoxicatingly fun, affordable (drinks will run you about $15 a piece) and worth checking out, which is why I'm rounding up (and ranking!) the most notable options to help you plan your next visit.
Let's jump into them!
Fun Wheel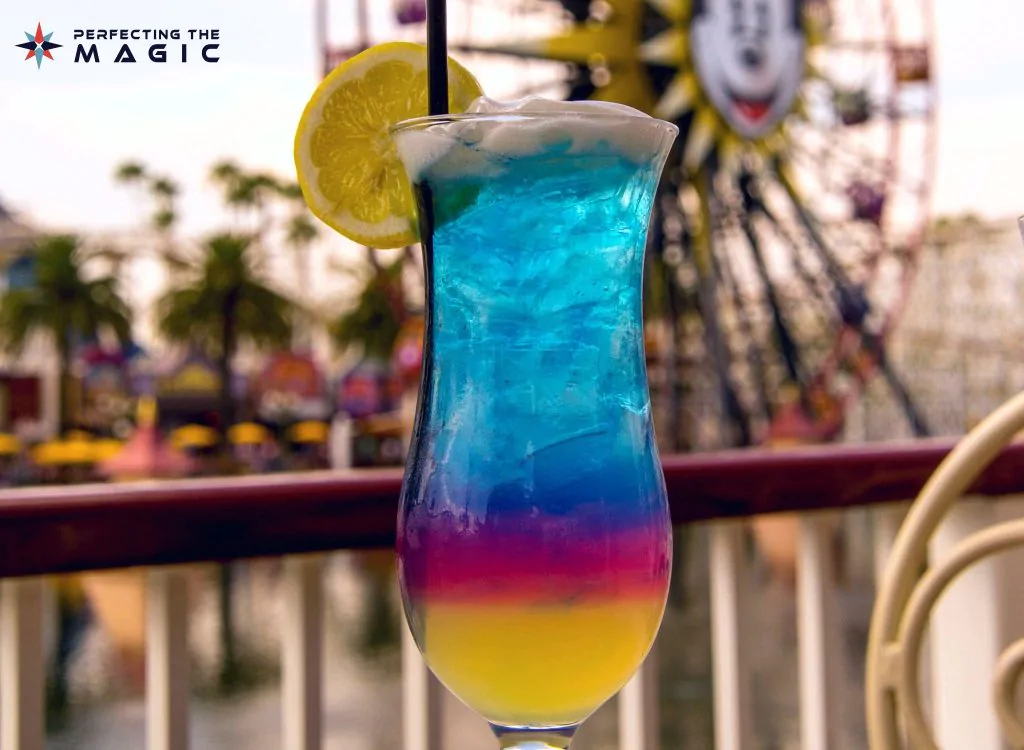 The Fun Wheel is arguably the prettiest, most in-it-for-the-gram ready drink on the menu. With layered colors, a straightforward vodka punch, and peach schnapps topped with Chambord, it will break your heart to mix this fruity drink, but you'll be happy you did once you take a sip. While the flavors aren't novel, and the drink won't stand out as something totally unique, it's a classic for a reason and a total Lamplight Lounge secret menu staple. It pairs well with Potato Skins ($15) as it offsets the smoky paprika aioli in the dish.
This is worth skipping after you've tried it (and posted to socials) once or twice. (3.5/5)
Neverland Tea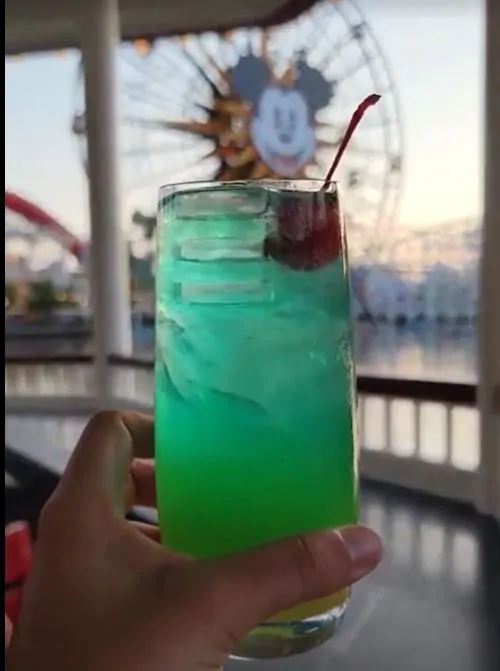 The Neverland Tea packs a Long Island-level punch that could transport you 'straight on 'til morning' before you expect it. It's vibrantly Peter Pan-level green, filled with a tropical assortment of rums (including coconut!), pineapple juice, Midori, and Sprite. While you might not expect that to work, it absolutely does! This drink is one of my favorites and something I recommend to anyone who doesn't mind something especially boozy. Pair it with Lobster Nachos ($23) to feel like you're hanging out in Mermaid Lagoon.
I would order this again. (4/5)
Zombie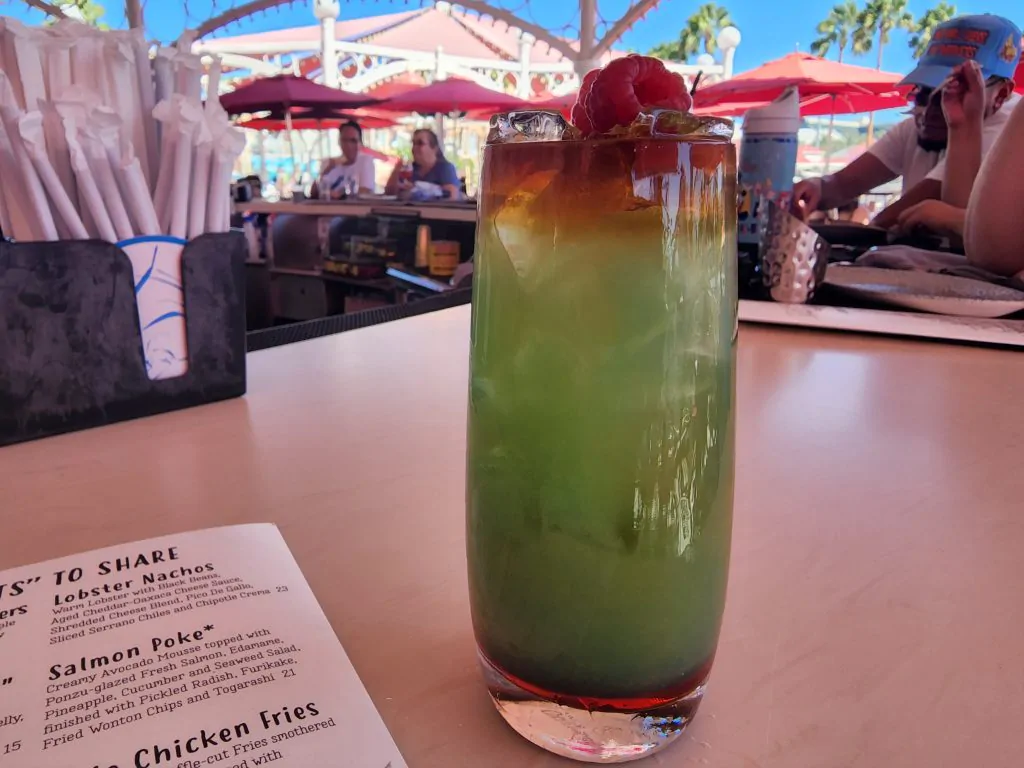 You might feel like you're a member of the undead after you try this stiff drink. The Zombie definitely doesn't disappoint in the liquor category as it is, but once you nibble on the booze-soaked raspberries, you'll feel its strength. For my money, I prefer the Zombie over at Trader Sam's Enchanted Tiki Bar at the Disneyland Hotel, but if you're already in DCA and aren't afraid of a heavier drink, this one might be it for you. Pair with a House Specialty Salad ($22) for a little extra brain power. You'll need it after a couple of these. (3.5/5)
The Earthquake
If you thought the Zombie was intense, you're in for an earth-shattering surprise with The Earthquake. My server explained that this is the most potent drink on the secret menu due to the Bacardi 151 floater, which is saying something given the general Long Island Iced Tea vibes on this menu. This drink is off-the-charts heavy and gets straight to the (very boozy) point with 151, vodka, and Gin. It's not for the lighthearted, and I'd recommend pairing this with something heavier like the Kung Pao Bao ($21) to help soak up some of its strength.
Sadly, it was one of my least favorite drink options on the menu, as I felt the taste was far too chaotic and robust to be enjoyed. (2/5)
The Sea Witch
Unfortunate Souls should look elsewhere, because The Sea Witch is too gorgeous to deny. Seriously, I was ready to sign a contract with this slightly tart and perfectly refreshing cocktail filled with raspberry vodka, peach schnapps, cranberry, Sprite, and Blue Curacao. Overall, it's a solid, full-bodied drink that would make Ursula proud—pair it with a Salmon PLT ($24) for oceanic vibes. It will help offset your sea legs. (5/5)
The Black Pearl
What the Black Pearl lacks in looks, it makes up for with flavor. With a dark Caribbean sunset look and a quick raspberry kick of Chambord and Sprite, it brings a spectacular flavor combo that only loses points for being a bit too strong. While there are no curses to be found in the Black Pearl, there's something about these Lamplight Lounge Secret Menu drinks that's universal—they're concentrated! Be sure to mix this drink before taking a sip. (4/5)
Try pairing it with the Salmon Poke ($21) for a quick bite!

Now, that rounds out my list of Lamplight Lounge Secret Menu drink options that are well-known by almost everyone at the 'Lounge, but that doesn't mean there aren't a couple of (very) secret menu options that you'll need a bit of courage to order.
Read on to find those!
Extroverts Only
A couple of drinks require an unabashed confidence to order, which is why I'm including them in my 'extroverts only' list. While the staff is happy to make you any drink you want and will go the extra mile to make you a custom mix based on your taste, these last two options can be slightly confusing to the bartenders and might require some conversation to make happen.
You'll end up with a tasty cocktail regardless, but if you're ordering these, proceed with patience.
Midway Martini
The recipe is said to include apple vodka, Domaine de Canton Ginger Liqueur, cranberry juice, agave, and lime, but they didn't have apple vodka when I ordered it. The replacement they chose was delicious, and it's worth checking out! (4/5)
Pair with Lamplight Chilaquiles ($20) at brunch.
Melrose Place/Sideshow Novel Tea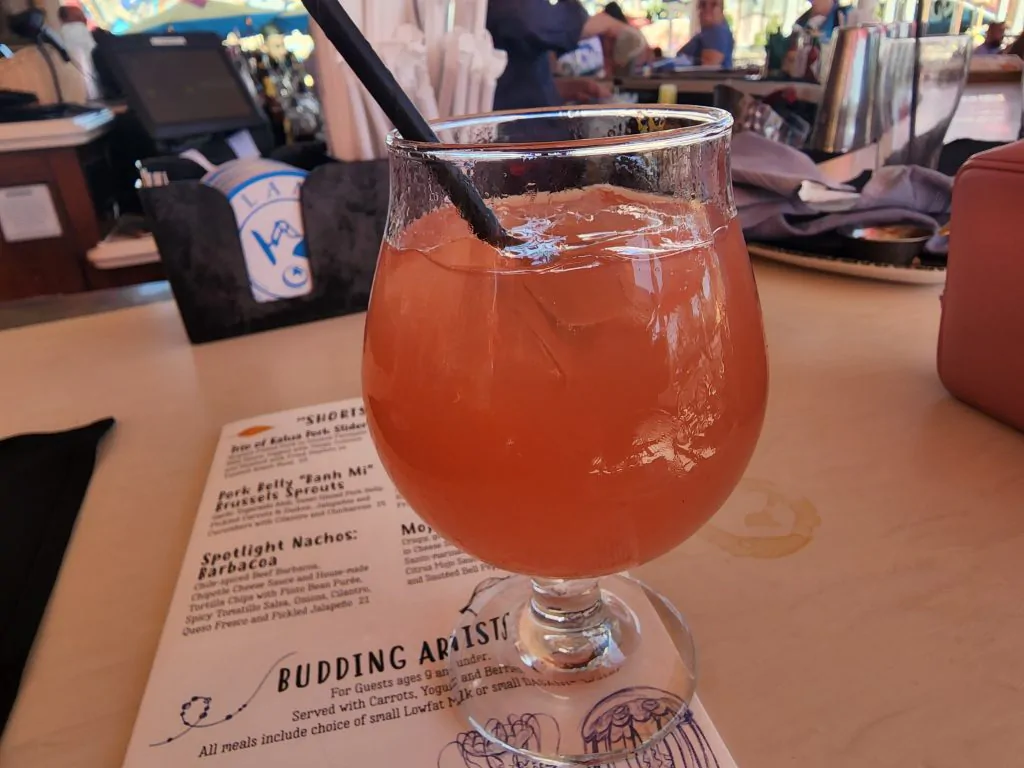 These are the true wild cards of the list, and to be completely honest, I think the drinks resulted in something bespoke and crafted just for me. You really can't beat that. (4/5)
However, I recommend tasting your cocktail before ordering food with these; that way, you can choose the perfect pairing based on the flavor profile you receive.

No matter what you order from the Lamplight Lounge menu, secret or otherwise, you'll have a good time. There's nothing quite like the panoramic waterfront views and vibes at the lounge, and I see it remaining a PTM fave for years to come!
Let's Be Friends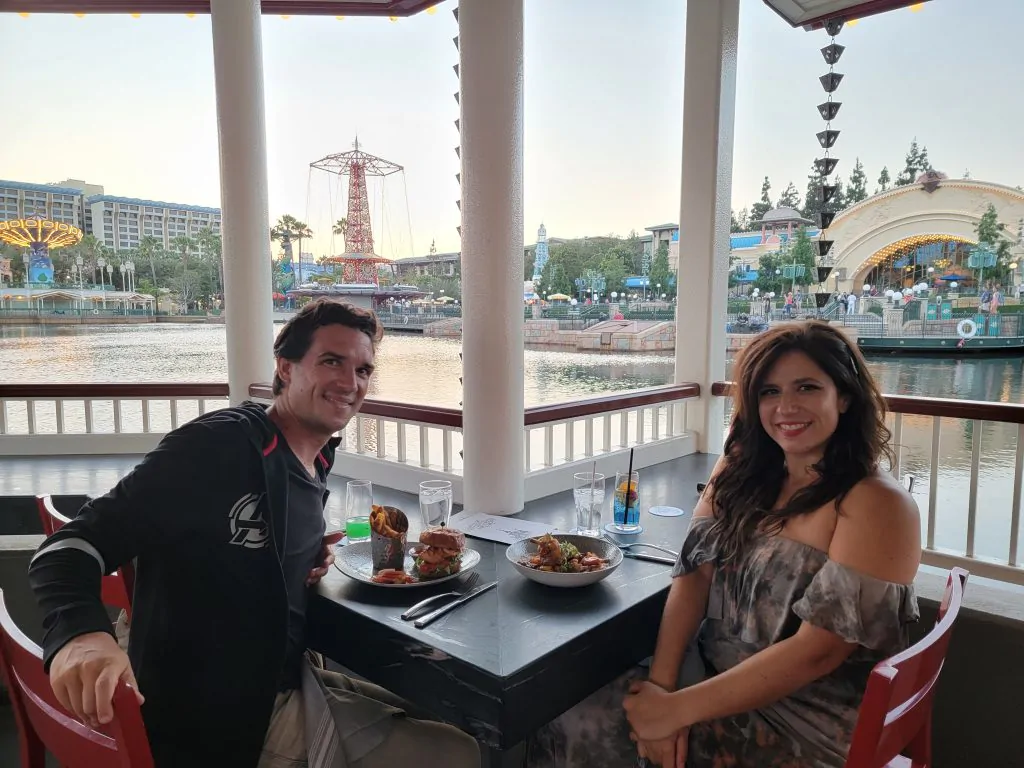 I've made it my mission to bring the best tips, tricks, and style to the Disney space and I'm doing that every day over on my Perfecting the Magic socials. Stay in touch by adding me on Instagram and TikTok. I can't wait to connect with you!