"The world is a carousel of color" is a sentiment that has never rung more true than at a Disney theme park. These magical places fill us with joy, and we can't get enough. Now that nighttime shows have returned to Disneyland Resort, we have even more reasons to keep planning visits (or, let's be real, attempting to book theme park reservations). One of our all-time favorites is World of Color, but admittedly this happens to be one of the more complicated shows to snag a spot for. 
The good news, Discrew? We're sharing our best trips for watching World of Color at Disney California Adventure with you today!
About World of Color at Disney California Adventure
World of Color is arguably the best show that Disneyland Resort offers — primarily because of its uniqueness. This nighttime spectacular is only shown at Disney California Adventure, and when it opened in 2010, it felt almost as if it was meant to be at Paradise Bay all along. 
Described by Disney as a "breathtaking extravaganza," World of Color is a delightful water show during which Disney and Pixar films are projected in dazzling color onto a grand fountain that sprays 19,000 square feet of water. For example, other parks — like Disneyland Paris and EPCOT — have incorporated water fountains into their nighttime entertainment, but no show is quite like World of Color. The name itself is inspired by "Walt Disney's Wonderful World of Color," and the show begins and ends with the theme song from the 1960s TV show written by the Sherman brothers. 
You can read more fun facts about World of Color here.  
How to Watch World of Color
Like every other nighttime spectacular at Disneyland Resort, World of Color is free to watch. It typically plays twice nightly – in the summer, specifically, it is offered once at 9 p.m. and once at 10:15 p.m. — so there are a couple of viewing opportunities. However, if you want a reserved viewing location that guarantees a great view, here's what to do. 
One option is to use the Disneyland app to join the virtual queue. Starting at noon each day, guests can attempt to snag a spot in the virtual queue. If they snag a spot, they will be able to enter one of two viewing areas, and they will be notified around 45 minutes before the show begins. So, if you do join the queue, be sure to have notifications enabled for the Disneyland app on your mobile device.
There are two additional ways to guarantee a spot for World of Color, but both involve spending a pretty penny. If it's in your budget, though, these could be great options for you! 
The first is by purchasing a World of Color dining package. If you reserve a meal at Wine Country Trattoria in Disney California Adventure or Storyteller's Cafe at Disney's Grand Californian Hotel & Spa, you can get a voucher that will allow you to enter the reserved viewing area for the show. Just keep in mind that you will be making a regular dining reservation and you need to let your host or server know that you want the World of Color dining package upon arrival at either restaurant. 
Another way to guarantee your view is by booking the World of Color dessert party. For $89 per guest, you can feast on desserts and cheeses, unlimited soft drinks and water, and two alcoholic beverages for adults over 21. Plus, you'll receive a wristband that will allow you entrance into a preferred viewing location for the show. This certainly comes at a high cost, but it can be a great idea if you want to add a little something extra to your Disneyland trip.
Also, remember that all reserved viewing areas for World of Color are standing-room-only, and you will not be permitted to sit during the show unless you are viewing it in another area of the park. 
What to Do if You Don't Snag the Queue
We're always going to keep it real here at Perfecting the Magic, and realistically, getting a virtual queue spot in the Disneyland app doesn't always happen. Whether we arrive at the park late in the afternoon, we forget to set an alarm for 11:59 p.m. (yes, we're serious), we're in the middle of riding an attraction when the virtual queue opens, or our phone's connection fails us, there are several reasons why we may not always manage to snag the virtual queue. 
Not to worry. That's what your park besties are here for. Here's what to do if you don't get a spot in the virtual queue (and you didn't manage to book a dining or dessert package in advance). 
Your first option is standing over by The Little Mermaid ~ Ariel's Undersea Adventure. This ride is located across the walkway several feet behind the official viewing area, but it actually offers a decent view. If you can, plan to be here around 30-45 minutes before showtime so you can snag a standing spot. 
Second, we recommend standing on the Pixar Pier bridge. This is a place we'd recommend arriving at much earlier. If you want the best spot — which, in our opinion, is against the railing and as close as possible to the bottom of the bridge — arrive here at least 1-2 hours before showtime. We know it's early, but trust us on this. Grab a snack or a beverage and make yourself comfortable.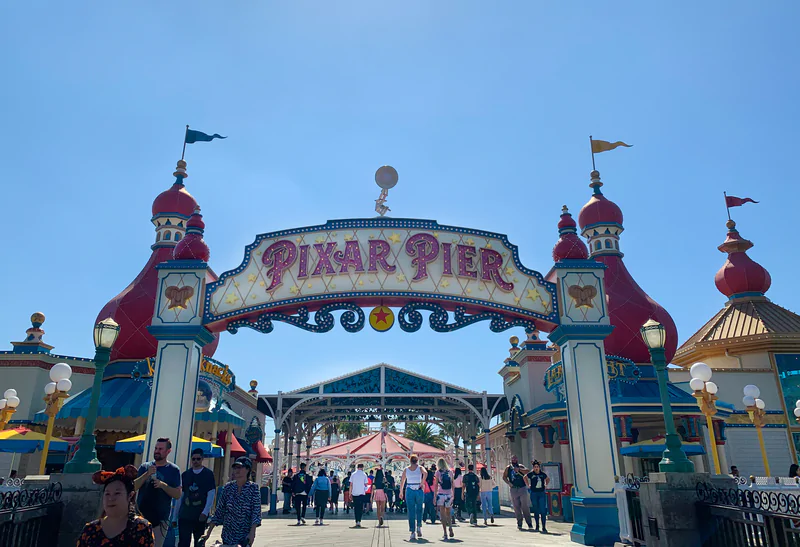 Finally, try to grab a dining table at Lamplight Lounge, either through a dining reservation in advance or through the walk-up waitlist. As long as you're seated before the show is set to begin (remember, you should have two chances!), you should be good to go. Try to ask for a table overlooking the water, if you can, but if not, don't worry. Order dessert — donuts are always the move — and hang out late! The view from here is unique, and even if you can't see the projections clearly, you can still enjoy the music from the show. 
This list isn't exhaustive, and there are other ways to view the show, so if we missed your favorite tip, share it with us in the comments!
Follow for More Tips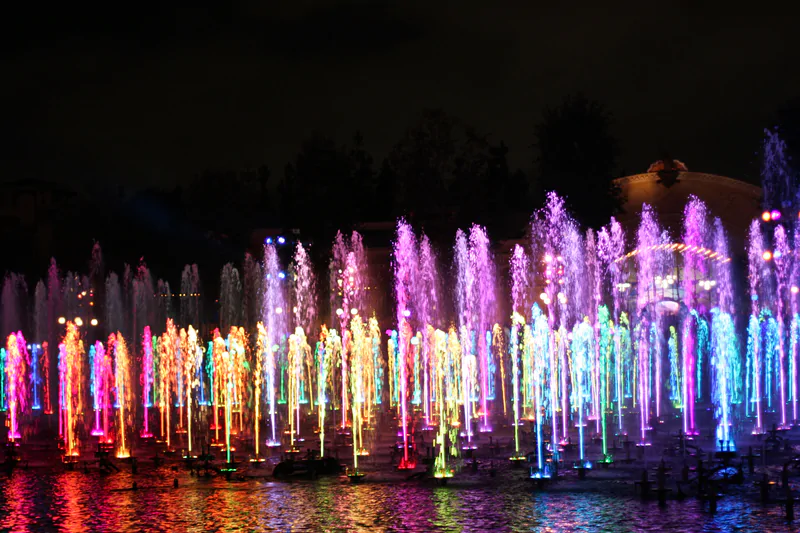 From sharing the best viewing locations for nighttime shows to our favorite eats and drinks outside the parks, Perfecting the Magic has got you covered. Follow us on TikTok and subscribe to our newsletter for tips and tricks before your next theme park trip.