Bright suns, Batuu babes! We're heading to Black Spire Outpost and ready to get our grub on. Only this week, we're not feasting on your typical Blue Milk or Ronto Wrap. Today, we're talking about those (slightly) under-the-radar Star Wars: Galaxy's Edge foods you should try on your next trip to Disneyland. 
We love the vibes at Galaxy's Edge in both California and Florida. The Star Wars land at Disneyland and Disney's Hollywood Studios is definitely a must-visit no matter which coast you're heading to. But today, we're talking all things Batuu West!
While there are plenty of foods at Star Wars: Galaxy's Edge, and you won't go hungry no matter what you choose, we've created a guide to help you navigate the eateries of Black Spire Outpost, so you can enjoy the best eats possible!
Galma Garlic Puffed Cheese Chips at Drink Carts Throughout Batuu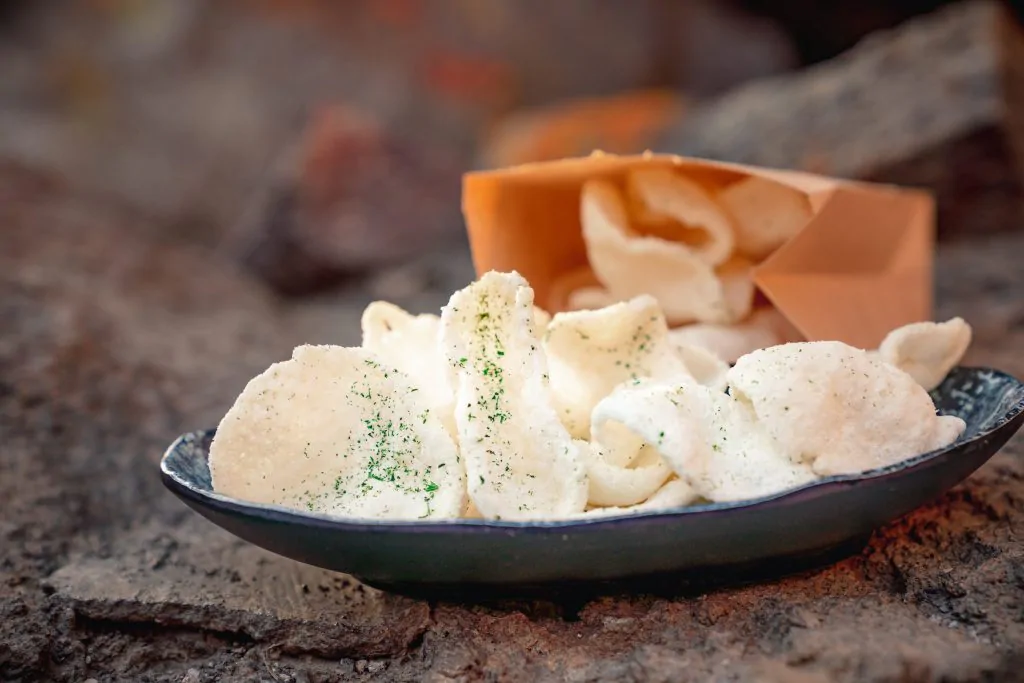 First up, we've got to talk about these Galma Garlic Puffed Cheese Chips Similar in texture to a shrimp chip or prawn chip that is typical in Chinese cuisine, these garlic and cheese-flavored chips are one of our favorite snacks in all of Black Spire Outpost. Plus, at only around $6, they're a good deal for a solid snack! They are light, airy, and flavorful. You'll find them at the various drink carts throughout Batuu. 
Popcorn and Seasonal Snacks at Kat Saka's Kettle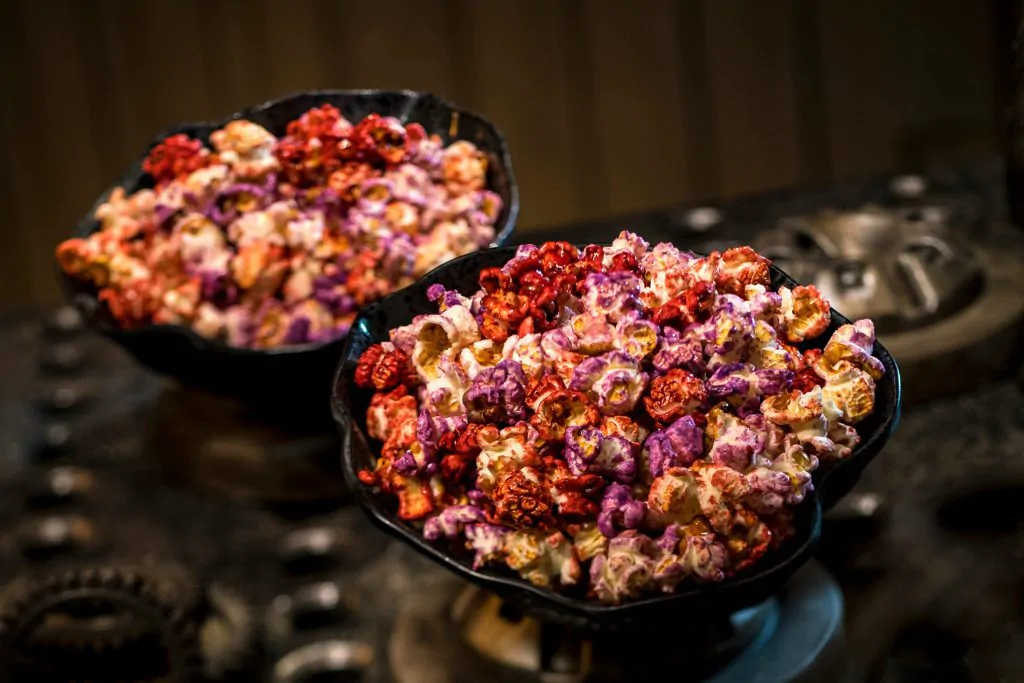 You can't go wrong with the popcorn at Kat Saka's Kettle in the Marketplace. Here on the planet of Batuu, you can try popcorn flavors you can't get anywhere else in Disneyland: the Outpost Mix, a colorful blend of the seasonal flavors — like caramel and chocolate, or sometimes banana! — and the Shaak Cheese Popped Grains, a white cheddar-flavored popcorn. 
We love Kat Saka's Kettle for a light bite, but we also enjoy the seasonal snacks here. During last fall's Life Day celebrations, we tried the tikka masala-spiced Potato Hand Pie and the Black Sesame Macaron with passionfruit buttercream filling. We seriously wish that these items (or some variation of them) were available all year long. But, if there's one thing we can count on Disneyland for, it's the park's commitment to seasonal snacks. So, we have pretty high hopes that we'll see some more sweet and savory snacks available at Kat Saka's Kettle in the future. 
Vintian Mineral Mousse and Anything Seasonal at Docking Bay 7 Food and Cargo 
A newer dessert at Galaxy's Edge that we can't get enough of is the Vintian Mineral Mousse at Docking Bay 7 Food and Cargo. This dish is described as a dark chocolate mousse with a banana brûlée center and is served with strawberry mousse, vanilla chantilly, chocolate crumble, and a cherry garnish. When you get the perfect bite of each element of the dessert altogether, it tastes like a banana split! Disney loves creating layered mousse desserts, and though some can be underwhelming, this one has been a hit among guests. We definitely recommend giving it a try!
When it comes to savory dishes at Docking Bay 7, we always recommend going with whatever is seasonal. This quick-service restaurant has some menu staples like the Endorian Fried Chicken Tip-Yip and Felucian Kefta with Hummus, which aren't bad if you have a craving for some (loosely) space-style comfort food. If you're lucky, however, you'll be visiting Disneyland when the dining locations on Batuu West are offering up some seasonal specialties. This season, try the Ishi Tib-style Pasta with Braised Beef Bantha, a beef pot roast dish served with a coconut curry sauce and mixed vegetables over noodles. We love seeing the Disney parks infuse more diverse flavors into their dishes, especially at the more affordable restaurants on property. So, be sure to check the menu for something seasonal the next time you're hungry in Black Spire Outpost.
Ronto-less Garden Wrap at Ronto Roasters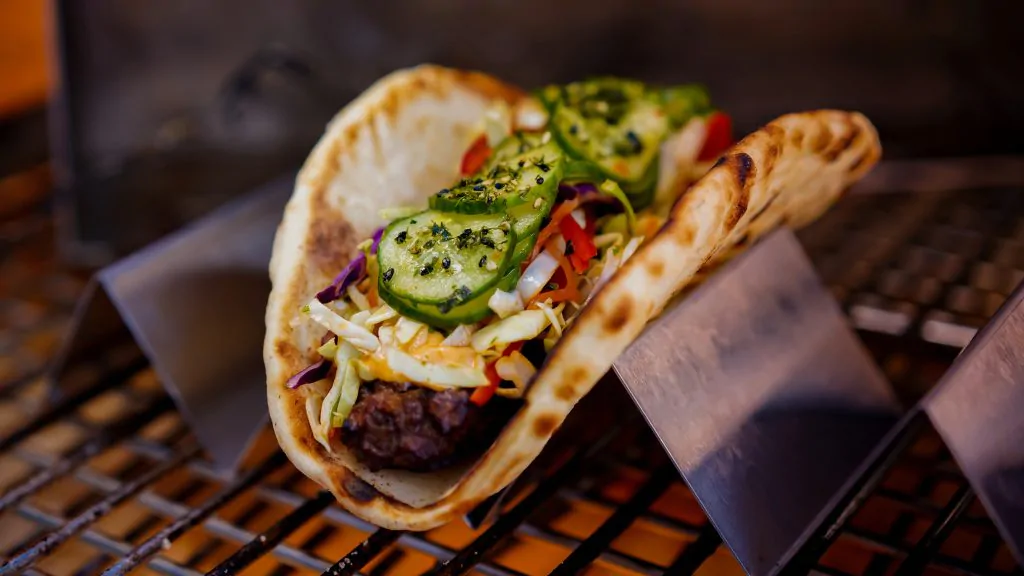 You can't go wrong with a Ronto Wrap from Ronto Roasters, but whether you're a vegetarian or not, don't pass on the Ronto-less Garden Wrap. This meat-free pita wrap has a bit of a kick to it with its kimchi slaw and gochujang spread, and more often than not, we actually crave the Ronto-less version of this dish instead of the classic one. 
If you visit in the morning, try the Ronto Morning Wrap. It has a similar flavor profile to the typical Ronto Wrap, only the roasted pork and tangy slaw are swapped for a layer of scrambled eggs and cheese. This isn't our favorite wrap served here, but it's definitely worth a try if you haven't already. And, let's be honest, there is nothing more perfect than eating breakfast on Batuu. The morning glow on this planet? Immaculate.
Snack Foods at Oga's Cantina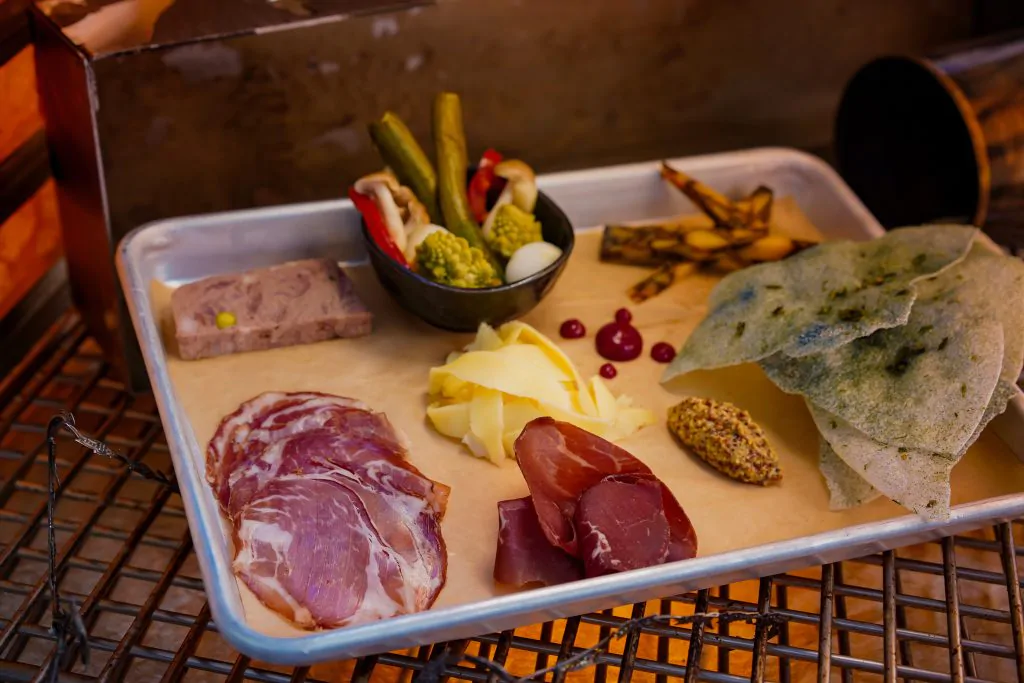 Oga's Cantina is our go-to in Galaxy's Edge, but don't sleep on the snacks here. The Batuu Bits snack mix is worth it, and if you're with a group, consider sampling the Five-blossom Bread pretzel knot and the Happabore Sampler charcuterie board. Oga's Cantina isn't a place you want to rush out of — the atmosphere is unmatched, the music is iconic, and DJ R3X is a can't-miss audio-animatronic. So, if you've got time to chill out in Disneyland's only bar, do it. 
An honorable mention goes to the Black Spire Brew. If you could only get a morning reservation for Oga's and you aren't interested in indulging in an alcoholic drink at 9 a.m., try the Black Spire Brew — cold brew Joffrey's Coffee®, sweetened with honey, falernum, passion fruit, and citrus flavors. It's an underrated hit, and we wish they sold it outside the cantina!
Nonalcoholic Beverages Throughout Batuu
We love the drinks at Oga's Cantina, but we'd be remiss if we didn't mention our favorite nonalcoholic beverages elsewhere on Batuu — that is, the drinks other than Blue Milk. Three of our favorites include the Tatooine Sunset sweet tea and the Meiloorun Juice fruity lemonade from Ronto Roasters, and the TikTok famous Cold Brew Black Caf from Docking Bay 7. You can't go wrong with any of these, especially on a hot day. Just keep in mind that they're definitely on the sweet side! 
More Recs are Heading Your Way
We love sharing food and drink recs, from the best beverages at Oga's Cantina to our top how-tos for snagging hard-to-get dining reservations. Be sure to follow us on TikTok for daily Disney inspiration and subscribe to our weekly newsletter, so you don't miss a beat!
For now, as they say on Batuu, 'til the spire!