Oga's Cantina at Galaxy's Edge in Disneyland is a must-do for Star Wars Fans. Featuring "fantastical drinks sourced with ingredients from across the galaxy," the expansive menu is packed with imaginative options for weary travelers. But which drinks should you choose? I'm sharing (and ranking!) the best drinks at Oga's Cantina Galaxy's Edge menu to help you decide!
Let's get into my picks!
The Best Oga's Cantina Alcoholic Drinks
1. Outer Rim ($18) is definitely the queen of the ball! The Outer Rim has the best flavor profile, featuring Patrón Silver Tequila, Stirrings Pomegranate Liqueur, lime juice, and pure cane sugar. The exotic fruit puree mousse and black salt rim lend a sweet and salty element, making it my top Oga's Cantina drink pick!
2. Jedi Mind Trick ($16) is always my second drink order at the bar. With Ketel One Botanical Grapefruit/Rose Vodka, John D. Taylor's Velvet Falernum, Bols Blue Curaçao, white grape juice, lime juice, and grapefruit bitters, the Jedi Mind Trick is well balanced, not too strong, and fun in color (it's blue!). The white grape juice and grapefruit vodka make this cocktail a fantastic combination that you shouldn't miss.
3. Yub Nub ($17) Malibu Pineapple Rum, Sailor Jerry Spiced Rum, citrus juices, and passion fruit make the Yub Nub one of the sweeter drinks on the menu. The super cravable drink comes in an adorable collectible Tiki mug, and the lip-puckering tropical juices, Malibu, and spiced rum make for a winning sweet and tart combination.
4. Tarkenian Night Flower ($18) The newest drink on the menu blends gin, elderflower liqueur, ginger and huckleberry, and garnishes it with sweet hibiscus flowers. Since its Life Day addition, it's been wildly popular, and I think we'll see it sticking around. The Tarkenian Night Flower definitely has a strong hit of elderflower and gin, but it's on the sweeter side and is well balanced overall. Bonus points: the "flower" garnish is edible and really fun!
5. Takodana Quencher ($16) This drink replaced one of my old favorites, the Dagobah Slug Slinger. The Takodana Quencher features Bacardi Dragonberry Rum, Bols Blue Curaçao, orange, pineapple, and kiwi juice, but it can't hold a candle to the Slug Slinger! While this adds another "almost tiki" drink to the Oga's Cantina menu, it probably won't bowl you over with flavor.
6. Bloody Rancor ($19) Bloody Mary fans rejoice; you can grab this Ancho Reyes Chili Liqueur, Tito's Vodka, spicy Bloody Mary mix, and Rancor Bone for breakfast at Oga's (or throughout the day)! The Bloody Rancor has fun garnishes and an "outer worldly" feel! At the end of the day though, flavor-wise, this ends up just being a Bloody Mary. Points for visuals, but a "meh" on delivering something unexpected.
7. Coruscant Cooler ($17) There's absolutely nothing wrong with the Coruscant Cooler except that it's just a Manhattan. Do you really want that when you're stepping into Oga's Cantina? The Maker's Mark Bourbon, Luxardo Maraschino Liqueur, Carpano Antica Sweet Vermouth, and cranberry and lime juices make for a decent Manhattan. Still, you'll undoubtedly get a better one over at Carthay Circle Lounge.
8. Jet Juice ($16) With Maker's Mark Bourbon, Ancho Reyes Chili Liqueur, Stirrings Pomegranate Liqueur, white grape juice, and lemon juice, Jet Juice is incredibly flavorful! The issue is portion size. It basically arrives in a shot glass, and it doesn't pack nearly the alcoholic contents you'd expect from the name. This drink isn't strong, either. You're better off buying almost anything else on the menu for the money.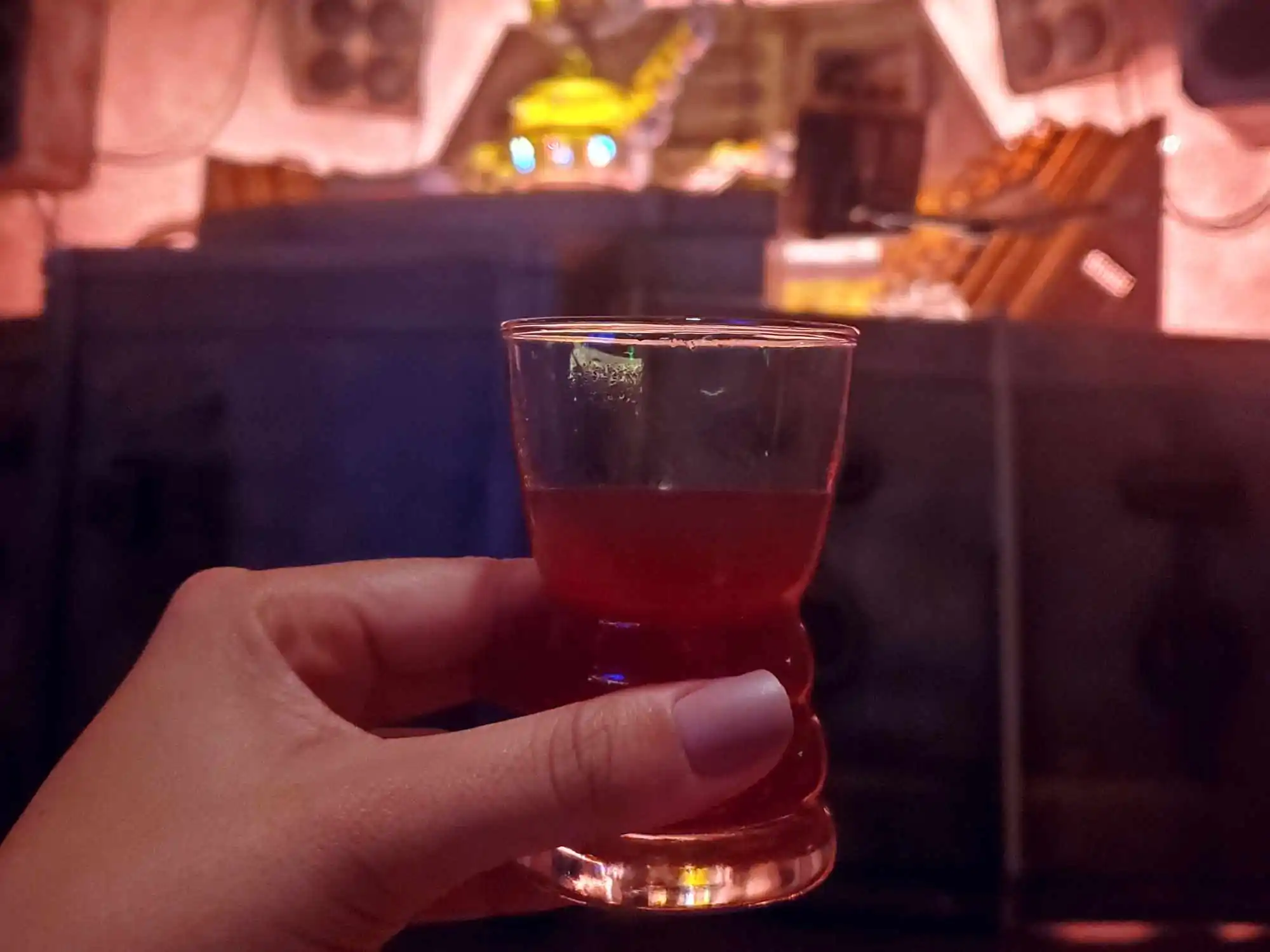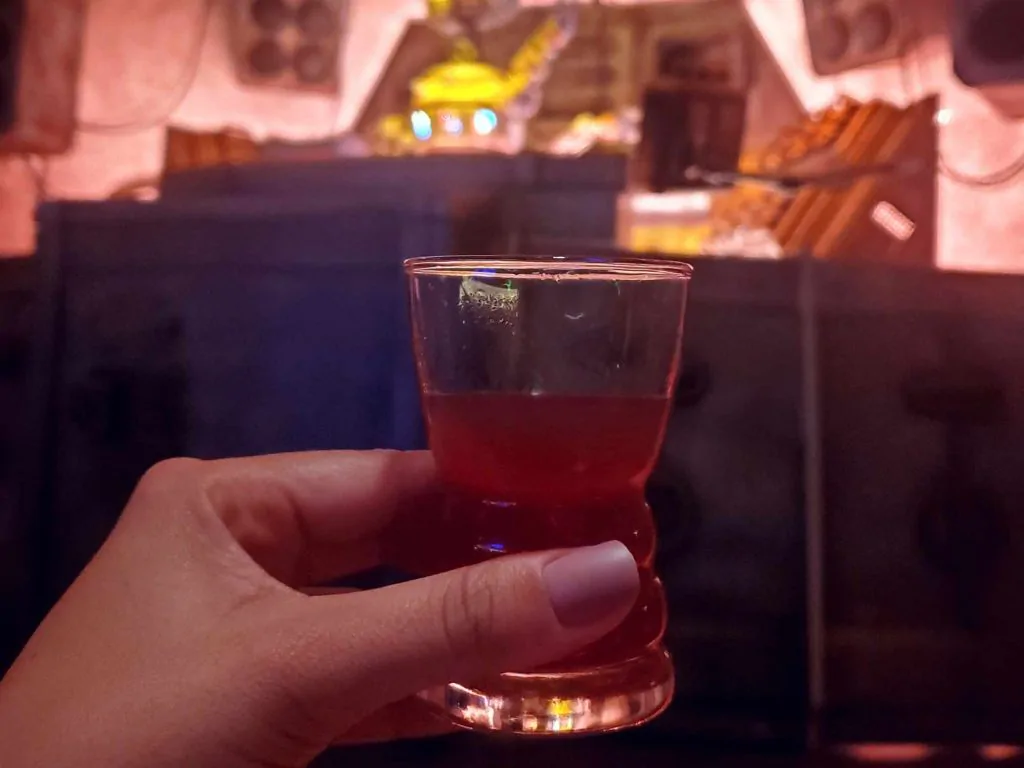 (Bonus) The Fuzzy Tauntaun was recently taken off the menu temporarily due to supply issues. But, it should be coming back soon! For now, you can enjoy the fun lip-numbing fuzz and tart drink at Walt Disney World while you eagerly await its return to Disneyland. I'll update my ranking as soon as it's back!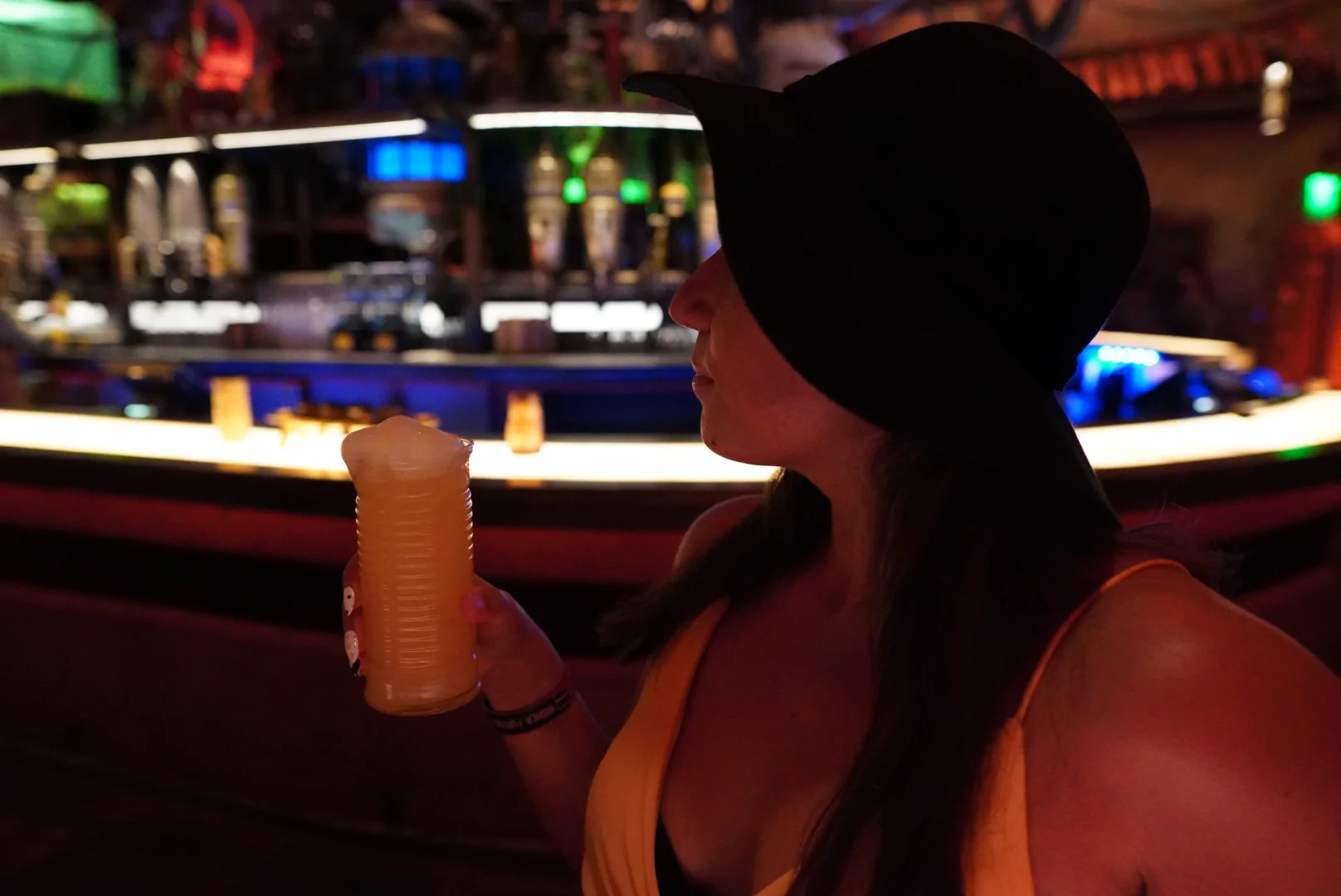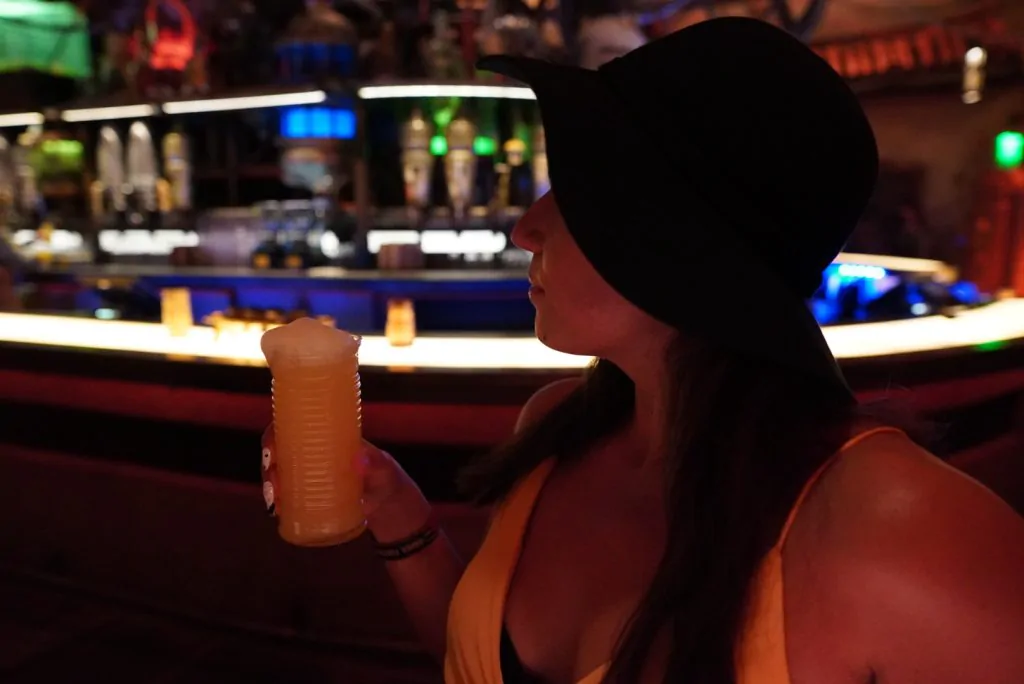 The Best Beer and Wine at Oga's Cantina Galaxy's Edge
Full disclosure, these qualify as honorary mentions, as they aren't the focus of this review. However, if you're into beer, I recommend the Rancor Beer Flight Souvenir Board with Four Teeth ($86) which allows you to sample every beer that Oga's offers and take the board home with you. The board provides a fun way to present dipping sauces for parties and BBQs, making it a solid choice.
If wine is more your thing, try the Toniray, Goldschmidt Vineyards, Sonoma white wine ($13) which allows you to still feel "galactic" with its teal-blue hue. Featuring notes of green apple, Meyer Lemon, apricot, vanilla, and white peach, it's a refreshingly crisp offering that rounds out the Oga's Cantina drink menu nicely.
The Best Oga's Cantina Non-Alcoholic Drinks
1. Blurrgfire ($7) If lemonade's what you crave, the Blurrgfire is for you. Made with lemonade, pomegranate juice, and a habanero-Lime salt rim that balances out the drink's sweetness (while adding a nice kick of spice) it's one of my favorites that I keep coming back to!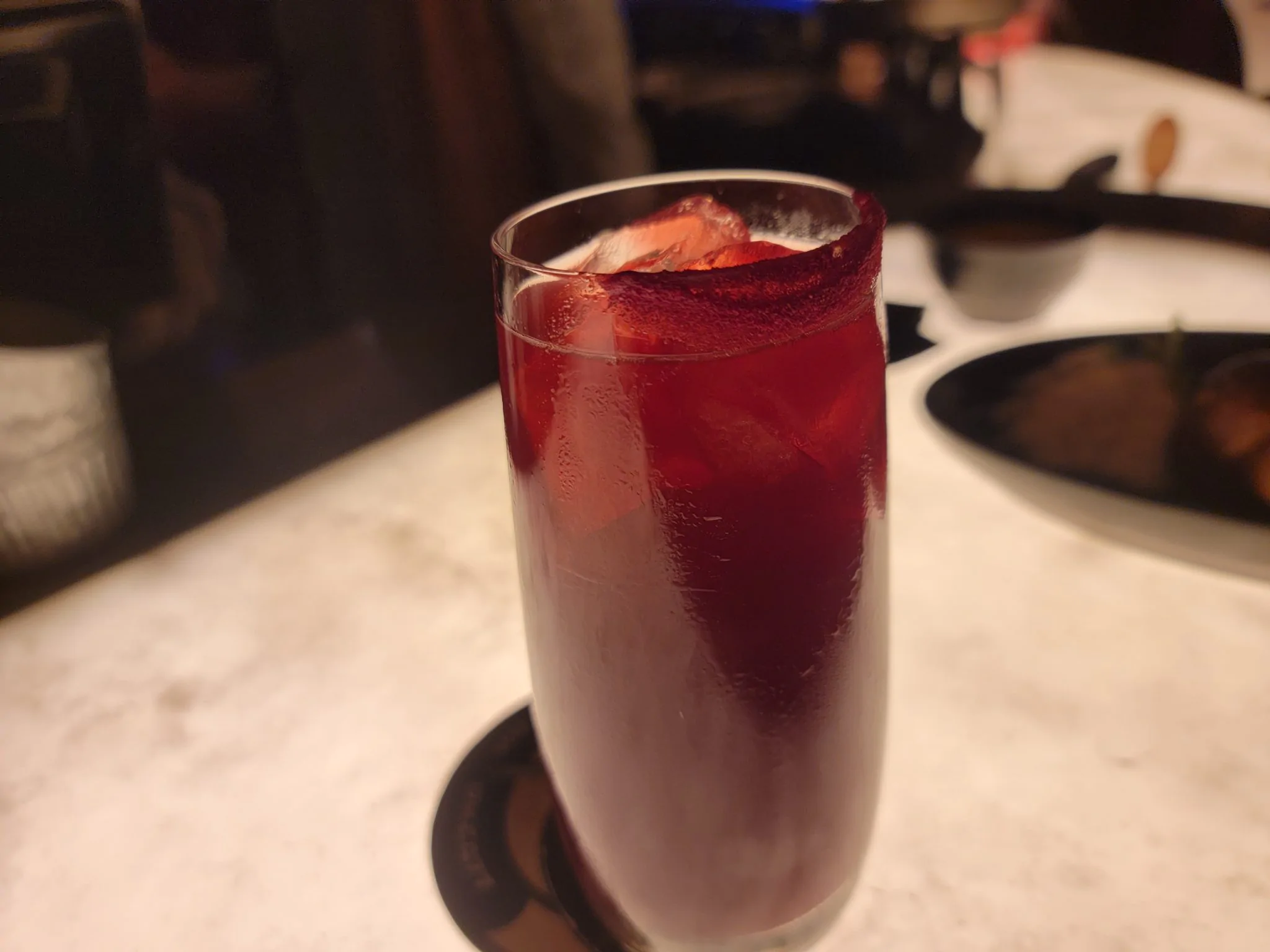 2. Cliff Dweller ($6.50) With citrus juices, coconut, hibiscus-grenadine, and Seagram's Ginger Ale, the Cliff Dweller is essentially a non-alcoholic take on the Yub Nub, but with ginger ale for some fizz. The drink is on the sweeter side, but it's excellent, especially if you get this Tiki-inspired drink in a souvenir Porg mug!
3. Moogan Tea ($7) Featuring Gold Peak unsweetened tea, chocolate milk, vanilla, and cinnamon, topped with vanilla whipped cream and sugar-dusted cereal, the Moogan Tea is best as an early day sweet treat. The chocolate milk, cinnamon, and milk provide an unexpected mix that hits, but you'll want a park day to burn off the energy it brings!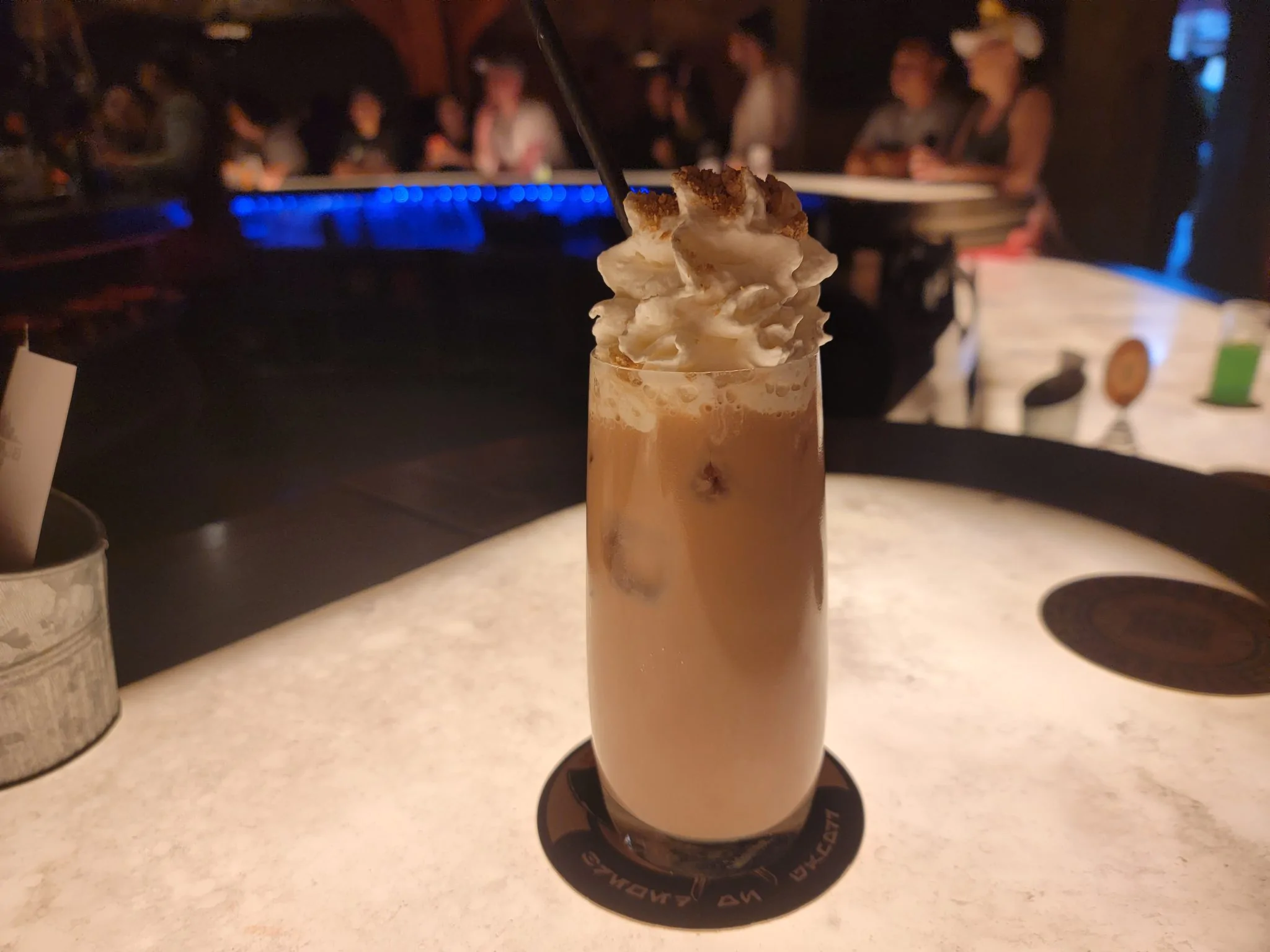 4. Jabba Juice ($6.50) Boba fans only here! Jabba juice is filled with chewier-than-expected boba balls, which may be a turn off for some folks. Still, the orange, pineapple, kiwi, cantaloupe, and blueberry flavor-filled boba is nice enough, albeit pineapple heavy and relatively sweet.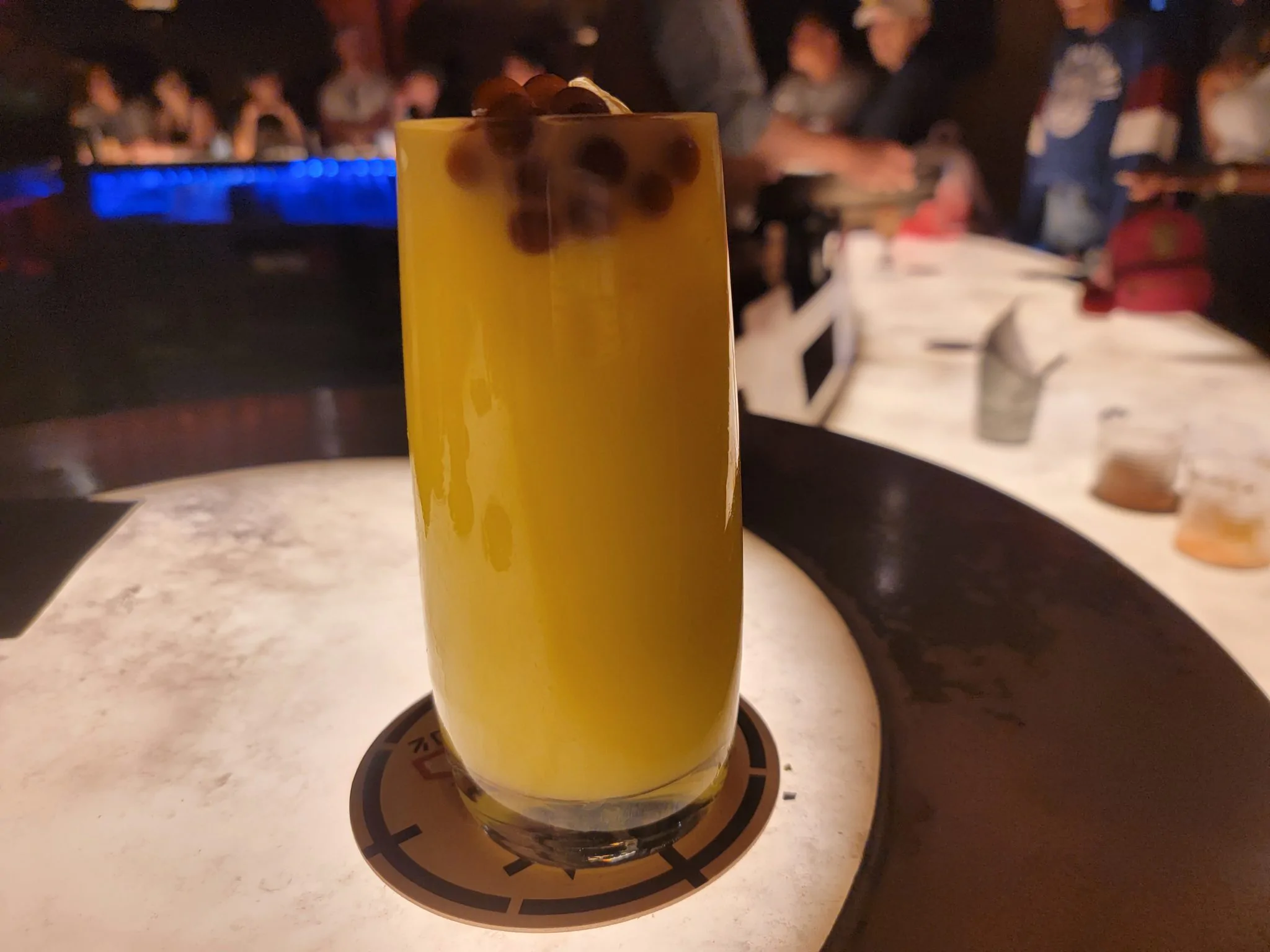 5. Tarine Tea ($6.50) With Gold Peak Unsweetened Tea, peach, huckleberry, and mint, the Tarine Tea offers a fun presentation (I'm a sucker for a Luxardo cherry), but ultimately is just a pleasant iced tea with some extra flavors added in. The mint is a nice touch though!
6. Blue Bantha ($13) This blue milk is served chilled with a Bantha-inspired vanilla-butter sugar cookie, and while the Blue Bantha is just the standard blue milk with a cookie on top, the cookie is SO GOOD that it's worth ordering just for that! You can buy the cookie on the side if it's all your heart desires, but blue milk is a classic that everyone should have at least once while on their trip to Batuu! With light notes of coconut, it's rich and creamy, and the only reason it ranks low on our list is that it's a lot less cost-effective than just buying blue milk at the stand!
7. Hyperdrive (Punch It) ($6) Sure, this drink is fun to look at—it's spacey looking in color—but, with Powerade Mountain Berry Blast dominating the black cheery and Sprite mix, it comes off a bit too artificial for me to recommend. It takes last spot on my Oga's Cantina at Galaxy's Edge list.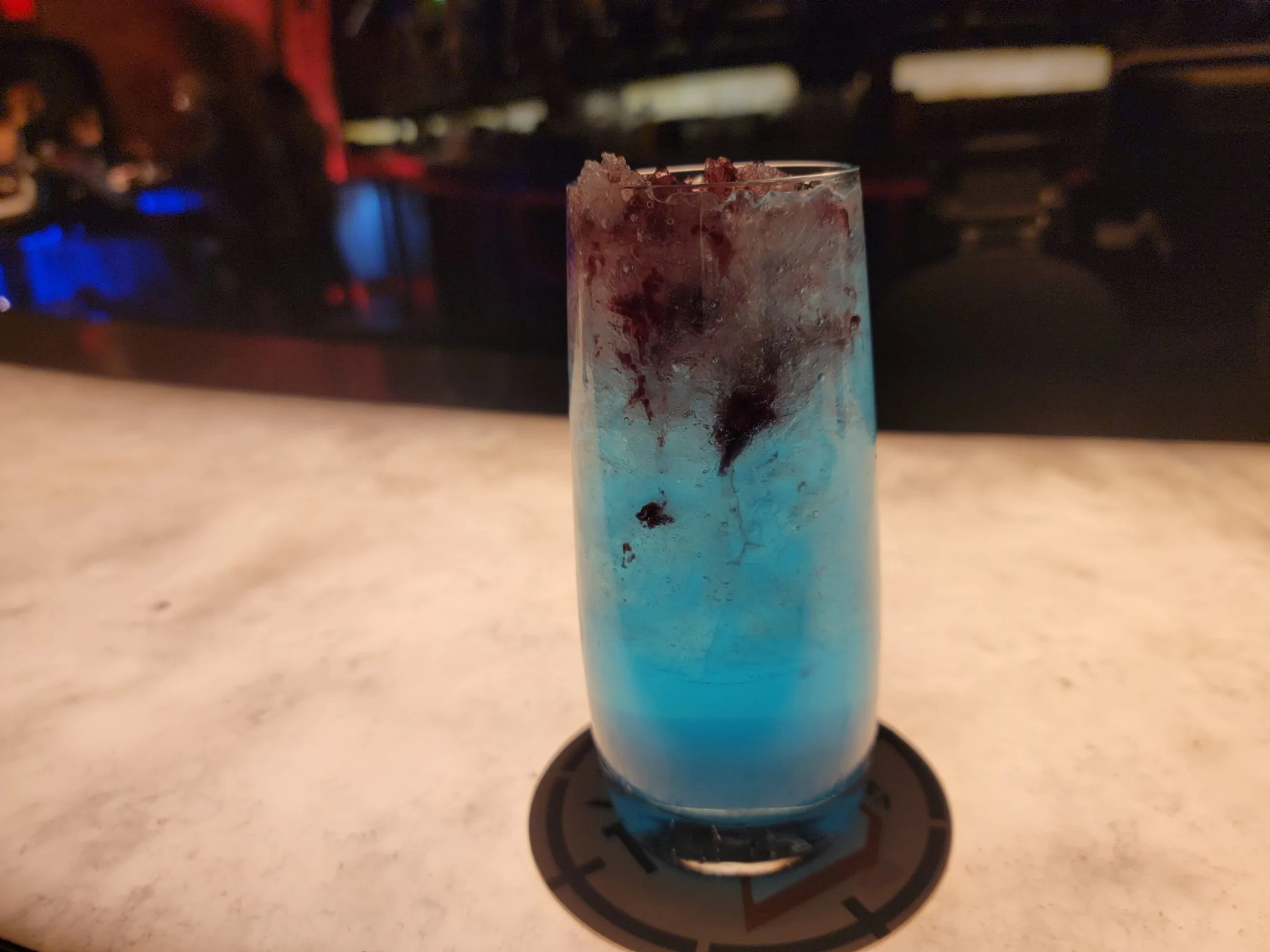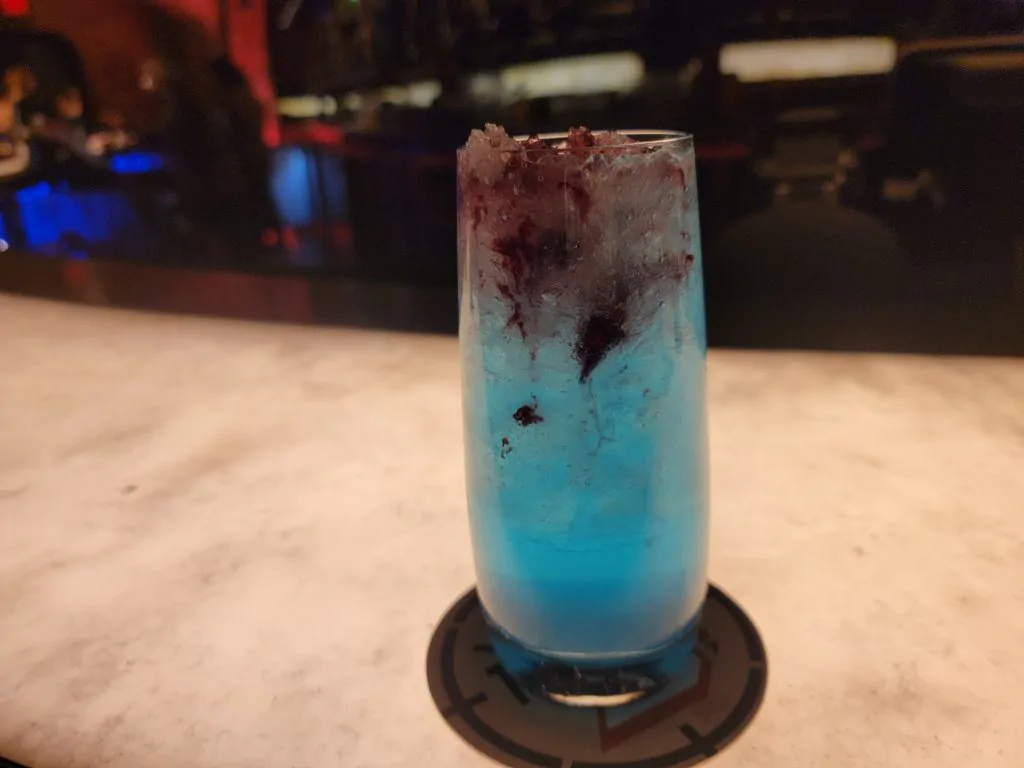 What Are Your Picks? Share on Socials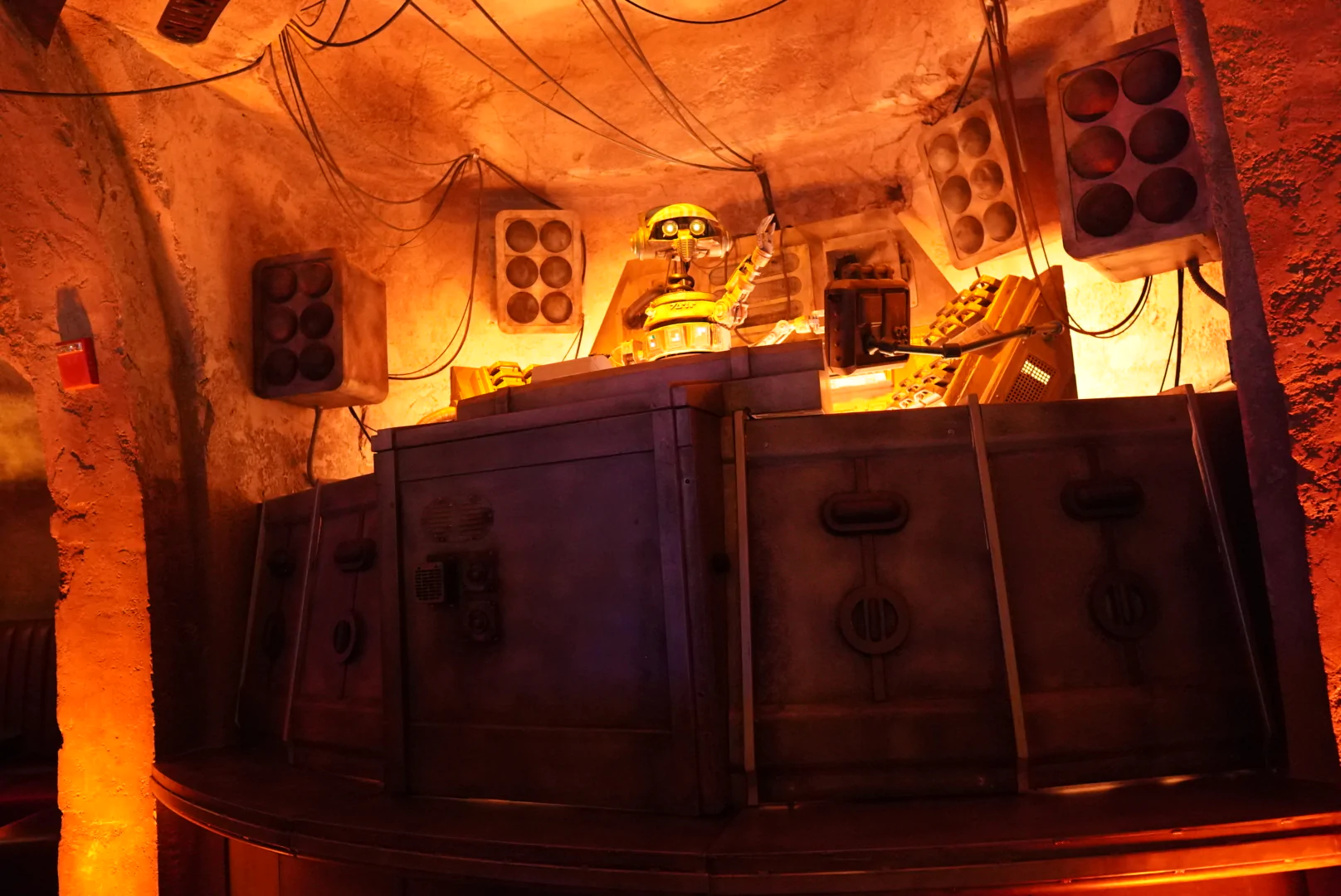 Have you tried the drinks at Oga's Cantina at Galaxy's Edge? If you have, what are your favorites? If you haven't, what are you most excited to try? Share your thoughts in the comments and tag Perfecting the Magic on Instagram and TikTok. I can't wait to see them!