May the 4th Be With You every day when you make this Walt Disney World Inspired Wookiee Cookie recipe! Our Wookiee Cookie copycat recipe tastes just like the delectable treat found at Backlot Express in Disney's Hollywood Studios, and it's easy to recreate at home, too!
Celebrate your love for Chewie with chewy oatmeal cookies sandwiching rich vanilla marshmallow cream while you bite into a chocolate bandolier so rich you'll feel like you've been transported to a galaxy far, far away.
There are few better ways to celebrate your love for Star Wars than with something you create yourself, and this can't-miss recipe is the perfect example of that.
To get started, let's jump into some history!
The Wookiee Cookie Debuts at Backlot Express
Disney's Hollywood Studios debuted their now-famous Wookiee Cookie in 2019 at Backlot Express, much to the delight of anyone who tried it. The oatmeal sandwich cookie has garnered serious rave reviews, and the sharable dessert is a social media staple! For good reason, too—this treat is beyond delicious and worthy of trying the next time you're in the parks. There's something about the classic oatmeal cream pie combo that hits the spot every time!
Until then, you've got to try our recipe. We can't overstate this—it's incredible! Whether you've had a Wookiee Cookie every trip since 2019, or this is your first time trying it, you won't be disappointed.
Let's jump into it!
Wookiee Cookie Copycat Recipe Notes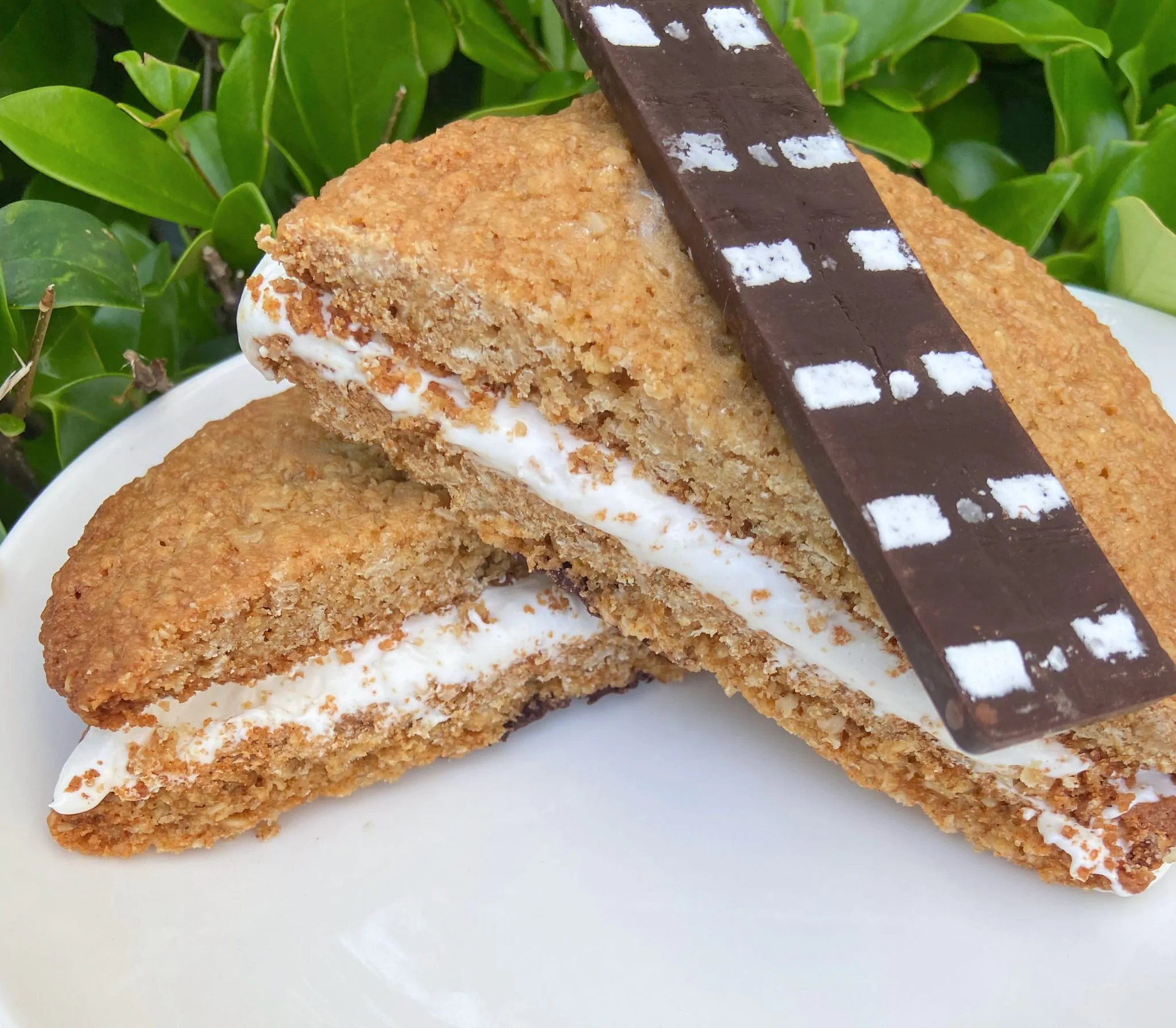 Cookie Base
The Perfecting the Magic team is dedicated to helping you elevate your Disney experiences, and that extends to all of our recipes. We believe that our copycat recipes should taste like the real thing while being simple in ingredients and baking techniques.
We chose to use an oatmeal cookie mix for our Wookiee Cookies because of how accessible and reliable the mixes are. If you'd prefer to make oatmeal cookies from scratch, we recommend this recipe. We were blown away by the cookie mix results and highly recommend it. If you go the 'from scratch' root, be sure to chill your cookies completely before moving on to the next steps.
Vanilla Cream Filling
Full disclosure—this vanilla cream filling is addictive and one of the best things we've tasted. The texture is perfect for eating immediately, but we recommend allowing it to chill in the refrigerator while making your chocolate bandoliers.
Chocolate Bandolier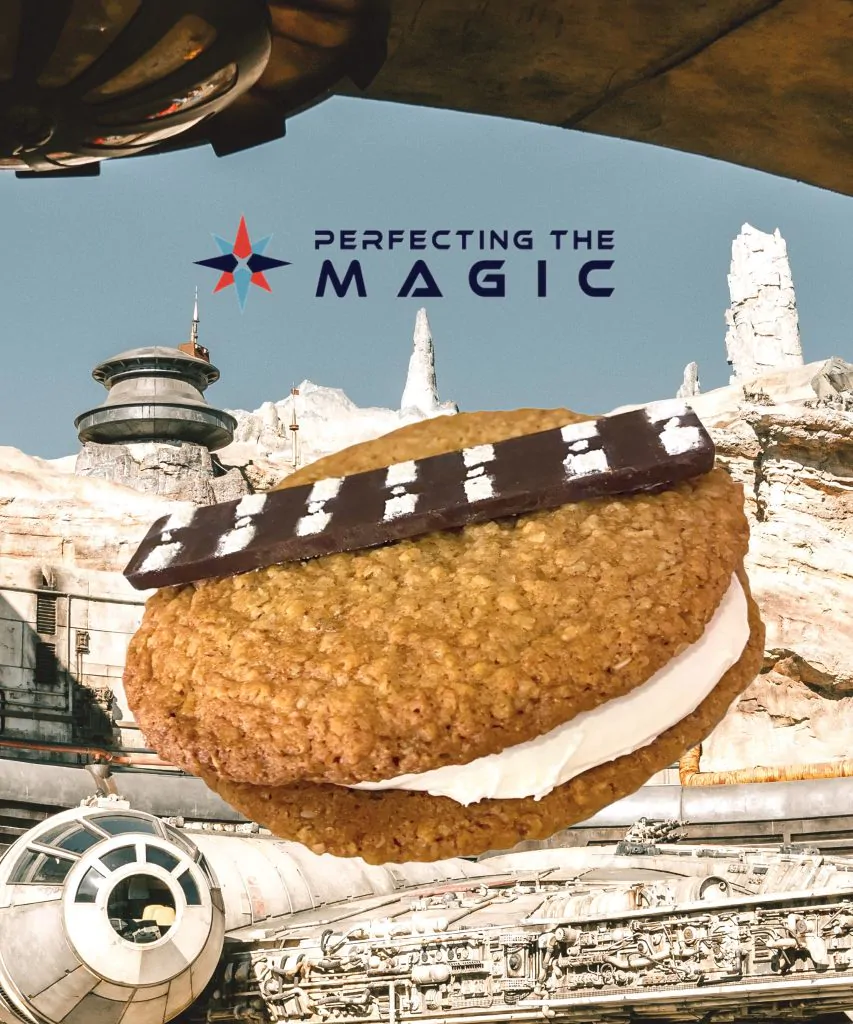 Creating a way to easily make a chocolate bandolier at home was challenging and took a lot of trial and error. We wanted to keep the ingredients accessible, so we used powdered sugar to create the ammunition pattern.
While edible paint would have been easier to execute, it's often bitter, and you'd use so little that there's not much point in buying it beyond a professional setting.
The Wookiee Cookies are excellent without the bandolier, which is the most complicated step. You can skip it, but we know why you wouldn't want to. We made it as simple as possible by using spatula lines as a pattern and sifting powdered sugar into the slots. It's tedious, but it's the simplest of the methods we tried.
Once your lines are in place, remove the center of each line with a damp Q-tip. Allow to dry and stamp the end of a moistened (sorry) wooden skewer in powdered sugar to create dots in each center. Please note: we learned the hard way that powdered sugar and humidity don't mix during our photoshoot and recommend you keep them chilled in the refrigerator until you're ready to eat (or photograph!) them, as the powdered sugar design is delicate.
Humidity makes the design evaporate before your eyes, so be sure to keep things chilled.
Now, onto the ingredient breakdown!
Wookiee Cookie Ingredients
Makes 2-3 Wookiee Cookie sandwiches, depending on size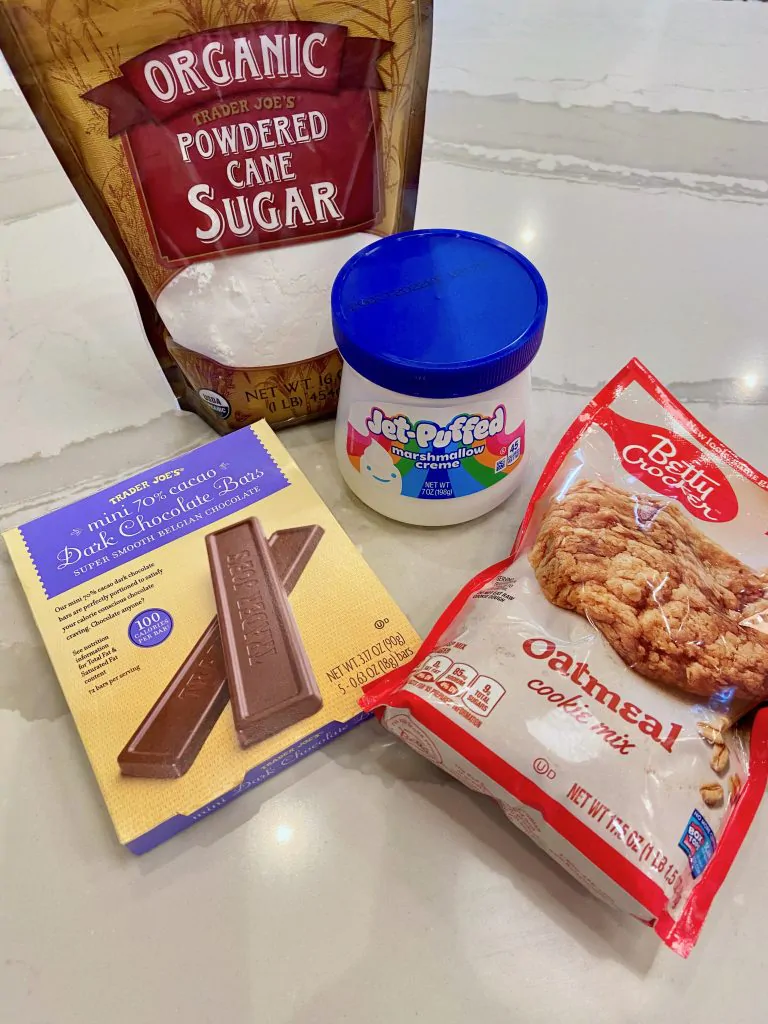 Oatmeal Cookie Base
1 package Oatmeal Cookie Mix (we used Betty Crocker, see recipe notes)
1 stick softened Butter
1 teaspoon Vanilla
1 teaspoon Water
1 egg
Vanilla Cream Filling
1 Stick Softened Butter
1 Cup Powdered Sugar
1 Cup Marshmallow Creme
Chocolate Bandolier/Chocolate Sash
1 Box Trader Joe's Milk Chocolate Bars
Water as Needed
Directions
Step 1
Mix Oatmeal Cookie Mix with butter, vanilla, water, and egg until smooth. Preheat your oven to 350 degrees.
Step 2
Whisk softened butter, powdered sugar, and marshmallow cream together until smooth. Chill until needed.
Step 3
Line baking sheet with parchment paper. Place large cookie scoops 4 inches apart. We recommend baking two cookies at a time, as they're large and expand. Place in oven and bake for 13-16 minutes. The finished cookies will be golden brown. Once baked, remove from the oven and allow to chill thoroughly on the cookie sheet.
Step 4
While the cookies cool, begin making your bandolier. Take the chocolate bar and flip it over so that the flat side faces up. Place the spatula lines on the bar and sift powdered sugar onto the bars. Repeat. Once the lines are complete, take a Q-tip and remove the center of each line. Finally, dip a wooden skewer in the powdered sugar to make dots between each line.
Step 5
Assemble the chilled cookies with the cream filling. Be careful not to overfill, as the cream will expand from the weight of the top cookie. Once you're satisfied with your cookie sandwich, top with a chocolate bandolier.
Step 6
Live your Wookiee Cookie dreams!
Recipe Card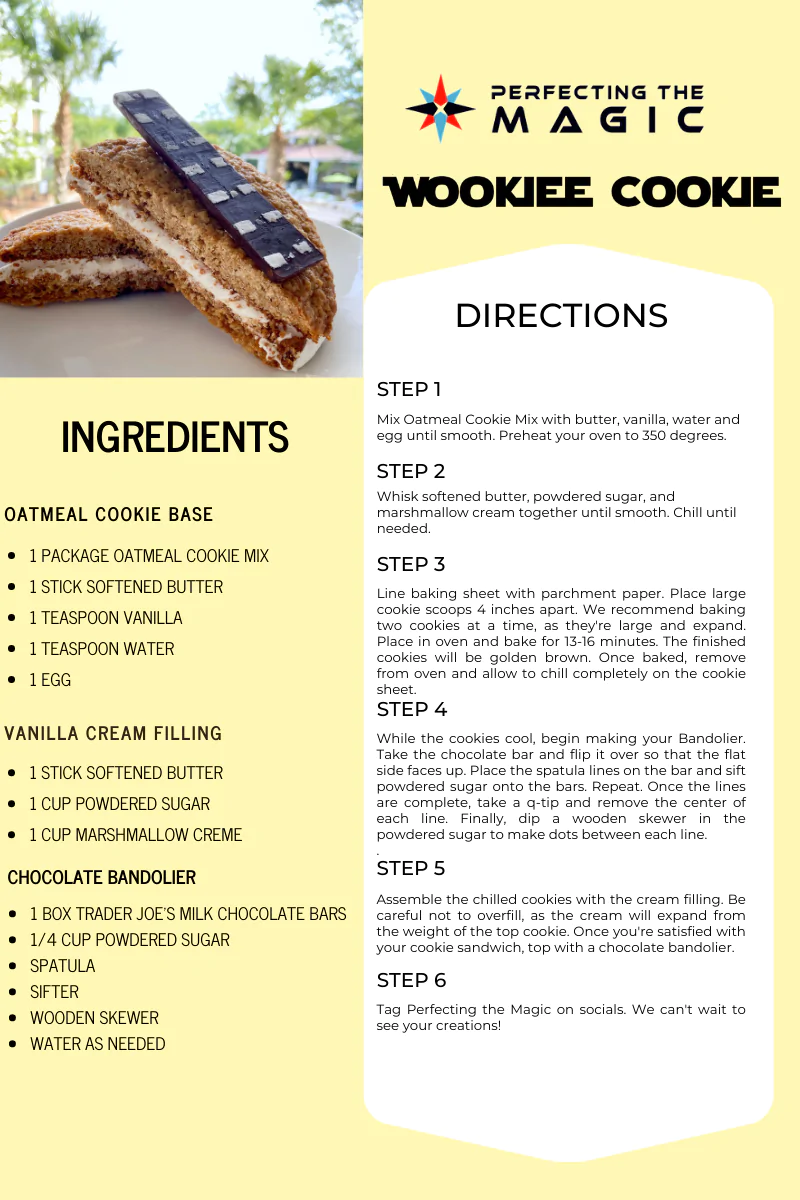 Share Your Wookiee Cookies
Did you try our Wookiee Cookie copycat recipe? We'd love for you to tag us on socials so we can see your creations! What recipe would you like us to copycat next? Keep those suggestions coming. We love hearing from you!
Did you know you can stay up to date with everything PTM by joining our FREE weekly newsletter? Sign up here so you don't miss a moment of the fun!