Getting married at Disneyland is the ultimate fairy tale. But did you know there are more Disneyland wedding venues than Sleeping Beauty Castle? Here at Perfecting the Magic, we love sharing the luxurious side of Disney and our dream Disney experiences — including magical Disney-themed wedding ideas and inspiration. 
Let's take a walk once upon a dream as we share a closer look at our favorite Disneyland wedding venues. 
Our Favorite Disneyland Wedding Venues Inside the Parks
If you're looking into getting married at Disneyland Resort, you'll notice that there are so many venues to choose from! And yes, you can get married inside Disneyland and Disney California Adventure. Here are our top Disneyland wedding venues located inside the theme parks. 
Sleeping Beauty Castle
We can't talk about Disneyland wedding venues without starting with Sleeping Beauty Castle. If you want to feel like royalty in every way, this is the place to say "I do." You can have your ceremony in the early morning before park opening or in the late evening after park closing, but the photos alone make it worth it. It's iconic!
Small World Mall
Guests who opt for a nighttime ceremony in front of Sleeping Beauty Castle can then have their reception in the Small World Mall, the area in front of the "it's a small world" attraction. "It's a small world" is one of the most recognizable and historic Disney attractions, but many Disney fans and couples don't realize you can have your wedding there. The ride's facade is a stunning, nostalgic backdrop for dinner, dancing, and celebrating your marriage. (Note that if you have a morning ceremony at Sleeping Beauty Castle, your reception will have to be held outside the park at a venue at one of the Disneyland hotels.)
Disney Animation Building
This is probably our favorite venue on Disneyland Resort property. How epic is it to get married surrounded by larger-than-life screens playing scenes and animation sequences from classic Disney films? The Disney Animation Building is romantic, charming, and absolutely unique. This reception location is fantastic for guests willing to stay up late to have their wedding reception inside the park. Bonus points if you stroll over to Pixar Pier for a private after-hours World of Color viewing for your wedding guests. *swoon*
Our Favorite Disneyland Wedding Venues Outside the Parks
There are a variety of ceremony and reception venues at the Disneyland Resort hotels, but a few stand out to us. 
Rose Court Garden at the Disneyland Hotel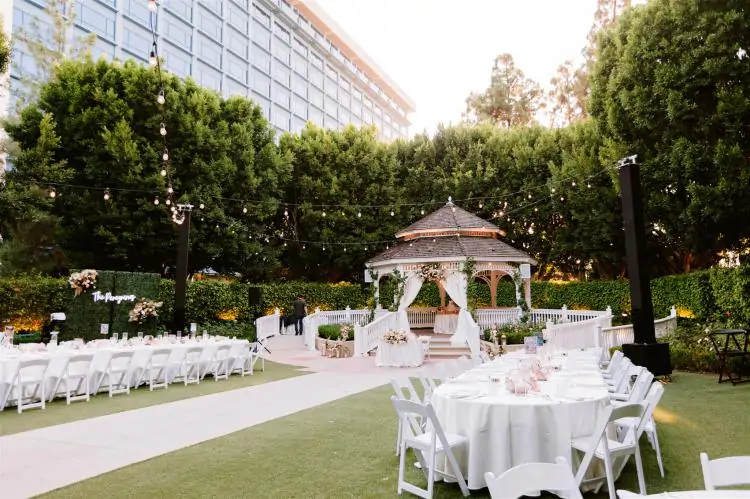 Of all the ceremony locations at the hotels of the Disneyland Resort, the Rose Court Garden is by far our favorite. There is just something so magical and unique about this garden that has us swooning every time we see it in person or see wedding photos shared online. Although it is located adjacent to two of the main Disneyland Hotel buildings, it feels like an enchanting oasis. The gazebo is charming and timeless on its own — you could hardly add any decor and it would be beautiful! Add some florals, candles, and drapery, and you have an altar worth melting for. This space can also be transformed for your reception, so keep that in mind if you book it. 
Adventureland Lawn at the Disneyland Hotel
The Adventureland Lawn is one of the most versatile wedding venues at the Disneyland Hotel due to its expansive space, making it one of the best spots for an all-outdoor event. 
For a ceremony, we love the Adventureland Lawn gazebo. Think of the Rose Court Garden gazebo but on a smaller scale, and you have the Adventureland Lawn gazebo, so if you're having a more intimate wedding, consider saying "I do" here. It's a venue straight out of a storybook, and for that, we love it.
The Adventureland Lawn is also a fantastic outdoor reception location! During the 2022 Disney Wedding Showcase, the Disney Fairy Tale Weddings team at Disneyland set up reception tables and a dance floor, which gave us a feel for what an outdoor wedding at Disneyland would be like. Twinkling lights illuminate the atmosphere at night, making the space positively ethereal. We were so impressed when we saw this in person! 
Sleeping Beauty Pavilion at the Disneyland Hotel
Our favorite indoor Disneyland wedding venue will always be the Sleeping Beauty Pavilion when it comes to reception spaces. This indoor venue at the Disneyland Hotel offers so many charming and unique elements, from the royal blue carpet to the "Beauty and the Beast"-inspired chandelier. In particular, we love the fairy lights incorporated into the overhead draperies! Large windows adorn the walls of the circular event space, offering gorgeous natural light for a daytime reception, but this is such a classic space that it's perfect for an event day or night. After touring this space completely decorated, it became clear that this is the ideal indoor wedding venue on Disneyland Resort property and outside the parks. 
Follow for More Disney Magic 
Whether you're planning your own Disney wedding or you're looking for a daily dose of magic, we've got you covered. Follow us on TikTok for more pixie dust and subscribe to our newsletter for weekly inspiration!