If you're looking for good food, a fun atmosphere, and Disney vibes (without paying for another day at the parks), then Disney Springs is a place you should check out. Often, our Walt Disney World trips are such a wild ride, you'd think Mr. Toad was driving the Monorail to Magic Kingdom. And while we love days spent Park Hopping across Disney property, sometimes we want a change of pace. Cue Disney Springs.  
There's nothing like an evening at Disney Springs. We love the energy of this place — including the awesome background music. This place hosts some of Disney's best restaurants, most of our favorite shops (both Disney and non-Disney), and an ambiance that keeps us coming back again and again. Here's why you shouldn't skip Disney Springs on your next trip to the most magical place on Earth.
Disney Springs is Disney Magic Without a Park Ticket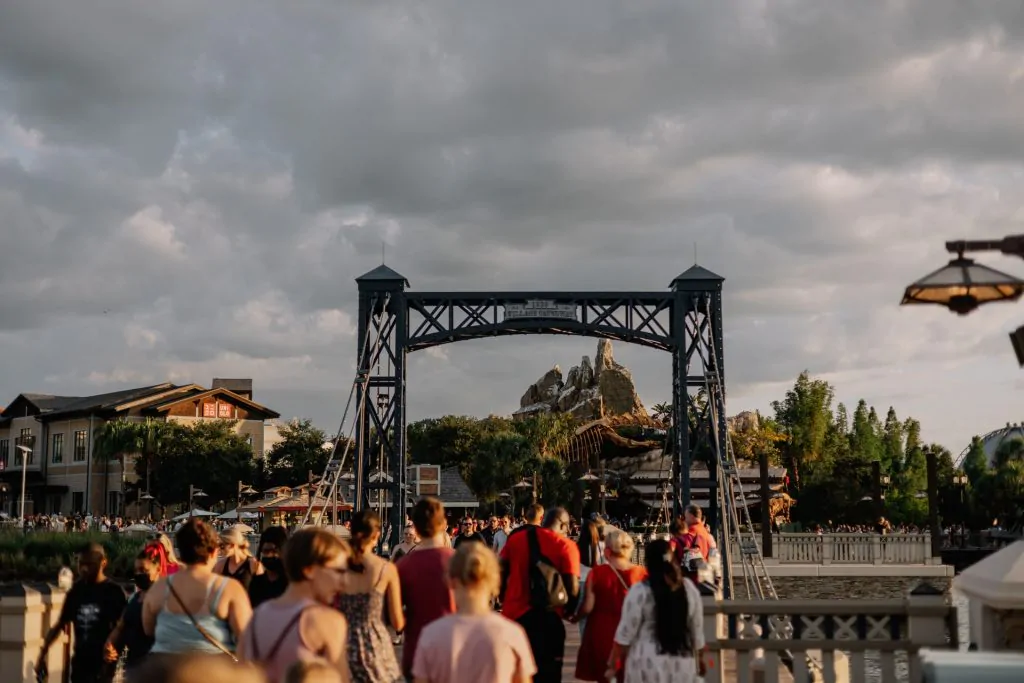 Disney Springs is completely free to visit. Yes, really! If you're staying on property at a Disney hotel, you can take advantage of the free transportation directly to Disney Springs from your resort. But even if you're not staying in a Disney resort, you can still head over to Disney Springs. 
Walt Disney Imagineering completely transformed the former Downtown Disney into Disney Springs, and we've been in love with the place ever since. At first glance, it seems like your typical outdoor mall, but look a bit closer, and you'll be able to see how enchanting Disney Springs really is. There are subtle Disney touches everywhere — and like the other locations across Walt Disney World property, Disney Springs has a backstory (you can read Disney historian Jim Korkis's article all about it here).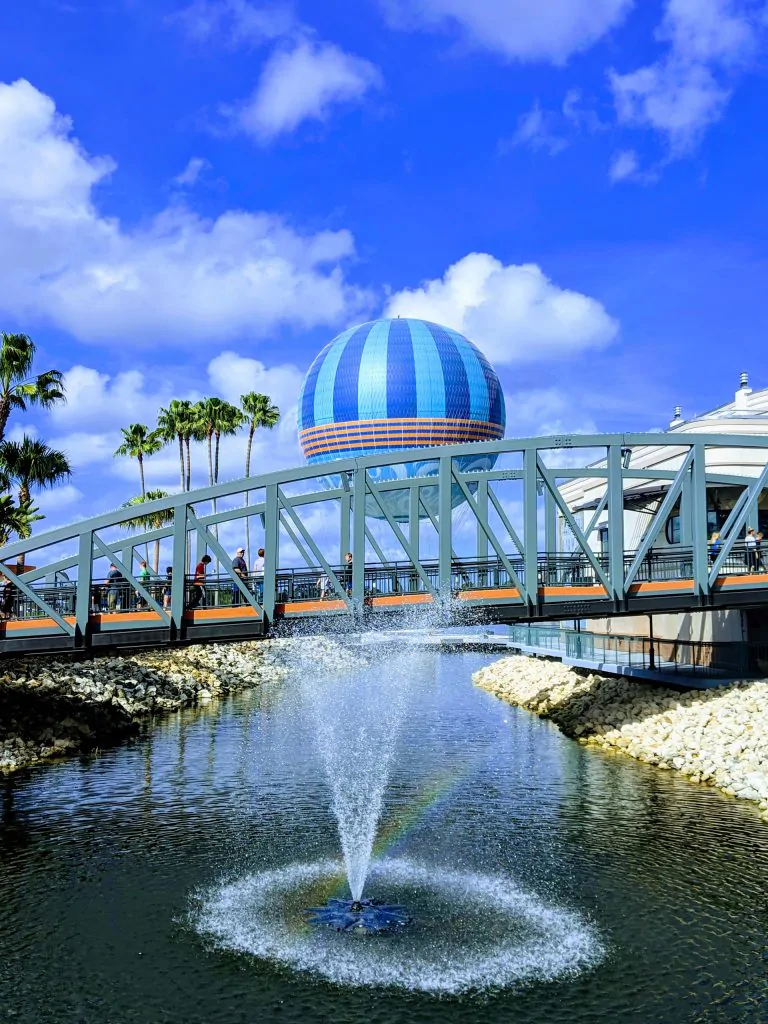 When we're craving adventure, we head to the theme parks. When we're looking for relaxation, we go resort hopping. But when we want great food, a shopping spree, or a bit more of a casual take on Walt Disney World, we head to Disney Springs. Here are our Disney Springs favorites. 
Find the Best Souvenirs at Disney Springs 
It's true — in our opinion, you can find the best souvenirs in Walt Disney World here at Disney Springs. Of course, this place is home to the largest Disney store on property, World of Disney, but it also offers so much more. There are over 100 shops at Disney Springs, including major retailers like Zara and Uniqlo, so if you're looking to spend a whole day shopping, this is the palace to do it. 
One of our favorite places to shop at Disney Springs is the Marketplace Co-op. This place has it all, from home products to the Dress Shop clothing line to spectacular WonderGround Gallery artwork. It truly feels like a Disney store disguised as an indoor marketplace, and we love it. 
If you're looking for something more unique (and want to pamper yourself), then you can't go wrong with Basin. This shop sells soaps, bath bombs, and various colorful, aroma-therapeutic shower and body products. Some of the soaps are Mickey-themed, so they're just as adorable as they are practical. We love a souvenir you can use and enjoy outside the theme parks, so Basin is one of our go-to stops here at Disney Springs. 
It's Not Just Shopping — Disney Springs Has Great Food! 
Do we recommend you buy (pretty much) all of your Walt Disney World souvenirs here? Yes. But Disney Springs is more than just a shopping destination. In fact, some of our favorite restaurants on Walt Disney World property are here at Disney Springs. In the past, we've treated Disney Springs as our first dose of Disney magic to kick off our Walt Disney World vacations. We'd check into our Disney resort, get settled, and then head to Disney Springs for dinner to get excited for a full park day the next day. 
Nowadays, however, Disney Springs is our go-to spot for dining not only on the first day of our trip but on any day when we're craving some great grub outside the parks. Many of the most beloved restaurants on Walt Disney World property are at the various hotels as well as Disney Springs, and several are headed by renowned chefs. Here are a few to add to your must-try list. 
If you're looking for a restaurant that is iconically Floridian, then Chef Art Smith's Homecomin' is for you. Long before he was an award-winning celebrity chef, Art Smith was actually a Disney Cast Member. He participated in the Disney College Program at Walt Disney World in 1981, so the restaurant's name is a nod to him "coming home" to Disney. The restaurant's menu celebrates the South's farm-to-table heritage and features a variety of favorites, from fried chicken to deviled eggs. Whatever you do, don't miss the Hummingbird Cake! 
Morimoto Asia is another restaurant headed by a famous chef — an Iron Chef! Japanese master chef Masaharu Morimoto is renowned for his innovative, upscale Pan-Asian cuisine. Disney guests can try some of his most iconic dishes here at Disney Springs. If we're craving Asian food at Walt Disney World, we head to Morimoto Asia, no questions asked. The entire vibe of this place — from the decor to the food — is exceptional. Try the Morimoto "Buri-Bop," Japanese A5 Wagyu Beef, Mongolian Filet Mignon, or any of the seafood dishes. 
We'd be remiss if we didn't recommend Jaleo by José Andrés. Chef Andrés's restaurants celebrate Spanish cuisine in such an artistic (and delicious!) way. If you can splurge a little on your trip to Disney Springs, try the tasting experience, but if not, the a la carte menu is still perfection. There are a few other Jaleo locations worldwide, all known for serving scrumptious dishes, and we think this restaurant is an excellent addition to Walt Disney World. 
Can't-Miss Desserts at Disney Springs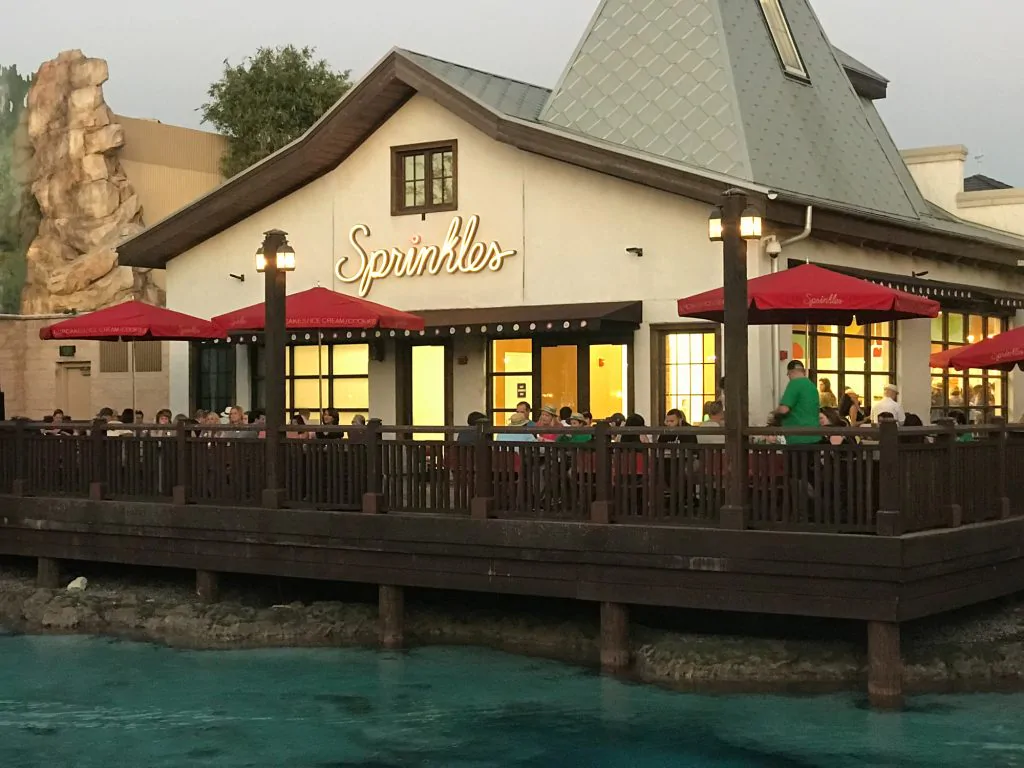 Disney Springs has some of the best desserts we've ever had at Walt Disney World. From Erin McKenna's vegan and gluten-free bakery to the decadent chocolate treats at The Ganachery, there's something for everyone. We've tried a variety of desserts here at the Springs, but two of our go-tos continue to be Gideon's Bakehouse and Amorette's Patisserie. 
We've shared at length how much we love Gideon's, and you can read all about the bakery in our interview with the owner and creator, Steve Lewis. Those who aren't huge Disney Springs enthusiasts make the trek there just for Gideon's Bakehouse; it has made the Springs a destination in its own right. The cookies are just that good! 
When we're looking for a dessert that's extra special, we head to Amorette's Patisserie. This charming shop has a variety of sweet treats, including eclairs, cakes, crepes, and other pastries. We love coming here to mark a celebration on a Disney trip, like a birthday or anniversary. Of course, lately, we've had our eyes on the special 50th Celebration Petit Cake — it's gorgeous!  
Don't Miss the Disney Springs Entertainment and Special Events 
Finally, don't sleep in the entertainment at Disney Springs. Pretty much every night, you can catch free live musical performances here. The new "Drawn to Life" show by Cirque du Soleil is absolutely magical, and you can even go bowling at Splitsville. You can also catch unique entertainment throughout the year, so keep your eyes peeled! 
Disney Springs also hosts several special events throughout the year. This summer, the guest-favorite Flavors of Florida event is back and better than ever, with several dining locations serving up Florida-inspired dishes, drinks, and desserts. We can look forward to the Disney Springs Christmas Tree Trail during the holiday season, which features dozens of trees adorned with decorations inspired by Disney characters, attractions, and more. 
There is so much to do and see at Disney Springs that doesn't involve shopping or dining. Many of the activities here don't require you to spend any money at all! So, if you're looking for an inexpensive way to enjoy your Walt Disney World vacation — or you just want to add something different to your trip — we highly recommend visiting. 
Follow for More Disney Recommendations 
We love sharing curated Disney itineraries, under-the-radar recommendations, and tips for making the most of your time at the theme parks. Follow us on TikTok and Instagram for more Walt Disney World vacation tips to know what's worth trying on your next trip to the magic.