When it comes to something as iconic as Winnie the Pooh, you can't cut corners. So, when Disney Theatrical and Rockefeller Productions decided to produce a musical starring Pooh, every stitch had to be just so. Luckily, they're in good hands with someone like Matthew Lish. Lish is the lead puppet builder and coordinator for Winnie the Pooh: The New Musical Adaptation, currently running off-Broadway in New York City. His background working with Jim Henson's Creature Shop, Sesame Street, Disney Imagineering, and a variety of Broadway shows, including Hamilton, make him a master of puppetry prowess. Add in a dash of Disney canon, and you've got magic on your hands.
Lish recently spoke with Perfecting the Magic, and gave us an inside look at his role bringing Pooh and his pals to life as snuggly, plush puppets in the Big Apple.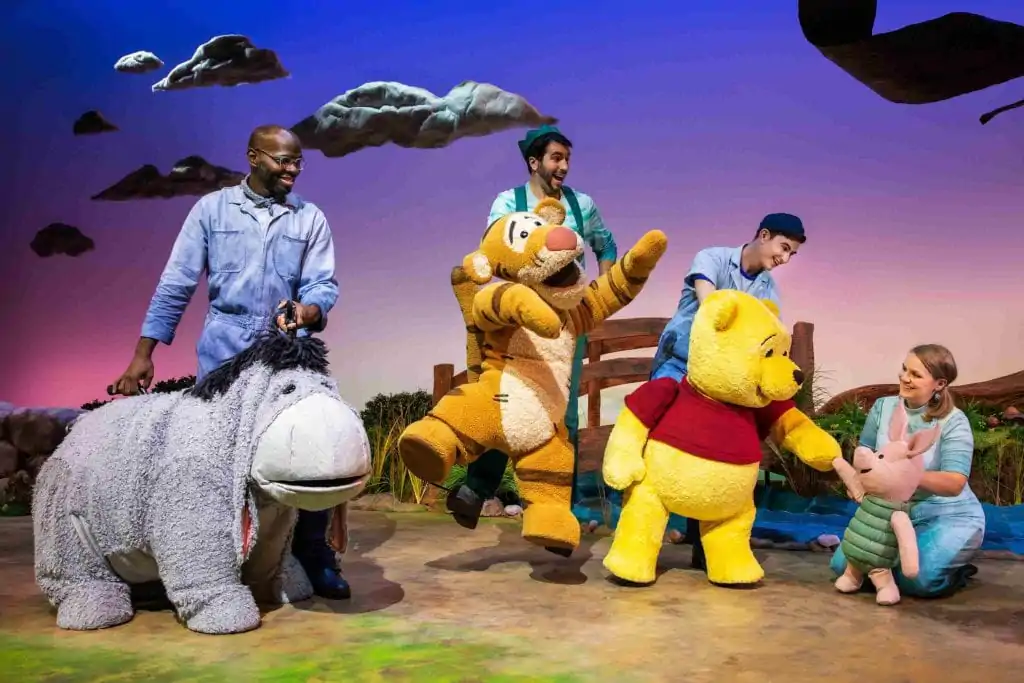 Can you tell me a little bit about your background as a puppeteer before we get started talking about Winnie the Pooh?
Lish: I'm a lifelong maker and have been making things in my Dad's workshop starting when I was about three years old. I grew up watching things like Sesame Street and Sherry Lewis (creator of Lamb Chop) and developed this huge love for puppetry and the ability to tell stories through puppetry. It's a very powerful medium, and we can bring characters to life in ways that we wouldn't necessarily be able to do in the 'real world'. We can have talking animals of varying scale that you wouldn't find naturally. You can pretty much do whatever you want with puppets creatively to tell a story. And it's a really, really fun medium. 
I was very interested in puppetry from a very early age. I started off making little sock puppets and paper mache puppets. [I took] out the few books from the library on puppet making [I could find] and began learning from there. Over time, I was lucky enough to develop friends in the industry and learn from a lot of great people on how to actually do this at a professional level.
I went to college for mechanical engineering and, while I was in college, I got an internship which then led to a freelance fabricator position with Jim Henson's Creature Shop in New York City, working primarily on Sesame Street.
That was a wonderful learning opportunity—really learning how to handle puppets for a faster-paced television type of setting. Also, to work with you know, such a strong IP [intellectual property] and such a well-known brand, like Sesame Street, and what it means to take care of these characters. 
Did you design the puppets yourself?
The design process went through several phases. You know Winnie the Pooh was first published by A. A. Milne in 1926. So, needless to say, the characters themselves have gone through oodles and oodles of changes aesthetically from what we understand about the characters today. If you look at the original of the original [E. H.] Shepard illustrations, they look nothing like the characters that we know and love. Then you look at what Disney was first doing with them when they first started using the IP in 1966. 
Initially, a concept artist came in and did some sketches and illustrations on different possible ways we could have these puppets look [while] also understanding where a puppeteer can fit within this, so that they're not a costumed character. They're not a suit performer, but the puppeteer is visible.
Then looking at the different aesthetics that we want to pull from. With a classic 2D animated film, you might not necessarily need to see that something is furry or has a fuzzy texture. Whereas if something's going to be on stage and people are in the room with it only a few feet away from the characters, people really need to see Tigger as fuzzy, huggable, and plush.
So, it was a group effort with a lot of different builders going around the garment district here in New York City to pull swatches of fabrics and figure out how we could treat them to make them look how we wanted these characters to look. It was a very long process to figure out exactly how we wanted to translate them to the stage. 
Where do you think the puppet designs land? In terms of the original illustrations of Pooh and his friends to the modern Disneyfied versions?
I think we've definitely moved way past the original 1926 illustrations—no question there. The original plush that was the basis for the book is actually on display here in New York City at the New York Public Library. We've gone to look at them, and you can see the inspirations for where the characters came from.
But, we have moved more in the direction that the Walt Disney Animation Studios has gone with them. That being said, we have taken some elements aesthetically from the live-action Christopher Robin movie that came out a few years ago. So, going back to Piglet having a green jumper instead of a pink jumper. Rabbit looks a bit more realistic in terms of the colors of his fur as opposed to being yellow. So, I think we landed on a balance between the classic 2D animation that people know, while also translating it into the real world. I know that it's a talking bear and a talking tiger, but you do feel that these textures and their looks are real.
Do you think that going back to the basics of puppeteering could help revitalize the theater for new audiences?
There's an innate quality of puppetry that people find very fascinating. To my point earlier—we can do things that you can't do in other mediums. We could put someone in a yellow t-shirt and pants and call them Pooh, but that's very different from seeing Winnie the Pooh walk across the stage.
So, I do think puppetry is a unique thing that will get people because it's not the most…it's not as common as other practices in theater. I also think this show is super accessible. Jonathan [Rockefeller] wanted to create a show that would be great for kids who are maybe not old enough to go to a whole Broadway show. This could be a great first introduction to theater for them. Our show is an hour long, and it's engaging, entertaining, full of music and dancing, and laughs throughout. So yeah, I do think that this is going to be a way to get people more excited about the theater.
Is there anything you would want audiences to know about this show that they wouldn't know from just seeing it or hearing about it? Is there anything you want to tell them?
I will say that everything you see on stage is meticulously hand-built. From the puppets to the costumes and the set. It's all super, super detailed, and done by an amazing team of artists and craftspeople. And this show is not just a show for little kids. I think that's something that people can sometimes get worried about when they see a show based on an intellectual property that is geared towards a younger age group.
This show really has something for everyone, and we are seeing a lot of people coming with their children, but we're also seeing a lot of adults coming to see the show by themselves. The show hits everyone differently, and everyone leaves smiling. People are having a great time at the show, and hopefully, it's around for a while.
Winnie the Pooh is now playing at 410 W 42nd St. in NYC.
Tickets and information can be found at  winniethepoohshow.com