When it comes to experiencing Disney luxury, there aren't very many experiences better than a Disney VIP tour. We love to picture ourselves strutting down Main Street, U.S.A., coffee in hand, sporting trendy sunglasses and a handbag, and accompanied by one of the "plaids" — a Disney VIP tour guide and theme park extraordinaire.
A VIP tour is one of the most luxurious Disney theme park experiences money can buy (outside of the super-exclusive Club 33, of course). Available at Disneyland and Walt Disney World, Disney's VIP Tour Services provide guests with a private tour of the theme parks, including skipping the line for every ride, backstage access, and as much park hopping as you want.
But how much does a Disney VIP tour really cost, what are the perks, and what should you keep in mind when booking? We're covering it all right here. 
Disney VIP Tour Cost
Per Disney, a VIP theme park tour offers you priority access to attractions, hassle-free planning of your day at the parks, and VIP service from your own personal guide, which helps with all your needs and entertainment. Tours start at $2,975 for a minimum of seven hours.  
Typically, up to 10 guests can take a VIP tour with one tour guide. You can add more people to your tour, but the price will increase, as a second tour guide will need to accompany your group. 
The price will vary depending on the season, too. At both Disneyland Resort in California and Walt Disney World Resort in Florida, a Disney VIP tour starts at $425/hour for a minimum of 7 hours.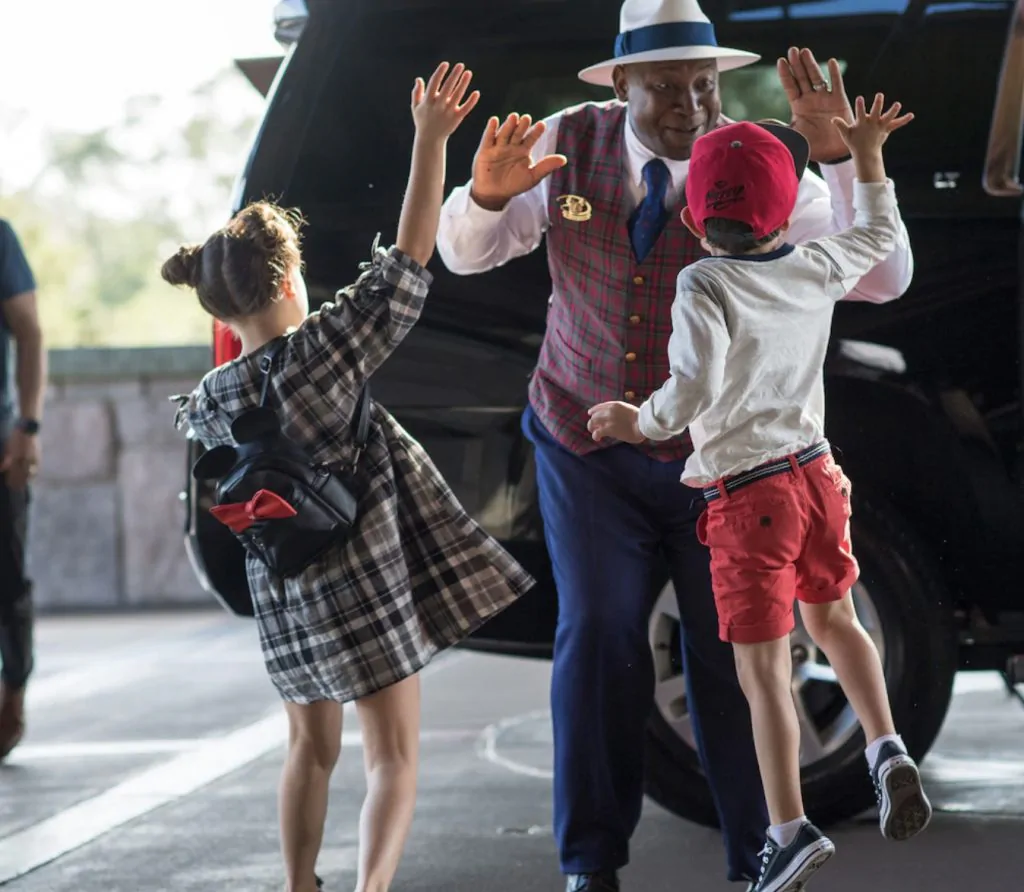 However, if you're looking to book a Disney VIP tour during peak seasons like Christmas and New Year's or Spring Break, then you can expect the price to be much higher than the minimum. A 10-hour tour during the busy season, for example, could cost $8,500. Due to popularity, you should book your tour ASAP. 
Even with the steep price tag, valid theme park admission (i.e., a Disney theme park ticket or Annual Pass) is required to take a VIP tour. This is something to factor into your budget if you're considering booking. 
Disney VIP Tour Benefits
Without a doubt, one of the best perks of a VIP tour is feeling like a VIP. Have you ever seen a Disney Cast Member dressed in plaid taking a group of guests to the front of the line at an attraction, or even placing a VIP order at Starbucks? The same Cast Members who accompany celebrity guests also accompany guests who book VIP tours. So, if you want to feel like a celeb at Disney and you have some serious cash, book a Disney VIP tour. 
The tour guides are more than Disney park experts — they are some of the kindest, most accommodating Disney Cast Members you will ever meet. Disney hires them for a reason, and when they are not booking tours, many of them are working in Guest Relations to make magic for everyday guests.
A VIP tour is also a fantastic option if your time at the theme parks is limited. If you are only planning to be at Disney for one day — or you are taking a quick trip — and you want to get on as many rides as possible, a VIP tour could be a great way to go. 
But even if you're willing to spend the money and are seriously looking into booking a VIP tour, we wouldn't recommend it for a first visit to the Disney theme parks. The Disney parks offer an exceptional kind of magic for guests. And because many VIP tours offer backstage access and bring guests through the parks in a rushed, exciting way, they aren't always great for a first visit.
A VIP tour is an incredible way to get as much done as possible in a single day, but if you've never been to Disneyland or Disney World before, we'd suggest taking everything in on your own before splurging on the VIP treatment. 
Tips for Booking a VIP Tour at Disneyland or Walt Disney World
Book during the slower season
Is there a "slow season" at Disney anymore? We're not so sure about that, but we are sure about VIP tour pricing. Disney VIP tour services start at $425 an hour and can be as expensive as $850 an hour, depending on the time of year you book. If you have flexible travel dates and you want to save as much money possible on a VIP tour, give Disney a call and ask for more details on booking during the "off-season" — or, at least, booking during a time when you can get a tour for the lowest price available. 
Get a big group together
A VIP tour will cost you the same amount whether you're a group of 10 or flying solo, so get a big group together if you want to make the experience more cost-effective. This is a convenient tip if going on a VIP tour is on your Disney bucket list, but you don't have thousands of dollars to burn.
For example, a seven-hour tour for eight people could cost under $500 per person if divided equally, whereas the same tour for three guests could cost under $1,000 per person. No matter what, Disney VIP tours are expensive, but they can be more attainable the more people you invite to the experience. 
Know your must-dos
Your Disney VIP tour guide will be an expert on the theme parks — that's a given. They'll share secrets and history, fun facts, and an all-around great time with you throughout the entire day.
Extra experiences are bound to come up during your VIP tour, but it doesn't hurt to have some of your must-dos in mind as you head into your day. Want to ride Space Mountain as many times as possible? Looking to get the full Star Wars: Galaxy's Edge experience? Needing a Disney fairytale-themed day? Your Disney VIP tour guide can make it happen. 
Other Tours to Consider
If you want a tour of the theme parks with a much more laid-back feel, then we'd recommend trying one of Disney's other tours. At Disneyland, the "Walk in Walt's Disneyland Footsteps" Guided Tour allows guests to explore Walt Disney's life through Disneyland, the original theme park and the only Disney park that Walt himself opened.
Similarly, Magic Kingdom offers the Disney's Keys to the Kingdom Tour, offering an in-depth look at Magic Kingdom's history and a glimpse at "secret locations you've always wondered about. Neither of these guided tours is considered a private VIP tour, so you will likely be with other guests. Still, they are great for anyone who wants a closer, more historical perspective on the flagship theme parks at Disneyland Resort in California or Walt Disney World Resort in Florida. 
Follow for More Disney Tips
We're all about splurging on a Disney vacation for luxury experiences that feel truly magical. For more tips on how to elevate your next trip to the happiest place on Earth, follow us on TikTok and subscribe to our newsletter.