Walt Disney World is one of the most popular vacation destinations worldwide, but a trip to the most magical place on Earth doesn't only have to be about thrill rides and meeting Mickey. In fact, some of the most wonderful experiences at Walt Disney World will allow you to feel as though you are traveling the globe without leaving Orlando.  
In this guide, we'll share how you can have a Disney vacation that features the experiences, cuisine, and cultures of several countries across the globe, so you can feel as though you can travel the world from Walt Disney World.
When to Visit: EPCOT International Food & Wine Festival 
Most of our recommendations are available year-round, but if sampling the most food possible is a priority, consider visiting Walt Disney World during the EPCOT International Food & Wine Festival. This event typically runs from mid-July to mid-November, so there's plenty of time to check it out. The festival features a variety of food booths serving cuisine from several countries and cultures. 
Some of our favorite dishes include the Kenyan Coffee Barbecued Beef Tenderloin from the Kenya booth and the Potato and Pea Samosa from the India booth. Try the dishes that call to you most — a festival like this is an excellent opportunity to try something new!
Where to Stay: Disney's Riviera Resort 
The vibes at Disney's Riviera Resort are unmatched. It isn't your typical Disney hotel. It's a high-rise building, and compared to the other Deluxe Resorts like Disney's Wilderness Lodge and Disney's Polynesian Village Resort, the exterior looks a little less Disney and a little more Vegas. But don't let that discourage you from staying here — the true magic of this resort lies inside. 
Disney's Riviera Resort is a hotel inspired by the French and Italian rivieras in Europe. Much of the theming here is inspired by the works of influential European artists and Walt Disney's travels in the early-mid 1900s. The hotel's rooms are quite elegant, and the rooftop restaurant, Topolino's Terrace, is a favorite of ours for dinner. This hotel also has a stunning library, where guests can relax and unwind with a cup of coffee or tea from Le Petit Café.  
We want to be clear that you do not need to shell out the big bucks to have an enjoyable Walt Disney World trip. Our team at Perfecting the Magic has stayed in every resort category — both on and off-property — and we have had beautiful experiences. But suppose you want to elevate your Walt Disney World experience by staying at a resort that evokes the beauty and art of Europe and the Mediterranean. In that case, we recommend Disney's Riviera Resort.   
Honorable Mention: Disney's Animal Kingdom Lodge 
To feel transported to another continent, consider booking a stay at Disney's Animal Kingdom Lodge. This hotel will make you feel like you've set foot in Africa as you take in savanna views, savor exquisite foods, and admire the resort's authentic artwork and architecture. We share more about how to get the full Animal Kingdom experience in our guide here.  
Where to Eat: Tiffins and Nomad Lounge at DAK 
Will we ever go a week without mentioning Disney's Animal Kingdom at least twice in one article? Probably not, but it's for a good reason. One of the best restaurants on property is right here in this park. 
If you want to feel like you're traveling the world when you're actually in Walt Disney World, the top restaurant we'd recommend dining at no matter what is Tiffins. Nestled in Disney's Magical Kingdom, Tiffins Restaurant celebrates the spirit of traveling the globe and the incredible Imagineers and animal experts who dreamed up the theme park. The menu includes flavors and dishes inspired by African, Asian, and Latin cuisine.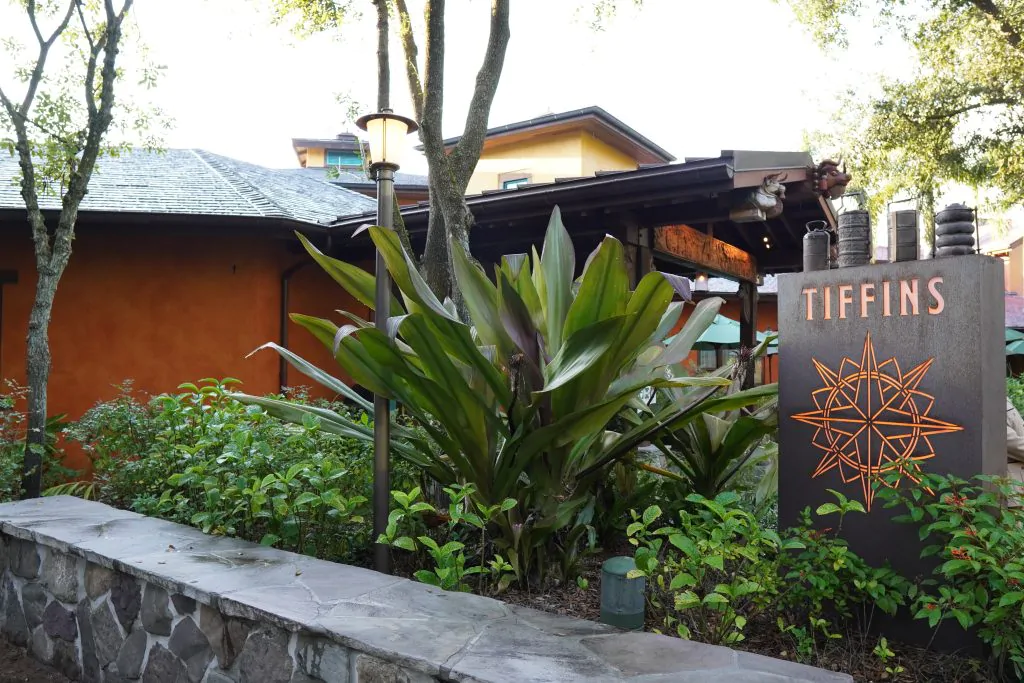 The name of the restaurant, "Tiffins," refers to the light lunch meal — and the tiered containers the meals were served in — prepared for workers in India. The restaurant feels like a museum in the middle of a theme park. The three dining rooms are decorated with a variety of artwork inspired by the notes and field sketches of the Imagineers who created Disney's Animal Kingdom. The restaurant is inviting and unique, and the setting is perfect for dreaming up your next adventure across the world (or just across the park). 
If you can't snag a reservation for Tiffins, try eating at Nomad Lounge right next door. This lounge gives off all the wanderlust vibes and invites guests to indulge in beverages and light bites as they admire views of the park's stunning natural landscapes. 
Don't Miss: Highlights of the World Showcase 
EPCOT has two new attractions that have people flocking to the park — Remy's Ratatouille Adventure and Guardians of the Galaxy: Cosmic Rewind. If you want to escape the heat (and the crowds) while enriching your experience, spend some time meandering the World Showcase. Each pavilion has a small museum that invites guests to learn about each country. We love that Disney provides educational opportunities within the World Showcase, so that in addition to sampling food from the 11 pavilions, guests can get a closer look at each culture's history and traditions. 
We love learning about kawaii culture in the Japan pavilion and watching the short Impressions de France documentary in the France pavilion. Still, there are even more art displays, films, and exhibits to discover. Plus, most of these experiences involve air conditioning, allowing you to meander at your leisure without feeling overwhelmed by the Florida heat. If you can't travel the world anytime soon, don't underestimate the World Showcase. 
Honorable Mention: Soarin' Around the World 
It may seem like a no-brainer, but we can't share a guide to traveling the world from Walt Disney World without mentioning the attraction that allows you to do just that. If you haven't yet experienced this ride, you're in for an adventure. Soarin' Around the World allows you to (virtually) travel across the globe and see spectacular sites such as the Eiffel Tower in Paris, Taj Mahal in India, Great Wall of China, and so much more. It can be a simultaneously thrilling and relaxing experience, and many of us ride Soarin' for the scents alone (you'll know what we mean once you experience it!). 
Enchanting Extras: Sangria University 
Traveling the world provides ample opportunities to learn about other cultures, primarily through cuisine. We love taking cooking classes when visiting places near and far, so we were so excited to find out that in addition to behind-the-scenes tours, Disney offers classes for guests to take while on vacation. 
You shouldn't pass up one opportunity: Sangria University at Three Bridges Bar and Grill at Disney's Coronado Springs Resort. During this experience, you can learn about the history of the Spanish drink made with fruit and wine and taste four in-house sangria varieties. The course also offers you the opportunity to make your own sangria concoction! If you love culinary classes, wine tasting, and sangria — or want to add a more worldly experience to your next Disney vacation — consider Sangria University.  
Treat Yourself: Shopping at Disney Springs 
For a little something extra, spend an afternoon treating yourself at Disney Springs. While there are a variety of shops and restaurants to explore, we highly recommend treating yourself to some French skincare at L'Occitane en Provence and artisanal chocolate from The Ganachery. Do a little shopping before you return to your hotel and enjoy a DIY spa night as you listen to the European-inspired instrumental soundtrack on your room's TV at Disney's Riviera Resort. 
Experience the World Without Leaving Florida 
We love visiting Disney Parks just as much as we love traveling the world. And with the pandemic continuing to impact travel, jet-setting to far-off places isn't exactly possible for everyone. So, we hope this guide has inspired you to slow down and take in more international influences, diverse cultures, and enriching experiences on your next trip to Walt Disney World. Be sure to follow us on TikTok and subscribe to our newsletter for more Disney tips and tricks.