Oh, we just can't wait to be king! Actually, we just can't wait to get back to Disney's Animal Kingdom, but that doesn't have quite the same ring to it, does it? Still, we can't get enough of the wildlife experiences that Walt Disney World has to offer.
Disney World offers something for everyone, and the vacation possibilities are endless. Here at Perfecting the Magic, we love coming up with dedicated Disney vacation itineraries for a variety of interests. If you are traveling to Walt Disney World with an animal lover — or if you're one yourself — then this guide is for you. Here's the perfect Disney World vacation itinerary for the animal enthusiast. We hope you have a wild time!
Where to Stay: Disney's Animal Kingdom Lodge 
First thing's first: If you're planning a trip to Walt Disney World, you've got to figure out your accommodations. It may be a no-brainer, but it's totally worth the hype — there is no better place to stay than Disney's Animal Kingdom Lodge. A Savanna View room is worth the splurge, and if you can get a good deal, we highly recommend it. Waking up to zebras, giraffes, and other animals outside your bedroom balcony is an experience like no other, and it's worth booking at least once. 
If a Savanna View room is outside your budget, don't worry. This resort offers countless viewing locations of animal life, so even going with the least expensive room available will provide a comfortable and unforgettable stay. There are several balconies and outdoor seating areas that overlook the savanna. So, you can make a cup of coffee or tea in your room (or pick up your favorite beverage and breakfast from The Mara, the quick-service restaurant on property) and find an available seat with a great view. Enjoying the scenic vistas from the comfort of our hotel, whether in our room or a common area, has got to be one of our absolute favorite ways to start our Disney days while on vacation.
Cost-Saving Alternative: Stay in the Animal Kingdom Resort Area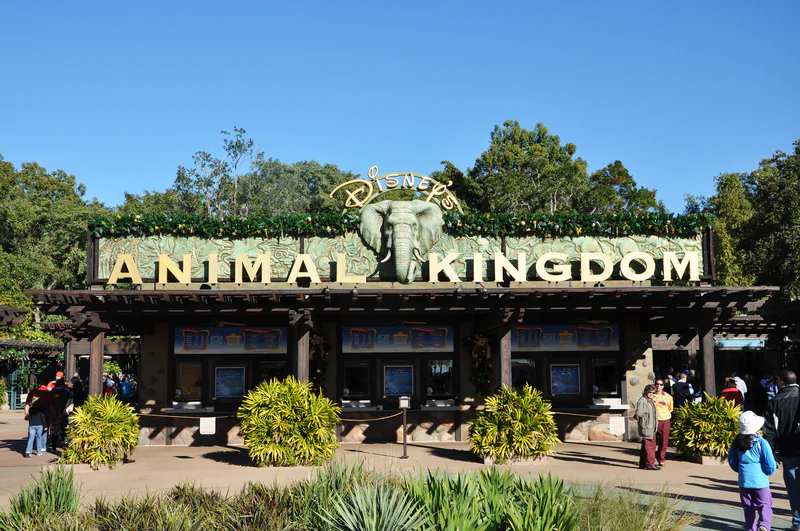 If you want to stay close to Disney's Animal Kingdom theme park without paying the cost of a Deluxe Resort, consider booking a room at Disney's Coronado Springs Resort or one of Disney's All-Star Resorts. These come at a much lower price point than Animal Kingdom Lodge and are the closest Disney-owned resorts to the theme park. All are great choices if you think you'll spend most of your Walt Disney World trip at AK!
Where to Eat: The Seas at Epcot and Animal Kingdom Lodge
Okay, so you've figured out where to stay, but what about where to eat? There are plenty of places to get your grub on at the most magical place on Earth, but when it comes to eating with the animals (yes, you read that right — we're completely serious), two restaurants, in particular, come to mind. Here's where to snag your Walt Disney World dining reservations if you're planning a Disney World vacation for the animal lover.
Coral Reef at Epcot
We love going "under the sea" with Ariel in Magic kingdom, and Coral Reef Restaurant at EPCOT gives off a similar vibe. Coral Reef is one of Walt Disney World's most underrated under-the-radar restaurants. It may not offer views of World Showcase Lagoon like Spice Road Table and Rose & Crown, but it offers something completely unique: views of an aquarium! As you dine, you can enjoy views of fish, sharks, and other ocean life. 
The food here is good, the views are great, and the vibes are so relaxing. We love taking our time here, eating a delicious lunch or dinner, and soaking up the A/C. It's truly a must-try meal for any nature enthusiast and one we haven't ever experienced outside this Disney theme park.  
Sanaa at Disney's Animal Kingdom Lodge 
We've talked about it before, but Sanaa is truly an eatery like no other. If you can't splurge on the Savor the Savanna tour at Disney's Animal Kingdom theme park, this restaurant is the next best thing. As you feast on East African-inspired cuisine (and Indian-inspired bread!) and taste South African wine, you can enjoy views of various animals on the hotel's private savanna, from gazelles and zebras to kudu and cranes.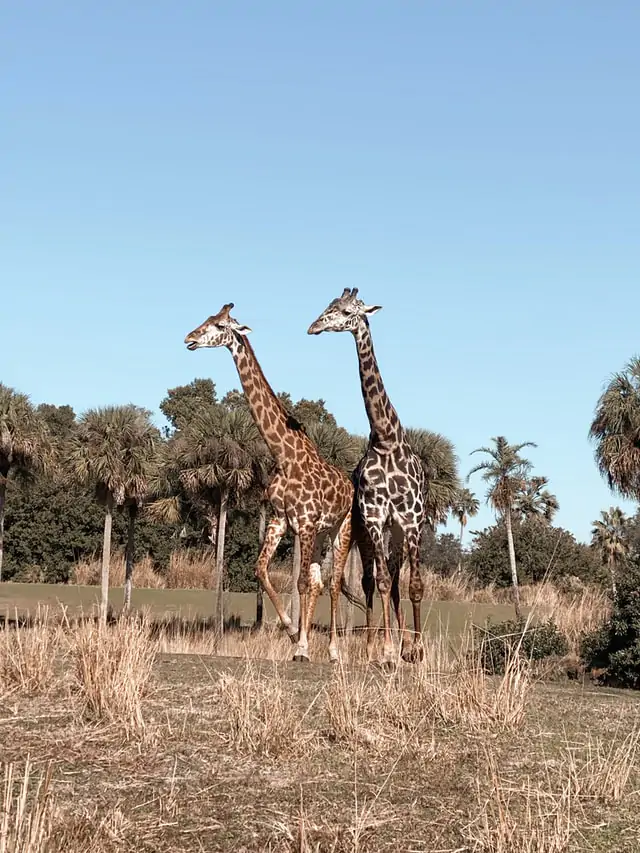 We talk all about Sanaa in our guide to the Disney World restaurants that you should actually be eating at, so be sure to check that out!
By the way, if you can't snag a Sanaa reservation, check out the restaurant's lounge for good eats and better vibes. Talk about hakuna matata!
Cost-Saving Alternative: Flame Tree Barbecue
It's not glamorous, but it sure is delicious. If you're looking for a money-saving option for your day at Animal Kingdom, try eating at Flame Tree Barbeque, one of our favorite quick-service restaurants in all of Walt Disney World. The portions are pretty big for what you pay, and so many entrées are sharable. While we enjoy the food, we'd recommend this restaurant for the views alone. The seating area overlooks some of the most gorgeous scenery in all of DAK, and we're here for it.    
What Not to Miss: Aquarium at EPCOT
EPCOT is known for more than drinking around the World Showcase and Guardians of the Galaxy: Cosmic Rewind. This theme park also boasts an impressive aquarium. After riding The Seas with Nemo and Friends — a family-friendly attraction (and a great way to cool off from the Florida heat) — you can see clown fish, sea turtles, and more ocean creatures swimming within a massive 5.7-million-gallon saltwater aquarium. Take your time on this self-guided tour; it's perfect for any marine life enthusiast. 
You may be thinking, "I can go to an aquarium pretty much anywhere, so why is this worth my time on a Disney vacation?" Sure, aquariums exist all around the world, but Disney's has that extra touch of pixie dust that we can't help but love. It's tucked away and offers an air-conditioned escape from the World Showcase crowds. Plus, there's a complimentary scavenger hunt that is a great activity for kids and kids at heart, so if your little ones are huge fans of ocean life or the "Finding Nemo" franchise, they'll love it. You can pick up a booklet near the exit of the Nemo and Friends attraction (or download it here).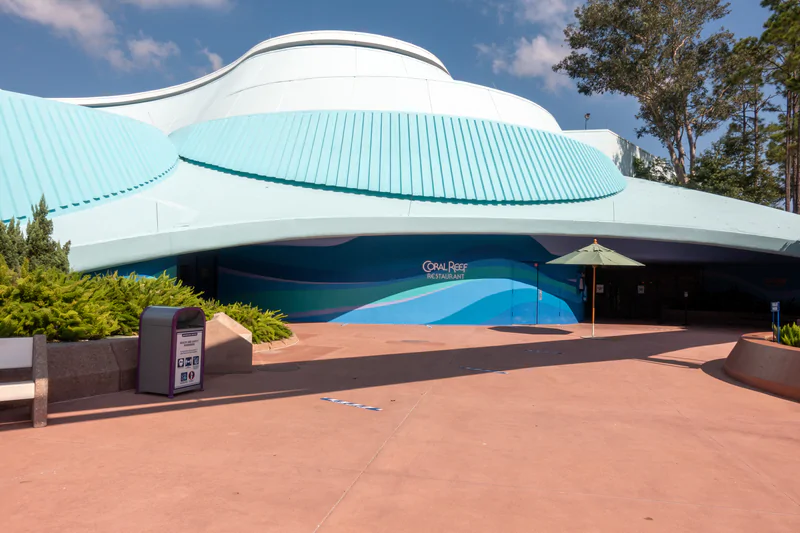 Disney also offers special tours that allow guests to have up-close encounters with marine life. Though these tours have been on pause for some time, we hope they will be reintroduced in the near future. You can click here to view all of the animal encounters available within the Enchanting Extras collection and bookmark some ideas for a future trip.
Extra Experiences: Special Tours at Disney's Animal Kingdom 
Disney's Animal Kingdom offers a variety of special tours at several price points as part of Walt Disney World's Enchanting Extras collection.  
If you're looking to elevate your time at Animal Kingdom without breaking the bank, consider the Caring for Giants elephant tour for $35 per person or the Up Close with Rhinos tour for $45 per person. Each of these offerings will give you the opportunity to see some of the most incredible animals in the park. We love finding new ways to take in the magic of the parks, and if you're an animal lover, you will love these tours. 
Something we'd love to try is the Savor the Savanna experience. This dining experience offers guests a private safari tour of the Animal Kingdom savannas and a tasting of African-inspired tapas and beverages. The private safari sounds incredible, but we really want to try this tour for the view. Guests can take in the scenery and wildlife on an exclusive terrace while they sample African-inspired cuisine paired with a selection of regional beer and wine offerings (and non-alcoholic drinks, too!). It's $174 per person, but if you want to make your trip more luxurious, it can be a great idea.
Finally, Disney's Animal Kingdom offers the Wild Africa Trek, a bucket-list item for Disney fans everywhere. If you love the Kilimanjaro Safari attraction, this experience is for you. For around $200 per person, you can take a VIP expedition through Disney's Animal Kingdom and get as close as possible to the wildlife animal habitats. It's an adventure that we'd recommend for anyone who wants to take a walk on the wild side and get an entirely new experience while on a Disney vacation in the middle of Florida. 
Check out a video below: 
Walk on the Wild Side
Walt Disney World is the most magical place on Earth, and to us, it never gets old. Still, we'll never say no to a unique vacation, so we hope you try out this itinerary if you want to add some extra animal experiences on your next trip.