One of the best ways to relax, indulge, and feel like you're actually on vacation while at Walt Disney World is to slow down and grab a great breakfast. The meal can often be overlooked, but since it can set the tone for your day, it shouldn't be. While buffets dominate the breakfast scene, Walt Disney World offers excellent table service and elevated quick service breakfast options for $20 or less that we think are worthy of attention.  
Join Perfecting the Magic as we share the best Walt Disney World breakfasts under $20 to help you start your day off right.
Breakfast at the Four Seasons Orlando: Ravello 
When you think of affordable breakfast options, you typically don't think of the Four Seasons, but we're starting this list off strong by showing that you can enjoy a meal at a AAA Five Diamond Resort for much less than you'd expect.
The Buttermilk Pancakes ($18) at Ravello are perfect. They're fluffy, buttery, rich, and topped with powdered sugar and maple syrup. For a $2 upcharge, you can add blueberries, bananas, or chocolate chips, which we highly recommend—the additions add the perfect touch to what are already impeccable pancakes.
If pancakes aren't your thing, but you'd still like to enjoy something sweet, we recommend the Brioche French Toast ($19), which is perfectly crisp on the outside, fluffy in the middle, and topped with a balanced mix of berries, powdered sugar, pure maple syrup, and limoncello whipped cream.
The Best Disney World Breakfast at Disney's Grand Floridian Café
The Grand Floridian is such an extraordinary resort. It's opulent, relaxing, beautiful, and steps from Magic Kingdom. Starting your day at the Grand Floridian Café, especially on a day when you'll be in the parks, is always a good time. But, what should you order?
Our favorites include the Brioche French Toast (again) ($17) with Madagascar vanilla bean sauce. It's the perfect complement to the custardy pan-fried French Toast, and since it comes with a side of bacon or sausage, we always leave feeling satisfied.
Prefer your morning carbs Mickey-shaped? Then you might love the golden Mickey Waffle ($15) offering at the Grand Flo. It's perfectly crisp and since it comes with bacon or sausage, it's the perfect way to start a Disney morning.  
Looking for something savory? The Roasted Tomato and Feta Quiche ($15), is light but satisfying and delicately baked in a pastry crust that's buttery and delectably golden.  
Breakfast Near EPCOT: Ale & Compass Restaurant   
The Ale & Compass in Disney's Yacht Club Resort isn't the first place people think of when they're craving breakfast, but it should make their list. The breakfast offerings at the Ale & Compass are solid and offer a unique twist on staples that we don't often see.
Our first pick is the Dark Chocolate Waffle ($15), with dried cherry compote, espresso mascarpone cream, chocolate shavings, and a choice of sausage or bacon. It isn't every day that we have a chocolate cherry waffle on a menu, and we're excited to try it the next time we're at Walt Disney World.
The Blueberry Bacon Pancakes ($15) might interest you if chocolate isn't your thing. They're fluffy and an ideal sweet, tart, and savory mix. They also come with bacon (or sausage) on the side, so if you're a bacon lover, this might be the ideal breakfast for you.
If you're feeling like a twist on tradition, you might prefer the Crab Cake Benedict ($19). It's one of the more interesting options on the menu for seafood lovers, and its poached egg, jumbo lump crab, arugula, and lemon-herb hollandaise sound like a winning combination.
Disney World Breakfast at Disney's Polynesian Village
The Kona Café is currently undergoing some upgrades. However, you can still order from its menu, and since the vibes around the Poly are so lovely, we recommend you still consider doing so.
One of our favorites, the Macadamia Nut Pancakes ($15), is worth checking out. Typically, you have to visit Hawaii to enjoy Macadamia pancakes, so having the option to order them at Walt Disney World is rather nice. The pancakes are consistently fluffy, and the macadamia nut butter and pineapple sauce work perfectly together.
If you prefer French toast vibes, we highly recommend the Tonga Toast ($10.49) from Capt. Cook's. It's banana-stuffed toast that's deep-fried and rolled in cinnamon sugar. You can find this at Kona as well, but you'll save a few dollars by ordering it from Capt. Cooks, and we think it's just as good.
Breakfast at Steakhouse 71
Steakhouse 71 is a PTM favorite for lunch, but that doesn't mean breakfast doesn't deserve some love.
Our first recommendation is the Steakhouse 71 Feast ($20), which includes an insane spread of eggs benedict, scrambled eggs, bacon, sausage, Mickey waffles, bacon-cheddar grits, breakfast potatoes, and fresh fruit. A breakfast buffet on a plate. We haven't tried it, but with so many things to try, it's an amazing value.
If you're looking for something a little lighter, the Veggie Omelet ($17), is perfectly cooked and stuffed with spinach, mushrooms, tomato, and swiss cheese, and served with breakfast potatoes.
If eggs aren't your thing, Steakhouse 71 offers Seasonal Pancakes ($15) that switch up with the seasons and are accompanied by your choice of bacon or sausage. We've only tried the pumpkin, but they were quite good. Definitely worth checking out.
Primo Piatto at Disney's Rivera Resort  
While we love Topolino's Terrace for breakfast at the Rivera, the reservations are difficult to obtain, and while it's worth the price, it's not exactly a budget option. But, fear not, Primo Piatto fills the void.
The Blueberry Lemon Pancakes ($11.29) include three ultra-fluffy pancakes filled with blueberries, topped with mascarpone cream and lemon zest. The Rivera is such a beautiful resort that it barely feels like quick service, which we love, especially at this price point.
If you're looking for something else, we recommend the Primo Piatto Breakfast ($11.99), which includes scrambled eggs, mascarpone polenta, brioche bread, bacon, and sausage, which sounds ideal for savory breakfast fans.
The Best Budget Brunch at Disney Springs  
Disney Springs is filled to the brim with dining options, but when you're brunching on a budget, you've got to have a plan. Luckily, we have two!
Chef Art Smith's Homecomin' 
Chef Art Smith's Homecomin' serves up some of the best food at Disney Springs. We recommend the Fried Egg and Avocado Toast ($20), with grilled Cuban bread, fresh avocado, fried egg, arugula, radish, pickled onion, and lemon and olive oil sprinkled and drizzled on top.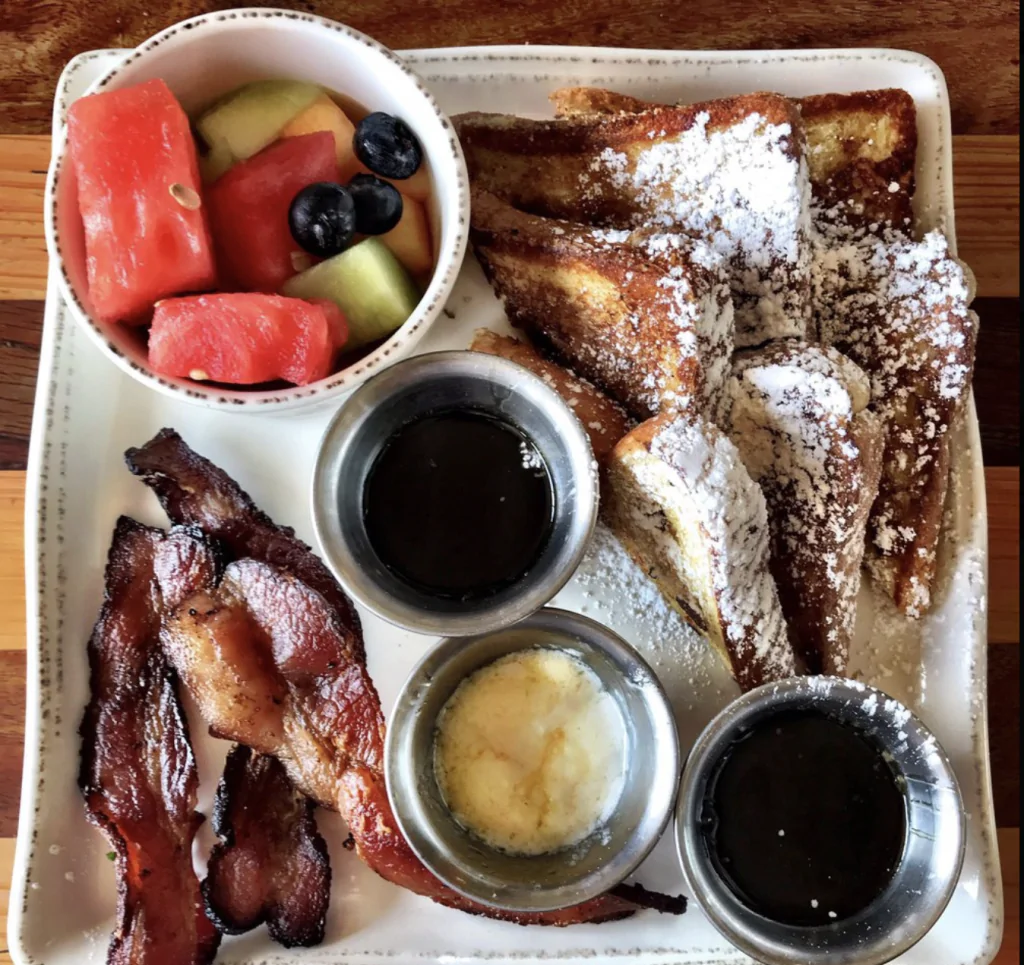 The French Toast ($17), with thick griddled slices of bread, powdered sugar, and seasonal fruit is an excellent option if you're craving something sweet, and since it comes with a side of protein, it can keep you going, even if you hit the parks after.
Brunch at The Boathouse
The Boathouse in Disney Springs has some of the best brunch options in Walt Disney World. With a huge menu and free-flowing bread that is equal parts pillowy and buttery, it's a safe bet. Our first brunch favorite under $20 is the Chicken Biscuit and Gravy ($15), which includes crispy Panko-crusted chicken tenders, creole-onion gravy, and eggs any way you like them. It's a filling and delicious meal, which is why it gets our stamp of approval.
If you prefer something even more southern-inspired, you might like the Shrimp and Grits ($19), which is made with spicy cheddar, beer, andouille sausage, shrimp, and eggs. While grits aren't our favorite thing on earth, it's worth checking out for people who love them.
While there are plenty of dining options in WDW, finding a balance between indulgence and budget can be challenging. We hope we've inspired you to try some of the best breakfasts in Walt Disney World for under $20, and we can't wait for you to share your favorites with us.
What Would You Spend Your $20 On? 
What would you spend $20 on? Snacks? Late night treats? Dole Whip? The perfect bougie-on-a-budget breakfast? We can't wait to hear your thoughts. Leave them in the comments or connect with PTM on TikTok and Instagram so we can tailor future pieces to your interests!