Vacation? More like slay-cation. We're all about sharing our best theme park tips here at Perfecting the Magic — and that includes not only Disney, but Universal, too. So, if you're heading to Universal Studios Hollywood this year, here's how to slay your day at this iconic Los Angeles destination!
Download the App
Let's face it — at this point, technology and theme parks go hand in hand. Like the Disney parks, the Universal theme parks have their own mobile apps, where you can access your theme park tickets, wait times for rides and experiences, the park map, and more. Before you arrive, download the app and get to know it a bit. It will definitely come in handy! 
Look Into Special Offers 
You can't tackle the day if you don't even have a ticket, right? So, we recommend purchasing your tickets in advance of your visit to Universal Studios. When you do, be sure to look into special offers available. Ticket costs vary depending on the day you visit, and sometimes, if you plan on visiting multiple days in a row or you want to come back again within the same year, purchasing an annual or season pass could be totally worth it. 
Special offer or not, be sure to buy your ticket ahead of time to get the best price. Tickets often cost more when purchased at the gate, so save a few dollars and thank us later. 
Arrive Early
We don't mean to sound cliché, but seriously, you've got to arrive early if you're heading to Universal Studios. Depending on the time of year, the park may open as early as 8 a.m. or as late as 10 a.m., and the hours will vary during spooky season since Halloween Horror Nights is such a huge event in SoCal. The Studio City theme park draws in locals and tourists alike, so get ready.
Rope dropping doesn't bring in the crowds as it does at Disneyland just an hour or so south. Still, don't underestimate those Universal superfans. If you want to hit the must-do attractions before the park gets busy, we recommend planning to be at the park gates around 30 minutes before Universal is scheduled to open. Check the park hours in the Universal app and plan accordingly (and if that means arriving at the parking structure an hour in advance, grabbing a Starbucks at Universal CityWalk, and waiting a little while before you can actually enter the park, so be it). 
Consider Add-On Options
You could stroll into the park with just your ticket, ready to live out your Wizarding World dreams (we get it — we swoon over Butterbeer every time), but there are a few add-on options that can really take your Universal experience to the next level. 
The first is Express Pass, Universal's version of Disney Genie+ (RIP FastPass). Express Pass allows a guest one-time express access to each ride, attraction, and seated show in the park. It's nearly double the cost of a regular park ticket, but if you play it right, it will allow you to experience pretty much everything you want with minimal wait. 
Universal also offers the VIP Experience. Comparable to a VIP tour at Disneyland or Walt Disney World, Universal's VIP Experience includes unlimited express access to every ride, attraction, and seated show, an expert tour guide who will accompany you around the park (including the backlot!), complimentary valet parking, light snacks and refreshments throughout the day, and an exclusive VIP gourmet meal. This experience will run you at least $379 per person. If you're only planning on visiting Universal Studios for one day and this fits within your budget, it could definitely be worth it. 
Note that, separate from paid experiences like Express Passes and VIP treatment, Universal offers accessibility services and accommodations for guests with disabilities. While we have not found these experiences to be on par with Disney's Disability Access Service and other accommodations, they are worth looking into and come at no extra cost if you.
Can't Miss Experiences 
Although Universal Studios Hollywood is much smaller than Universal Orlando Resort, it offers some completely unique experiences. Here are a few of our favorites. 
There are other can't miss experiences for a Universal visit — including, of course, the Wizarding World of Harry Potter — but if we had to pick three things you have to do here in California, it's these. 
World-Famous Studio Tour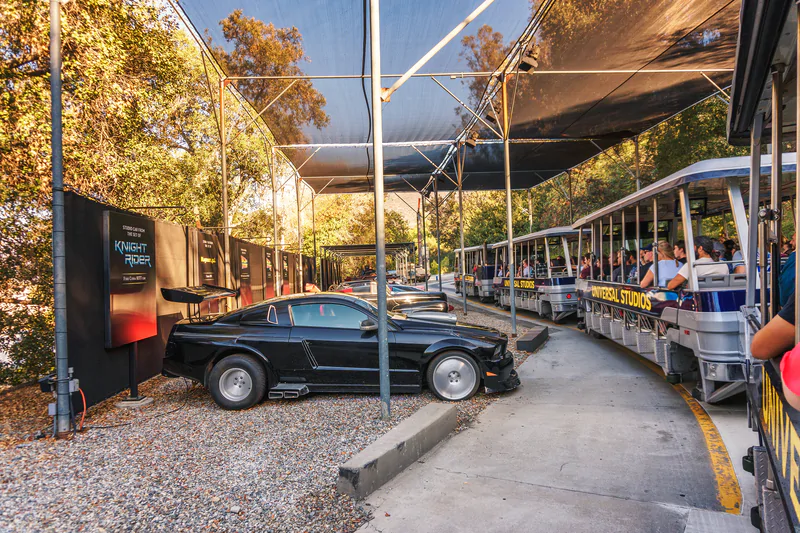 If you're a movie buff, this one's for you. Universal Studios Hollywood is not only a theme park — it's also a working film studio! During this unique California experience, you will take a guided tour by tram through the equivalent of 13 city blocks on over 400 acres of historic studio lot. This iconic tour gives you a glimpse of several TV and movie sets, a "Jaws" scene, the Bates Motel, and so much more. It's truly worth all the hype and something you should prioritize on your day here. 
Keep in mind that the Studio Tour is quite long. As you plan out your day, be sure to budget enough time for waiting in line and the hour-long attraction itself. We recommend hitting this one around mid-morning, after you've already hit a few of the bigger attractions in the park, like Harry Potter and the Forbidden Journey and Revenge of the Mummy: The Ride. Grab a drink at Starbucks or a quick snack, then make your way over to the Studio Tour. 
Jurassic World: The Ride
Whether you're a "Jurassic World" fan or not, you're going to want to see this. Universal opened Jurassic World: The Ride a few years ago, a rethemed and updated version of the Jurassic Park attraction. Jurassic World: The Ride. While we enjoyed the original, it was pretty dated, and we appreciate Universal's commitment to breathing fresh air into a park that doesn't have much room for expansion (well, except for the upcoming Super Nintendo World, which we can't wait to see). The new head-to-head encounter between the Indominous Rex and T-Rex is pretty incredible, and the drop catches us off guard every time. Is it baseline terrifying? Yes. Will you get wet? Yes (so bring a poncho!). But if you're only spending one day at Universal Studios Hollywood, don't miss this ride. 
Character Interactions
No cap, the character interactions at Universal Studios Hollywood are unmatched. The actors at this park truly take the time to have meaningful meet-and-greet interactions with every guest. We've made some great memories meeting Scooby Doo and the gang, monsters like Frankenstein and Dracula, and even the Minions (yes, we're serious). Universal Studios Hollywood truly goes above and beyond when it comes to its characters, and we love to see it.
The Parks are Calling Your Name
From Disneyland and Universal Studios in California to Walt Disney World and Universal Orlando in Florida, the theme parks are calling your name. Universal Studios Hollywood offers something special, so whether you're planning on visiting for just a day this summer or contemplating an annual pass, we hope you have a blast. 
Be sure to follow Perfecting the Magic on TikTok for daily park inspiration so you're prepared for whatever your next trip has in store.